New Cleveland Cavaliers general manager makes waves in NBA
Growing up in New York City, Koby Altman was a diehard fan of his hometown Knicks. Today the Middlebury College Posse alumnus roots for a different team.
In 2017, at 34, he became the general manager of the Cleveland Cavaliers—and the second youngest GM in the NBA. Koby is now the top basketball executive for a team coming off three straight appearances in the NBA Finals and one championship. But as a forward-thinking leader, Koby wasn't content with the status quo. Within days of assuming his new position, he pulled off one of the biggest trades in NBA history.
In shouldering his enormous new responsibilities, Koby leaned on the leadership training he'd received as a Posse Scholar more than a decade before.
"You have to jump into the moment, answer the difficult questions, have the tough conversations," he says.
Koby developed this approach at Middlebury as an exceptional student leader and a three-year starting point guard on the men's varsity basketball team. When Dan Gilbert, the Cleveland Cavaliers' owner, spoke at Koby's introductory press conference, he affirmed what Posse and Middlebury had seen: a powerful leader ready to get to work.
"Posse and Middlebury prepared me for this stuff."
David Griffin, Koby's mentor and predecessor as the Cavs' GM, saw something special from the moment the Posse alumnus arrived in Cleveland in 2012.
"From a leadership perspective, he was really well trained before he got to us," says David. "Then we brought him into what we do culturally, and he was just a natural."
"Posse and Middlebury prepared me for this stuff," says Koby. "But you're never ready until you get thrown into it."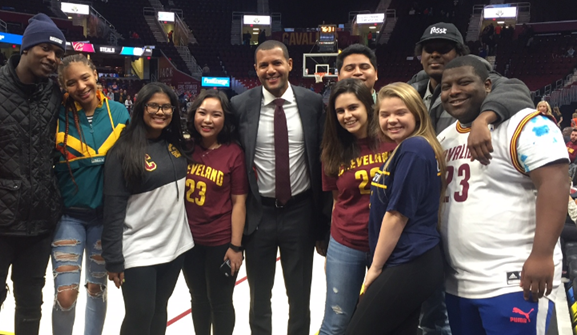 Raised by a single mother who worked as a school social worker, Koby's love of basketball was nurtured from a young age. He's never forgotten his first NBA moment.
"It was the year that Patrick Ewing was selected by the New York Knicks. It was the first-ever draft lottery, and the Knicks won. When they pulled that card, my mother went crazy and woke me up in my crib, as the story goes."
Given his wealth of experience, it's easy to forget that Koby began his journey as a Posse Scholar just 14 years ago. In rapid succession, he went from college student-athlete to real estate agent, to unpaid graduate student basketball assistant, to his dream job with the Cavaliers.
When asked how he had come so far so fast, Koby was quick to acknowledge the importance of his Posse experience.
"Posse afforded me the opportunity to go to this unbelievable school, a top-five school in the country. I jumped on that opportunity because I knew Posse was going to give me a chance to do great things with my life."
"I'm one of five or six African-American GMs in a sport of almost 90 percent African-American players."
Koby understands that all eyes are on him, and that his influence on the world goes beyond the game.
"I'm one of the five or six African-American general managers in a sport made up of almost 90 percent African-American players," he points out.
He has always advocated for diverse representation in leadership. "Having more diversity at the top is inspiring for people to see."
To this day, attention to diversity and innovative thinking drive Koby's effectiveness as a leader.
"In every industry, it's the same thing," he says. "You want to see fresh faces, and more importantly you want to hear fresh ideas. For youth in this country, it's incredibly powerful for them to see diverse people from different walks of life succeed."
Feeling the #PosseLove? Doing something exciting that you want to shout from the rooftops? We want to hear about how Posse has affected your life and the world around you.