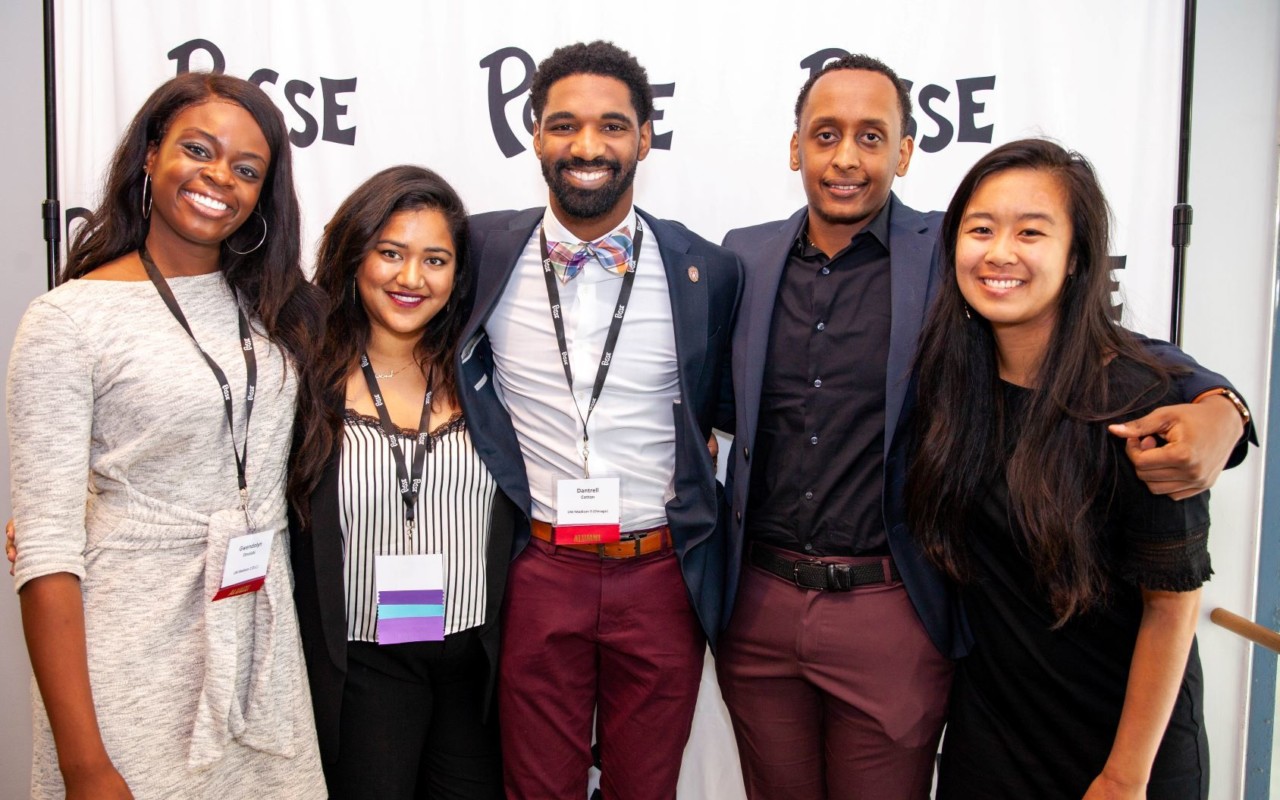 Posse National Alumni Advisory Council
Alumni Giving
Invest in future generations of Posse Scholars.
Posse National Alumni Advisory Council
"PNAAC is hugely helpful. They ground the board discussions in actual lived experience."

Tamara Wilds Lawson, Former Posse D.C. Director
The Posse National Alumni Advisory Council works to build lifelong relationships between Scholars, alumni and the Foundation by providing leadership and professional development opportunities and encouraging philanthropy, leadership, and networking within the alumni community.
PNAAC is a non-governing body, and each year comprises alumni representatives from each Posse site and program.
Representatives serve as members of their local Posse advisory boards and contribute to the development of an annual strategic plan for alumni initiatives. PNAAC works to create local and national opportunities for collaboration and networking.
2022
PNAAC

representatives
Posse Atlanta

Vanessa Alamo, Brandeis University Posse 3 (Atlanta)
Kiandra Smith, The College of Wooster Posse 7 ​(Atlanta)

Posse Bay Area

Christopher Dean, Connecticut College Posse 2 (Chicago)
Alison Montenegro, University of Wisconsin-Madison Posse 12 (Los Angeles)

Posse Boston

Olga Brik, Babson College Posse 1 (New York)
Cynthia Rodriguez, Hamilton College Posse 9 (Boston)

Posse Chicago

Brenda Benitez, Pomona College Posse 8 (Chicago)
Viridiana (Viry) Medina, Trinity College Posse 4 (Chicago)
Posse

D.C.

Shakia Asamoah, Denison University Posse 6 (Boston)
Caitlin O'Grady, Pepperdine University Posse 3 (D.C.)

Posse Houston

Genesis Rojas, Carleton College Posse 2 (Houston)
Azalia Sprecher, Bryn Mawr College Posse 2 (Houston)

Posse Los Angeles

Viviana Mauri, Mount Holyoke College Posse 1 (Miami)
Michelle Sanchez, Dickinson College Posse 3 (Los Angeles)

Posse Miami

Kala Jones, Mount Holyoke Posse 2 (Miami)
Adrian Lievano, University of Pennsylvania Posse 2 (Miami)

Posse New Orleans

Luan Vo, Tulane University Posse 1 (New Orleans)
Ty-Ron Wright, Tulane University Posse 5 (New Orleans)

Posse New York

Nicole Cone, University of Pennsylvania Posse 1 (Miami)
Terrell Moore, DePauw University Posse 14 (New York)

Posse Veterans

Brian Barkman, Wesleyan University Posse 2 (Veterans)
Rebeca Martinez, Wesleyan University Posse 3 (Veterans)
To connect with your PNAAC reps and other brilliant Posse alumni, log on to your Posse Portal and use the Posse Alumni Directory.
Featured Posse stories
Middlebury Posse 13

Brandeis STEM Posse 1