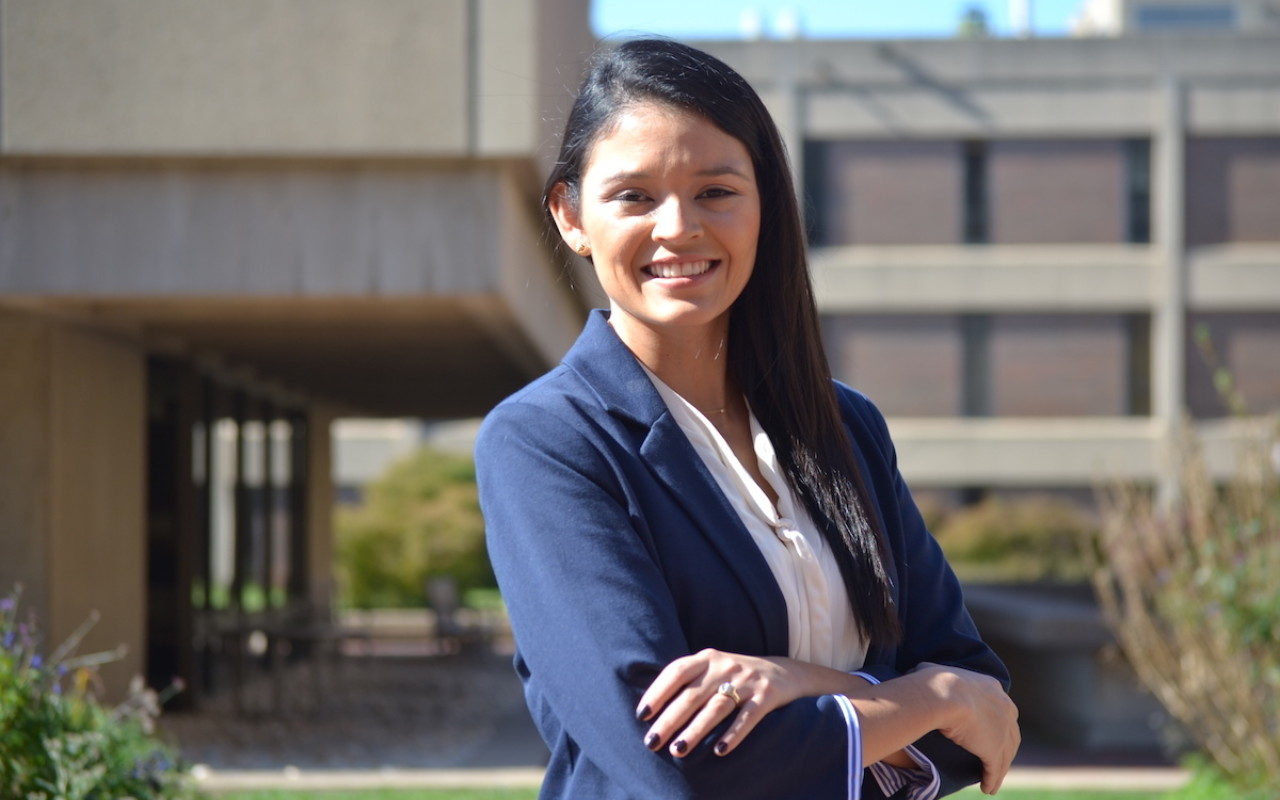 Colby Posse Alumna Leads in STEM, Wins Ainslie Award
Colby College Posse alumna Sarah Martinez Roth was recognized with the 2022 Ainslie Alumni Achievement Award for her work as a STEM researcher and advocate. Sarah is a senior research scientist in biomarkers & imaging at Vertex Pharmaceuticals. She holds a master's in physiology and biophysics, and a Ph.D. in tumor biology from Georgetown University.
Named in honor of Michael Ainslie, Posse's first board chair, the annual award recognizes outstanding graduates who have made positive contributions to their communities and beyond. Sarah was presented with this year's award in July at the National Posse Alumni Leadership Conference, held at Goldman Sachs in New York City.
Sarah holds a master's in physiology and biophysics, and a Ph.D. in tumor biology.
Sarah majored in biology and minored in chemistry and theatre & dance as an undergraduate at Colby. A Posse Career Program summer internship at Massachusetts General Hospital led to her first full-time job at the Hospital's Cancer Center following her graduation in 2011. The experience helped ignite her passion for research and inspired her to pursue graduate studies in biology.
Sarah's current work at Vertex focuses on research in pharmaceutical studies related to sickle cell and beta thalassemia diseases.
"Working on a disease that impacts people of color has been so important to me. In this post-pandemic world, it is increasingly important for science to move quickly to improve lives," Sarah says. "I am grateful I get to be able to make my mark on this industry, to make sure it improves the lives of all."
Vertex Pharmaceuticals Director Dr. Elenoe "Crew" Smith and Chief Scientific Officer David Altshuler both congratulated Sarah in a video honoring her achievement.
"I hope in my career to show the importance of health equity, and of analyzing disparate health outcomes in disenfranchised communities."
"You're exactly the kind of person who we want at Vertex to build the future of the company," Dr. Altshuler said. "You're scientific, you're a team player, you're incredibly passionate, and I know you care so much that the work you do impacts patients' lives."
"I am who I am because of who I come from," Sarah said in her acceptance speech in front of family and friends. "I am so thankful for this Posse community."
Throughout her career, Sarah has made it a point to mentor junior colleagues, especially those from underrepresented backgrounds.
"I hope in my career to show the importance of health equity, and of analyzing disparate health outcomes in disenfranchised communities," Sarah says. "My goal in my career is to help close the existing leaky pipeline, helping other women and Latinas succeed in STEM."
Watch: Sarah Martinez Roth's 2022 Ainslie Award Tribute Video