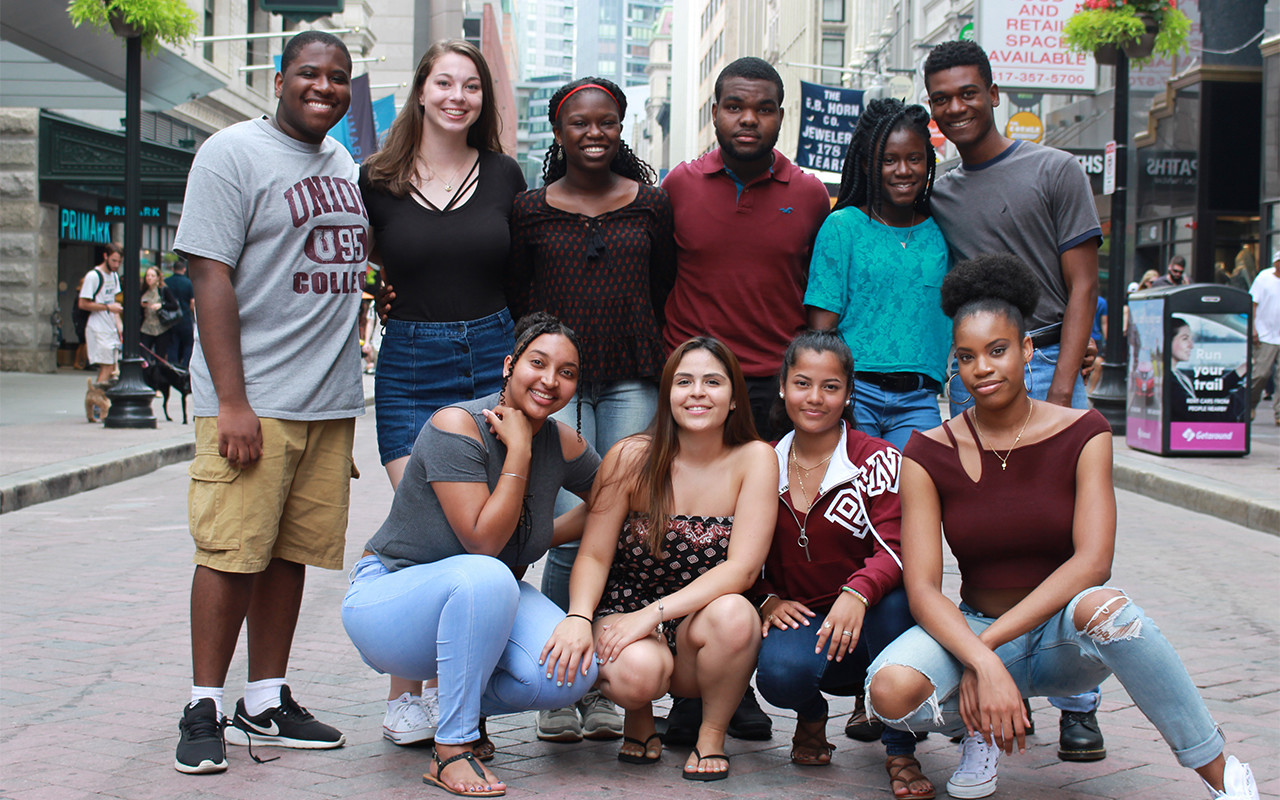 Donate
Looking to support Posse Scholars?
Mission
The Posse model works for both students and college campuses and is rooted in the belief that a small, diverse group of talented students—a Posse—carefully selected and trained, can serve as a catalyst for individual and community development. As the United States becomes an increasingly multicultural society, Posse believes that the leaders of the 21st century should reflect the country's rich demographic mix. The key to a promising future for our nation rests on the ability of strong leaders from diverse backgrounds to develop consensus solutions to complex social problems. Posse's primary aim is to train these leaders of tomorrow.
Three Goals
To expand the pool from which top colleges and universities can recruit outstanding young leaders from diverse backgrounds.
To help these institutions build more interactive campus environments so that they can be more welcoming for people from all backgrounds.
To ensure that Posse Scholars persist in their academic studies and graduate so they can take on leadership positions in the workforce.
Program Components
Posse's four program components are designed to ensure our Scholars' success. With support from Posse, Scholars excel at school, win competitive internships and earn prestigious awards. After graduation, many of our alumni are admitted to elite graduate programs and hired for top jobs.
The Dynamic Assessment Process
Posse's Dynamic Assessment Process (DAP) is a unique evaluation method that identifies young leaders with great potential.
Running from September through December each year, DAP finds students who might be missed by the traditional admissions criteria at highly selective schools but who can excel on campus. DAP uses nontraditional forums to evaluate potential, offering nominated students an opportunity to demonstrate their intrinsic leadership ability, their skill at working in a team setting, and their motivation and drive to succeed.
DAP has proven to be an extremely effective tool. Using the three-part process, which includes group and individual interviews, Posse staff and partner college administrators ultimately select a diverse group of 10 students — a Posse — for each institution.
Pre-Collegiate Training
Posse's Pre-Collegiate Training (PCT) helps Scholars develop as leaders before they matriculate at college.
From January to August of their senior year in high school, newly selected Scholars meet weekly with Posse peers and staff for two-hour workshops that address four areas:
Academic excellence
Team building and group support
Cross-cultural communication
Leadership and becoming an active agent of change
The Campus Program
The four-year Campus Program works to ensure the retention of Posse Scholars and to increase the impact of the program on campus.
Posse staff visit each school four times annually for meetings with Scholars, campus liaisons and mentors. During a Posse's first two years on campus, Scholars meet with their mentor weekly as a group and individually every two weeks.
Posse also facilitates a weekend-long PossePlus Retreat for each of its partner schools in the spring. Attended by members of the student body, faculty and administration, PossePlus Retreats explore an important social issue identified by Scholars.
The Career Program
The Career Program connects Posse Scholars and alumni to highly coveted professional development opportunities.
By partnering with industry-leading companies and organizations and establishing affiliations with first-tier graduate and professional schools, the Career Program gives Scholars tools to secure competitive internships and leadership-track jobs in a wide range of fields.
The Career Program has five components:
Internships
Career Development Workshops
Career Coaching
Graduate + Fellowship Programs
The Alumni Network