The
Posse
Virtual
Program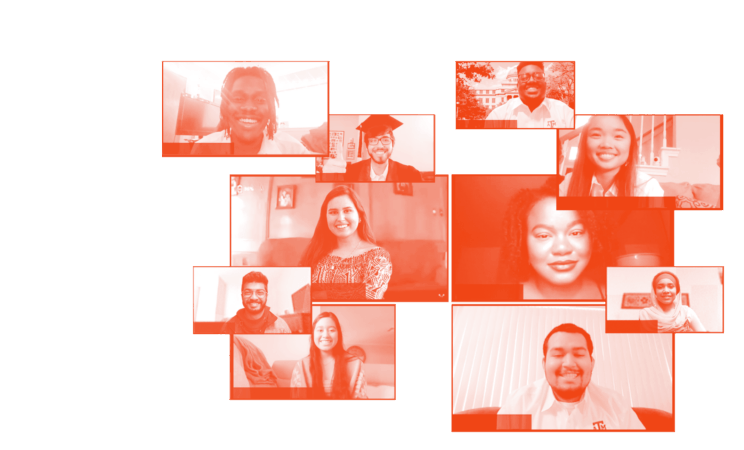 The Posse Virtual Program selects and trains Posse Scholars using innovative online platforms.
Through the Virtual Program, nominees for the Posse opportunity take part in an online version of the Dynamic Assessment Process (DAP). Recipients of the Posse Scholarship participate in Pre-Collegiate Training remotely as well. Finally, Scholars selected through the Virtual Program attend college as members of geographically diverse cohorts, with each Posse made up of students from different cities across the country.
While selection and training is conducted online, Scholars are admitted with full-tuition scholarships and matriculate on campus alongside the general student body of our partner schools.
"Posse effectively identifies students of extraordinary ability and enormous potential."

Katherine A. Rowe, President, William & Mary
The Virtual Program partner colleges and universities are Case Western Reserve University, Centre College, Cornell College, Davidson College, Macalester College, Purdue University, Rhodes College, St. Olaf College, University of North Carolina School of the Arts, University of Virginia and William & Mary.
The Posse Virtual Program greatly expands The Posse Foundation's reach, connecting more phenomenal students from great cities to top institutions of higher education.
History
In 2020, The Posse Foundation adapted to a virtual model to protect Scholars and staff during the COVID-19 pandemic. As a result of the overwhelming success of the online program, Posse decided the model could be modified to serve a greater number of students in other major U.S. cities.
In addition to recruiting traditional, city-based Posses from our 10 program sites, Posse expanded, employing the new virtual platform to recruit geographically diverse Posses from Charlotte, Cleveland, Dallas, Denver, Memphis, Newark, Philadelphia, Phoenix and select cities in Indiana, Minnesota and Virginia.
Like traditional Posses, the new cohorts will receive all of the usual supports as part of the program, including full-tuition scholarships from partnering institutions, on-campus mentoring, and the opportunity to participate in the annual PossePlus Retreat. Unlike traditional Posses, students in the new program will experience DAP and Pre-Collegiate Training through online platforms, even once the pandemic ends.