Communications expert works with our nation's top public servants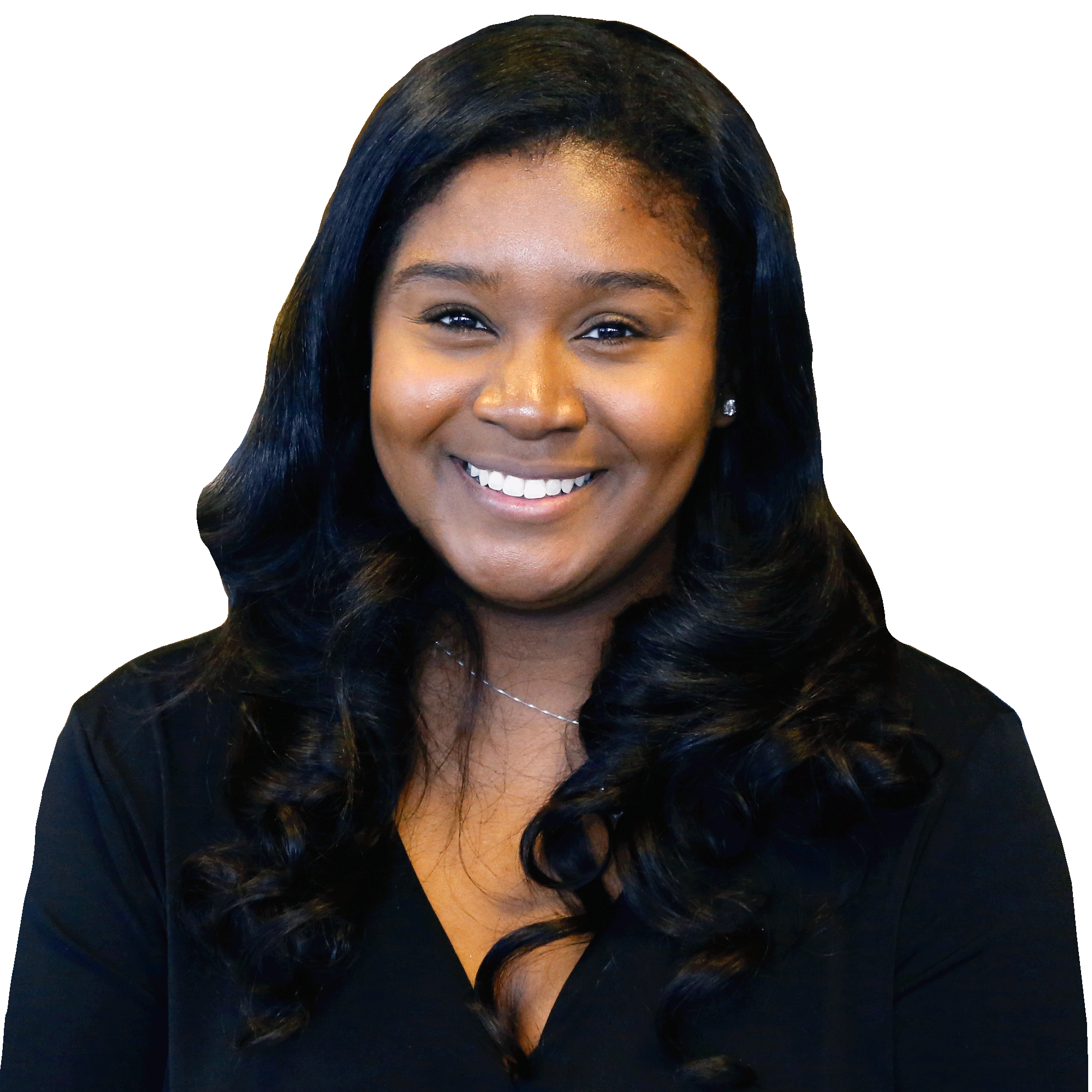 Bryn Mawr Posse Alumna Gabrielle Farrell grew up in Boston's Mattapan neighborhood as an only child, raised by her widowed mother, Francine Hobbs-Farrell.
She excelled in athletics, attended Harvard's Crimson Summer Academy, and was a National Honors Society member and senior class president. But when her guidance counselor nominated her for the Posse scholarship, Gabrielle remembers being extremely nervous. She has distinct memories of how the DAP interview process unfolded.
One interview question in particular stuck in her mind.
"They asked, 'What role would you play in your Posse?'" Gabrielle recalled, "I said, 'I would be the glue.'"
"They asked, 'What role would you play in your Posse?' I said, 'I would be the glue.'"
But Gabrielle's mother, Francine, wasn't sure that Posse was the right path for her daughter. She'd never heard of Bryn Mawr College and was determined to get her child to attend college closer to home.
As a patient care associate at Mass General Hospital, Francine had worked alongside many experienced doctors and nurses for 45 years.
One day at work, a doctor asked her about Gabrielle's plans for college. "She said, 'Gabrielle wants to go to Bryn Mawr College. I have never heard of it and it's so far away.'"
"The doctor replied, 'She must be very intelligent if she's been accepted to Bryn Mawr! The president of Harvard University attended that school.'"
Gabrielle remembers what came next: "My mother called right away and strongly encouraged me to take the Posse Scholarship. There was no more hesitation or concern. She was all in."
Gabrielle became a Bryn Mawr Posse Scholar, majoring in political science and French, which included spending a semester in Paris. After graduation in 2012 she returned to Boston to work for the nonprofit Project Bread in communications and external affairs. In 2014, she accepted a position in Mayor Marty Walsh's administration as the mayor's press assistant and progressed into the role of an associate press secretary.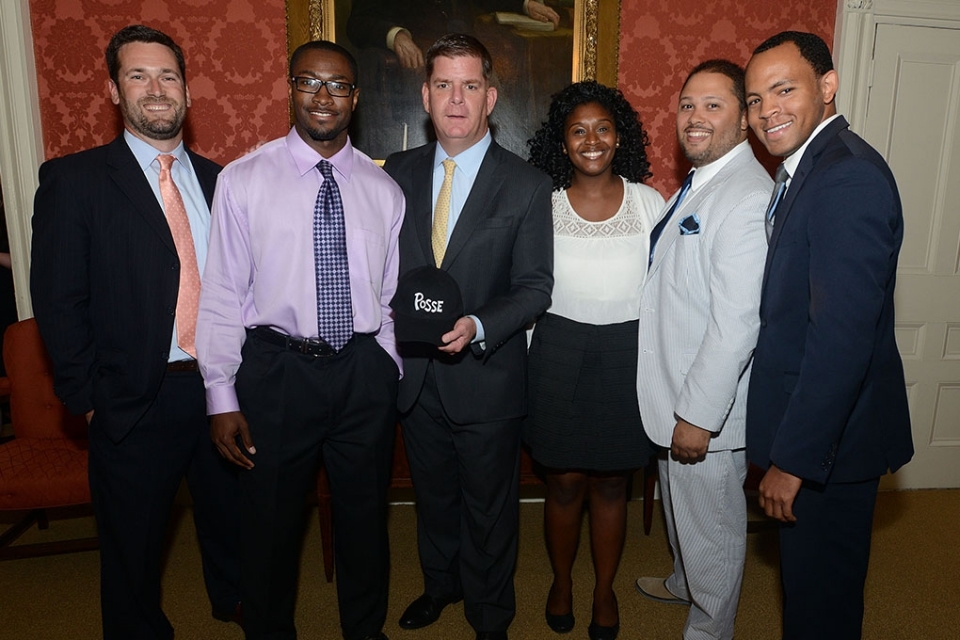 "The Posse Foundation shows us how much potential and talent we have in the City of Boston," says Mayor Walsh, who has employed many Posse Scholar interns and alumni. "Gabrielle has been a leader in my office, and I have enjoyed the opportunity to work with her."
In 2016, Mayor Walsh and Boston Public Schools Superintendent Tommy Chang appointed Farrell as Deputy Chief of Staff of Communications for Boston Public Schools. She also completed a master's degree in communications from Northeastern University while working for the city.
Gabrielle left her position with the Boston Public Schools to become the press secretary in Mayor Walsh's successful 2017 campaign for reelection. She continues to ply her trade in service to public officials she believes in. In January 2018, Gabrielle joined Massachusetts Senator Elizabeth Warren's 2018 campaign for re-election, also as press secretary.
"Posse has positioned me to lift up my community."
"From working with Mayor Walsh in City Hall to the campaign trail to get Senator Warren reelected, Posse has positioned me to connect with local and national leadership and lift up my community," she says. "At every turn, there's another Posse Scholar, and it's incredible when we have an opportunity to work together on something larger than ourselves."
"Posse's mission is very powerful and we need to use every tool possible to build up the future leaders of this country and world," says Senator Warren. "The five Posse Scholars on my team fight every day on behalf of the people of Massachusetts. They give me hope. They remind me we are in this fight together. And it makes me all the more determined."
"Posse changed my life," says Gabrielle. "It continues to take me on many meaningful and surprising journeys."
Watch: Gabrielle's Ainslie Award Tribute Video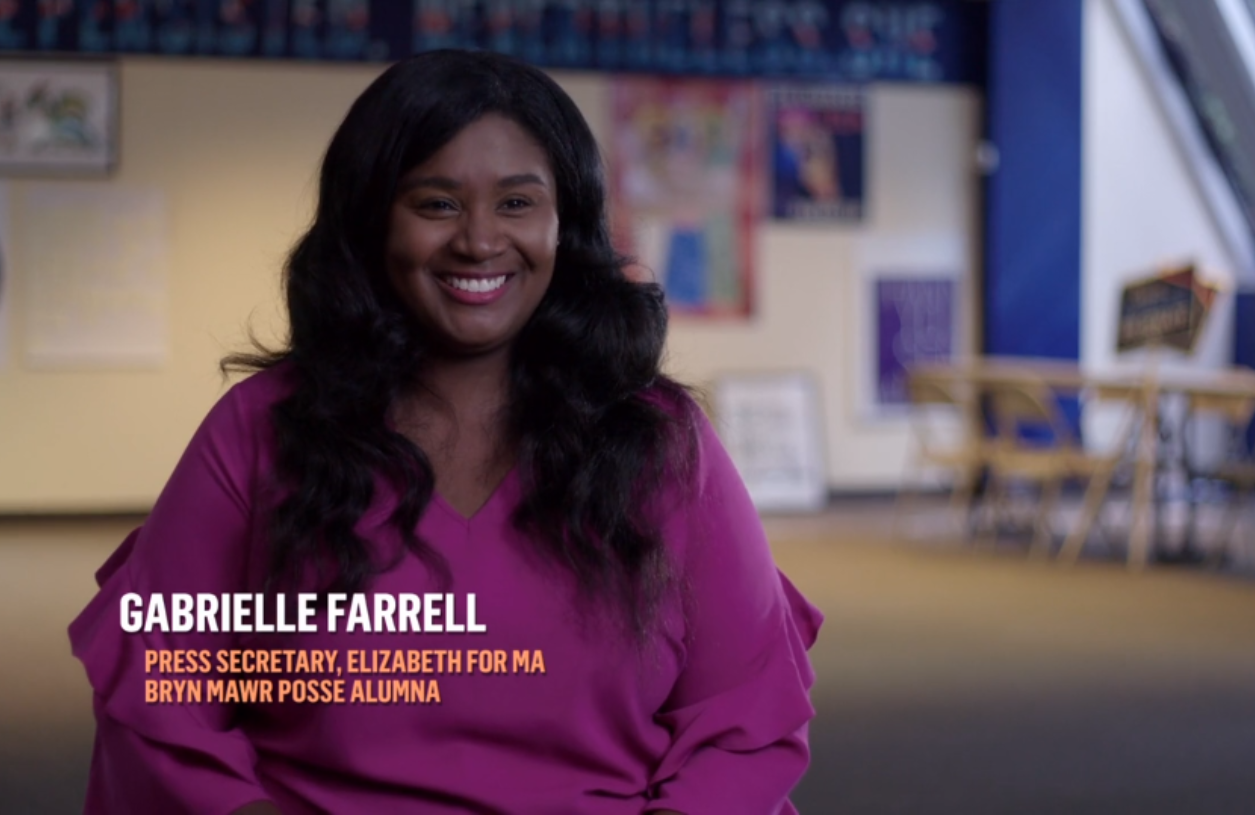 Feeling the #PosseLove? Doing something exciting that you want to shout from the rooftops? We want to hear about how Posse has affected your life and the world around you.