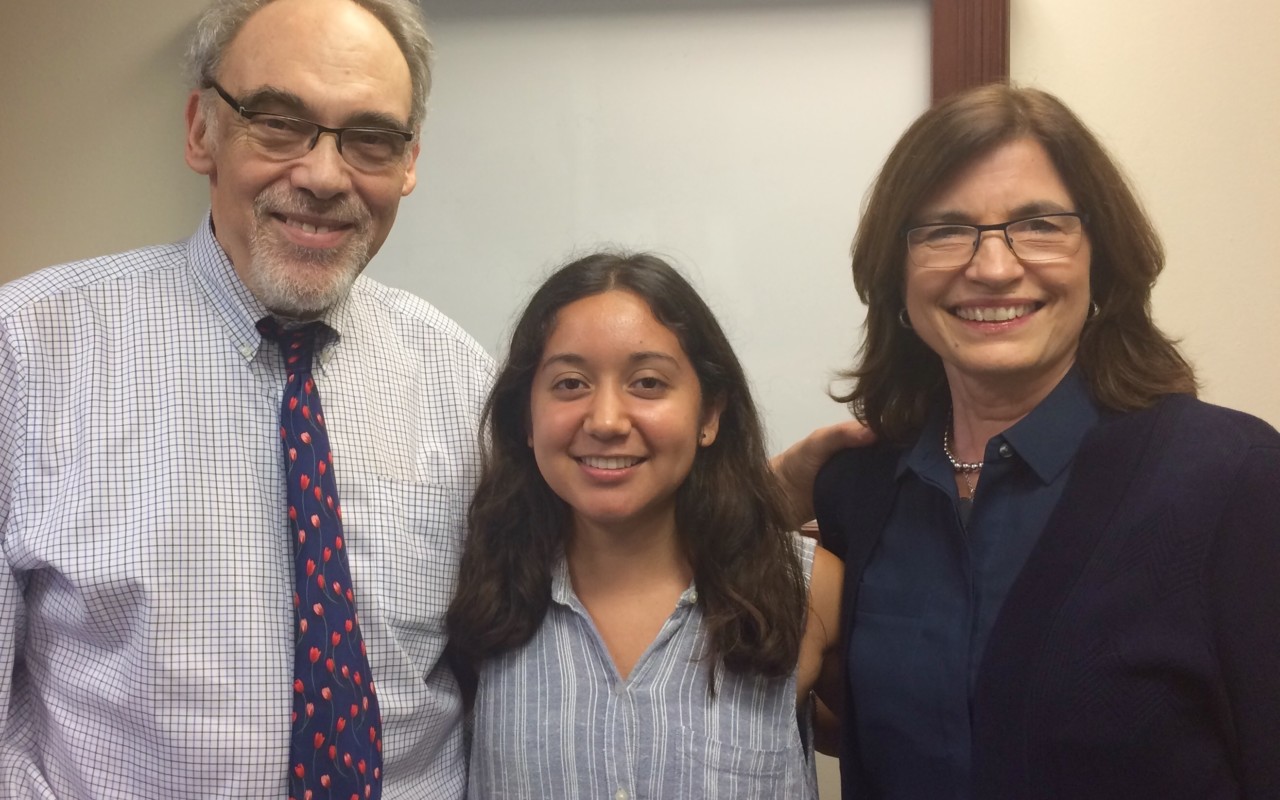 Ubben Posse Fellow Interviews: Karen Redlener
The Jeff Ubben Posse Fellows Program awards five exceptional Posse Scholars $10,000 each and the chance to spend 4-6 weeks during the summer shadowing and learning from a major industry leader. The interview below with Karen Redlener, founder of the Children's Health Fund, was conducted by Posse Scholar Paola Meza, now in her junior year at Middlebury College, who worked with Karen and Irwin Redlener as a 2017 Jeff Ubben Posse Fellow. The conversation has been edited and condensed.
PAOLA: Thinking back to when you were a kid, were there any family members or mentors that influenced the way that you approach problems or situations?
KAREN REDLENER: I was a pretty independent kid from the beginning. I'd say the biggest influence would be my family's entrepreneurial focus. My dad and grandfather were self-made businessmen. I saw the value of working hard and working toward a goal that you really cared deeply about. My father built a company of window and door products for construction. He worked during the day, evenings, and weekends to make it successful.
In partnership with Irwin, I found my own passion and made it into a reality. To do that, we always worked hard. It's not a nine to five commitment. It's more like, you enjoy what you're doing. You think it's important. You think it's impactful. I'd say for Irwin and me, we were able to build the Children's Health Fund because of our partnership. Irwin is a different type of leader than I am. He is a visionary and does not focus a lot on details and processes and that type of thing. I am more of an implementer or an architect that can take that idea and create a structure or a plan that other people can become a part of. It's good to have both types of leaders. If you only have one type of leader, it's a different type of impact. Both potentially positive, but maybe not as sustaining.
"It's not a 9 to 5 commitment."
How have you seen your leadership, and Irwin's leadership, evolve over the past 30 years?
I'd say that in the beginning, as founders and founder leaders, the vision is really important. You have a vision for what you want to do, and you have to find all those partners. You have to convince people that this vision is worthwhile and that they want to join you and support you and help you establish something.
Irwin is a very charismatic speaker. He reached out to a lot of corporate CEOs to get support for our non-profit and our vision. The CEO leadership responded extremely well to Irwin's entrepreneurial leadership. Paul Simon was very important as a co-founder because he helped us get attention. My job at that point was helping to shape a clear path for people to understand, "This is what we're going to do and this is how we're going to do it."
I don't know if my leadership has changed particularly. I've always been an inclusive communicator. I like to find people and work with people that are mission driven and give them clear structure for where we want to be. At the same time. I like to give them the independence, for them to feel like they have a role and authority over their areas. I can be the support and make sure people are all following the path that we want to go on.
What important lessons have you learned as a boss or manager? Do you remember the first mistakes you made and how that has changed your approach?
There were some cultural things I learned early on that ended up being important. I'm a serious type of person, and I like to do the work. I also understand that other people like to do the work. However, they also like to celebrate successes, have birthday recognitions, and holiday parties. I learned that other people like that. I had to make an environment that felt like people were recognized in different ways. I like to recognize people for their work but not necessarily celebrating a birthday. But I understand that for other people it's important.
"There is no stronger voice than someone who has had their own challenging path."
In a large organization, you want to do things that make people feel good about coming to work. For some people it's important to say good morning when you walk in the door. It's a sign of respect. A sign of acknowledgement. I have shared this with other leaders in my time. It's important for you to say good morning and hello to the receptionist. Don't just walk past them in the morning. People will see how you interact with others. Whether it's cultural or personal or social, people have diverse ways of being, where they feel respected and valued. I think it's important for a leader to understand that there are different types of personalities and ways to communicate that respect and value.
A lot of kids benefit from the work at Children's Health Fund. What is some advice you would give to policy scholars or the children coming out of these programs and entering adulthood?
It would be to find work that you're passionate about. That will keep you going for a long time. I would also add that kids who are linked to vulnerable communities and have become successful with the support of mentors can be a powerful voice for society. They have proven to be successful with services and resources provided at critical times in their lives. Along with having an important relative that was there for them or a teacher. With the right kind of support for children and families, children can get out of poverty and grow into a leader. They don't have to make their careers about that. But sharing that in different environments reinforces that investments in vulnerable communities are successful.
There is no stronger voice than someone who has had their own challenging path and has grown to be successful in the more traditional sense. That's a powerful voice at any table. Irwin is also trying to say, "Look, our country will be stronger if more people are educated and healthy and contributing in different ways." There are costs. If you don't invest early in children, there are costs to our society. If you just want to look at it from the financial perspective. If children drop out of school and do not have economic opportunities, and get in trouble with the law. There are costs of taking care of that. Let's try to avoid those costs if you want to just think of it financially. Invest early to improve educational success and build opportunities for kids.
Read More:
Ubben Posse Fellow Interviews: Congressman John Lewis
Ubben Posse Fellow Interviews: Jason Blum
Ubben Posse Fellow Interviews: Joseph Stiglitz
Ubben Posse Fellow Interviews: Cecilia Conrad
Meet the 2017 Jeff Ubben Posse Fellows.