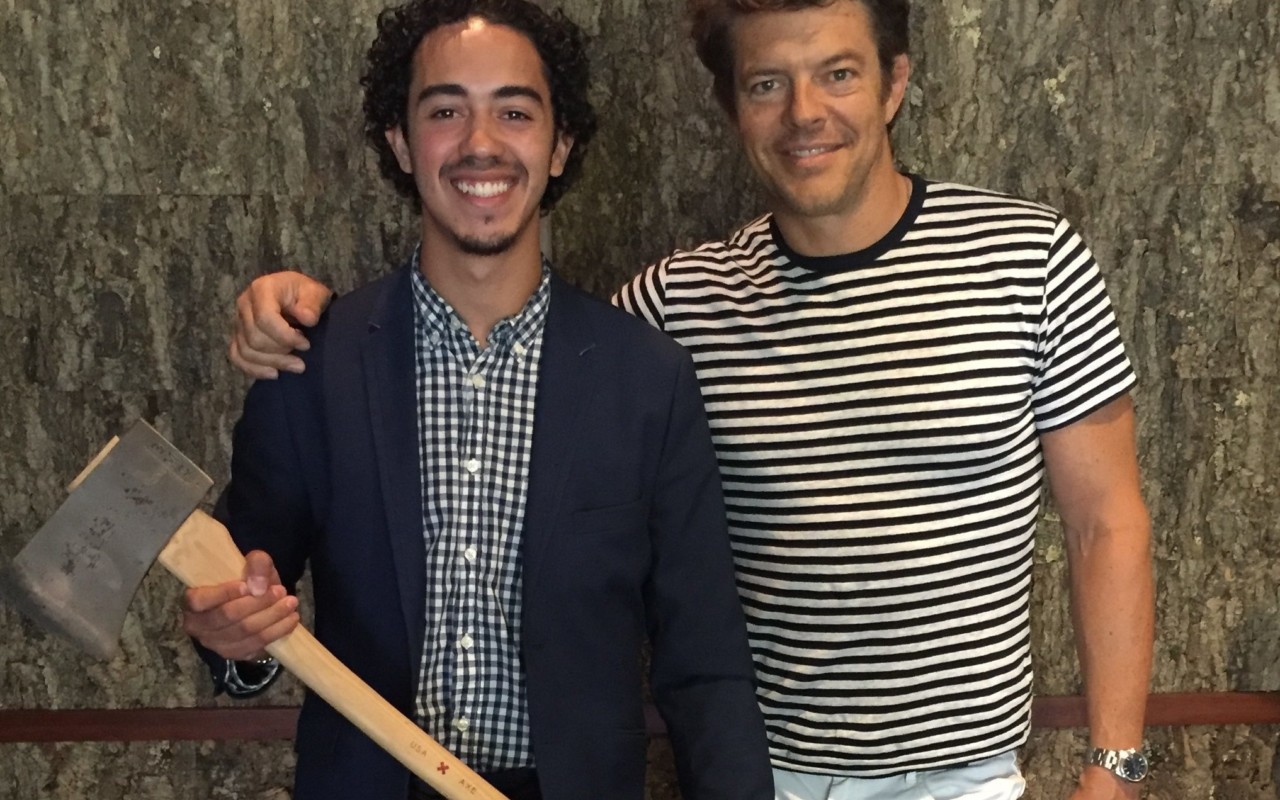 Ubben Posse Fellow Interviews: Jason Blum
The Jeff Ubben Posse Fellows Program awards five exceptional Posse Scholars $10,000 each and the chance to spend 4-6 weeks during the summer shadowing and learning from a major industry leader. The interview below with Jason Blum, Emmy award winning producer, and Founder/CEO of Blumhouse Productions, was conducted by Posse Scholar Christian Vazquez, now in his junior year at Connecticut College, who worked with Jason Blum as a 2017 Jeff Ubben Posse Fellow. The conversation has been edited and condensed.
CHRISTIAN: Tell me about your early years.
JASON BLUM: I was born in LA but moved to New York when I was five. During the week, I lived with my mom in a suburb of New York, called Dobbs Ferry. On the weekends, I would go to my dad's house in Manhattan. Both of my parents were involved in the arts. My mother was a college professor of art history and my father was an art dealer. I was exposed to art from an early age, which had a big impact on my life and career choices.
Thinking about your parents. How has their influence and that living situation affected your leadership style?
I had the advantage of knowing from an early age that you could make a living in the arts. I was lucky enough to grow up with an example of that.
My parents also taught me about (this is kind of along the arts side) aesthetic and taste. My mother instilled a very strong sense of right and wrong. My sense of right and wrong may be different than yours or anybody else's. But I have my own sense of right and wrong, which is deeply rooted in me. When I make decisions about how to run my company, treat people, and handle situations, I think back to the moral and ethical code that my mother instilled in me.
You have the dad hat. You have the CEO hat. How do you balance all the hats you have to wear?
I am very careful about what I commit to. I almost never commit to anything that cuts into time with my daughter in the morning and before she goes to sleep.
You must know how to say no. You have to be able to say, "We want to talk for an hour. No. We're not doing the other thing. This is what I am doing. I don't care if everyone wants me to do that other thing. I'm going to do this, then we can take care of that." You have to put your foot down a lot.
To pivot, what's one mistake you have made in your leadership roles? Maybe at Blumhouse, maybe before.
I was an executive for Miramax, a film company. My work was not traditional but I was eager to go out on my own, so I quit. Looking back, I think my professional life would have been less sharp had I stuck around a little longer. I was impatient.
It's hard to see that when you're young. My younger brother has been working as an assistant for two years. I know he's pulling his hair out like, "I don't want to get people coffee." I think there's value in that. Through my past mistakes, I learned to let things happen as opposed to trying to force them to happen.
Speaking of management and the CEO role: When you're looking at someone to potentially hire or take on for a project, what do you look for?
You look for people who are smart and observant. You look for people who are listeners, focused, and zero in on what you are saying. They pick up on the energy in the room. It's hard to teach people that. I do that a lot when I meet a director. You listen for clues. So, the answer to your question is: are people listening? Are they articulate? Can they convey an idea succinctly?
What scares us? What scares you? Why do you think that is?
The unexpected is scary. I guess things we are not used to or things we are not accustomed to. I think that is the scariest thing for people.
A lot of people like to be scared, thank God. Generally, I'm not scared of much. I mean, I'm scared of dying and that's something I think about. But I think about dying when I'm 80. I think there are a lot of people who kind of live in fear. I really don't do that. That's not to say that I do not get scared but those times are few and far between.
Read More:
Ubben Posse Fellow Interviews: Congressman John Lewis
Ubben Posse Fellow Interviews: Joseph Stiglitz
Ubben Posse Fellow Interviews: Cecilia Conrad
Ubben Posse Fellow Interviews: Karen and Irwin Redlener  
Meet the 2017 Jeff Ubben Posse Fellows.