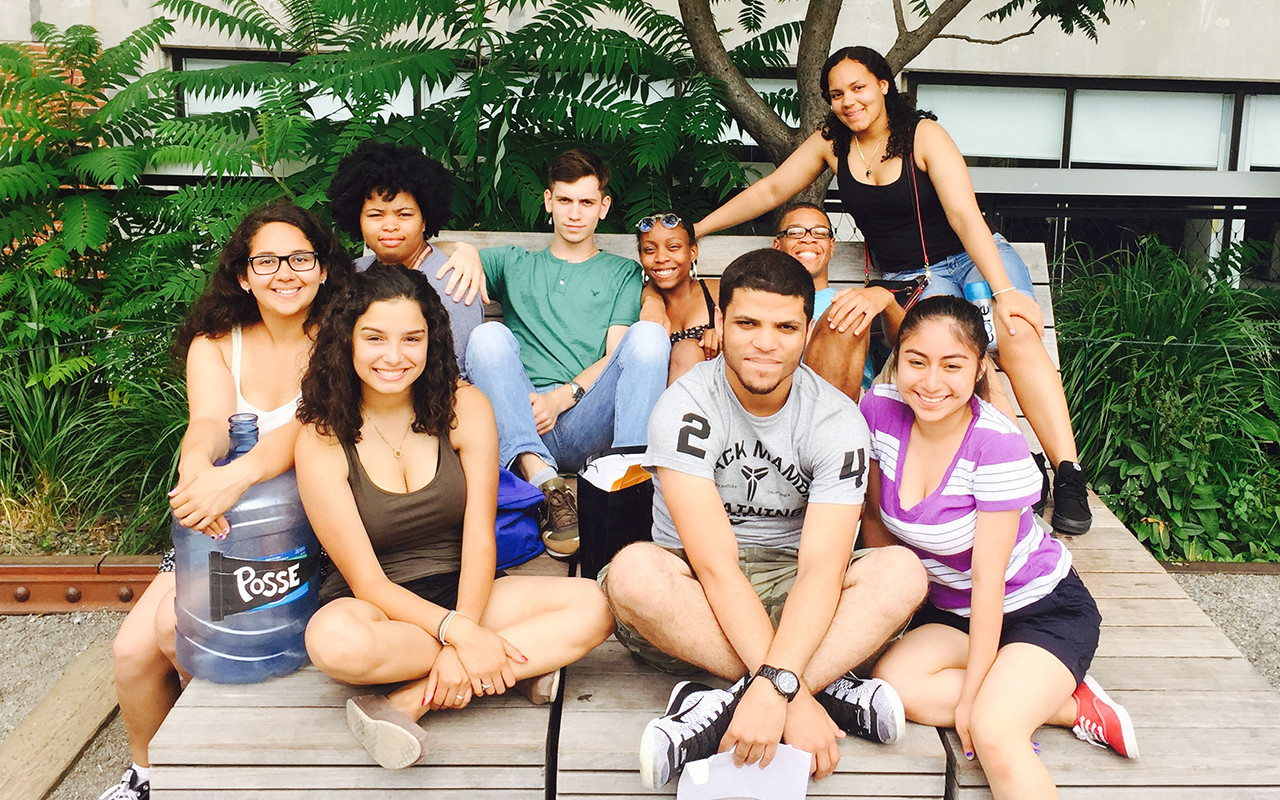 Donate to Posse New York
Looking to donate directly to this site?
To date, New York Scholars have won $422.5 million scholarship dollars from New York partner colleges and universities.
History
New York is the birthplace of The Posse Foundation thanks to one student who said, "I never would've dropped out of college if I'd had my posse with me." A generous grant from the W.K. Kellogg Foundation made Posse possible. Since then, Posse has grown into a national movement, with New York as its largest recruiting city.
Posse is grateful to the teachers, counselors and community leaders of New York City, who help us identify incredible high school students. We especially thank our partner colleges and universities for their investments in the program and belief in the promise of Posse Scholars.
Note: California Institute of the Arts recruits only students interested in majoring in the arts. As candidates advance through the selection process, an audition or portfolio will be required.
Posse New York Staff
Michell Tollinchi, Director
Monica Bastos, Career Program Specialist
Kaz Boschen, Program Director
Jezza Bull-Briones, Assistant to the Director
Posey Cohen, Trainer
Cecilia Costa da Luz, Program Coordinator
Rachelle Eason, Senior Trainer
Andrew Garcia, Trainer
Alexandra Gaynor, Career Program Specialist
Morgen Littlejohn, Trainer
Bryan Lucero, Program Director
Paloma Mallan, Trainer
Serena Rodriguez, Trainer
Jomar Velez, Program Coordinator
Michael Williams, Senior Trainer
New York Advisory Board
Steve Gallucci, Global and U.S. Managing Partner, CFO Program, Deloitte LLP, Advisory Board Chair
Mercedes Chatfield-Taylor, Co-Founder & Chief Executive Officer, Artico
Ellen Davis, Senior Managing Director, August
Jason Ewell, Partner, Insight Partners
Isabel Gómez Vidal, Chief Revenue Officer, Moody's Analytics
Natalee Graham, Managing Director, Head of Volcker Compliance, Mizuho; Brandeis University Posse Alumna (New York)
Asha Harvey, Bucknell University Posse Alum (D.C.); Senior Consultant-Sustainability, Climate and Equity, Deloitte
Chris Heffernan, Director, Ernst & Young LLP
David Kaul, Director of Measurement & Analytics, Google
Terrell Moore, DePauw University Posse Alum (New York); Assistant Vice President of Campus Recruiting, Deutsche Bank
Monique L. Nelson, Chair & CEO, UniWorld Group Inc.; Vanderbilt University Posse Alumna (New York)
Carlos G. Salcedo, Managing Director and Head of US Equity Synthetics Sales, Barclays Capital; Brandeis University Posse Alumnus (New York)
Lee Ann Stevenson, General Counsel & Chief Administrative Officer, Vericast; Senior Vice President, MacAndrews and Forbes Inc.
Maggie Quinn Walker, Former Senior Vice President - HR Enablement, IHS Markit
Aparna Yenamadra, Partner, Kirkland & Ellis
Tyler Zachem, Founding Partner and Chief Executive Officer, Broad Sky Partners