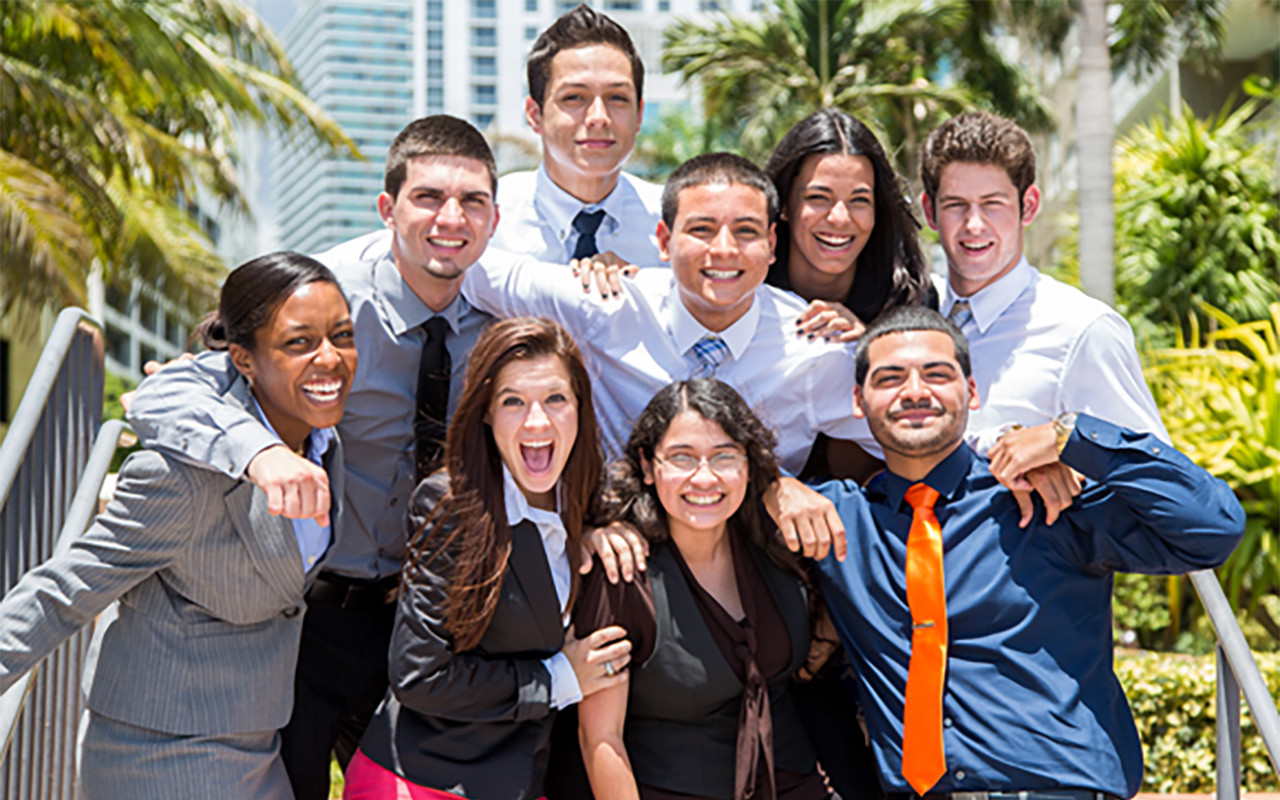 Donate to Posse Miami
Looking to donate directly to this site?
To date, Miami Scholars have won $127.4 million scholarship dollars from Miami partner colleges and universities.
History
Posse expanded to Miami thanks to generous gifts from the John S. and James L. Knight Foundation, Florida Department of Education, The Foundation for New Education Initiatives, Inc, The Fortin Foundation of Florida, Inc. and The New World Foundation.
Posse is grateful to the teachers, counselors and community leaders of Miami, who help us identify incredible high school students. We especially thank our partner colleges and universities for their investments in the program and belief in the promise of Posse Scholars.
Posse Miami Staff
Jeremy Rosenthal, Director
Anthony Abeja, Trainer
John Manuel Alba-Cerritos, Trainer
William De La Vera, Development Officer
Madelin Garcia, Trainer
Christiana Gema, Program Coordinator
Maydee Martinez, Program Director
Jake Paz, Trainer
Abygaelle St Jean, Assistant to the Director
Sarah Wilson, Career Program Specialist
Miami Advisory Board
Peter E. Blacker, EVP, Agency Partnerships & Head of Diversity, Equity and Inclusion Advertising and Partnerships, NBCUniversal, Advisory Board Chair
Lenz C. Balan, Vice President, 777 Partners; Bowdoin College Posse Alumnus (Boston)
David K. Black, Partner, Berger Singerman
Angie Christie, U.S. Central Region Vice Chair, Ernst & Young
Roland Cole, Vanderbilt University Posse Alum (New York); Research Analyst, Polen Capital
Enrique A. Conde, Partner, Holland & Knight
Jeffrey F. DiModica, CFA, President & Managing Director, Starwood Property Trust
Scott Dolsey, Senior Vice President, WhiteHorse Capital
Dareth Finn, Managing Director, VOYlegal
Michael Freedland, Founding Partner, Freedland
Michael Kluger, President, Salutation Capital
T'Shaka Lee, Partner, Deloitte
Manuel Enrique Machado, Co-Chairman, C-Com Group, Inc.
Joseph Mamounas, Complex Domestic and International Disputes Shareholder, Greenberg Traurig
Garrett Navia, Director, General American Capital Partners LLC
Tim O'Neill, Chief Investment Officer, Nolan Reynolds International
Reina V. Ponce, Chief Financial and Compliance Officer, IPD Analytics LLC/IPD Capital LLC
Lisa Sanders, Private Sector
Bijan Toghiani, Vice President, Business Banking, Miami-Dade and Monroe County Wells Fargo & Company
Jean-Pierre Trouillot, Partner, Deal Advisory, KPMG LLP
David I. Vargas, University of Pennsylvania Posse Alum (Miami); Senior Implementation Consultant, Coffee & Dunn
Featured Posse stories
Mount Holyoke Posse 8