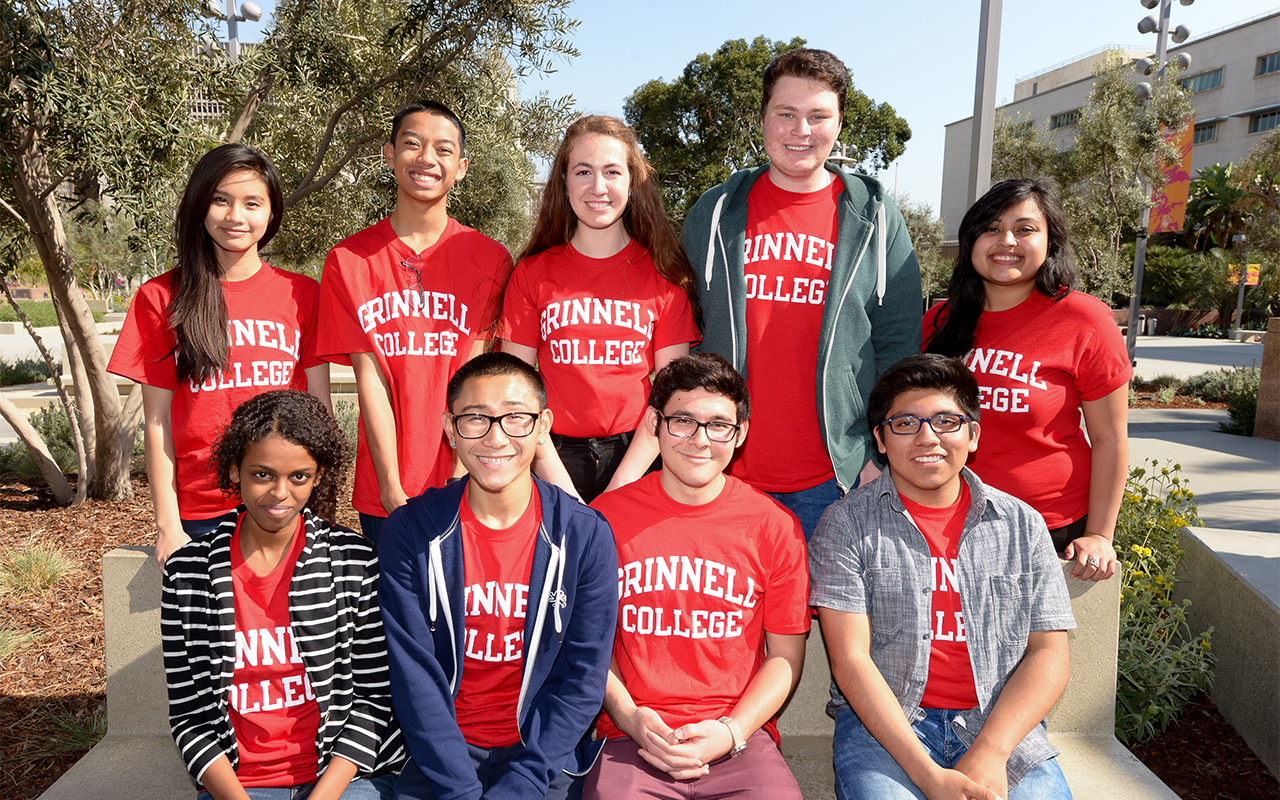 Donate to Posse Los Angeles
Looking to donate directly to this site?
To date, Los Angeles Scholars have won $249.4 million scholarship dollars from Los Angeles partner colleges and universities.
History
In order to make Posse a national movement, we knew it had to expand to the west coast. Thanks to the generosity of The Goldman Sachs Foundation, we were excited to launch Posse's first Pacific coast site in Los Angeles, where it continues to thrive today.
Posse is grateful to the teachers, counselors and community leaders of Los Angeles, who help us identify incredible high school students. We especially thank our partner colleges and universities for their investments in the program and belief in the promise of Posse Scholars.
Posse Los Angeles Staff
Nikki Kealalio, Director
Jennifer Arias, Program Coordinator
Nia Cathcart, Trainer
Maricela Lorenzo Cruz, Trainer
Miranda Hall, Career Program Specialist
Nathalie Lopez, Development Associate
Joshua Pamintuan, Assistant to the Director
Cynthia Ramirez, Program Director
Christina Rozario, Senior Trainer
Kayla Schwartz, Trainer
Rafael Solis-Segura, Trainer
Raúl Soto, Career Program Specialist
Christopher Stern, Senior Trainer
Nick To, Senior Development Officer
Jasmin Turcios, Trainer
Bryan Vazquez, Program Coordinator
Jonathan Wanless, Trainer
Los Angeles Advisory Board
Susan Goldsmith, Principal, Monitor Deloitte, Advisory Board Chair
Bobby P.S. Bans, Managing Director/Western Region Originations Manager, Wells Fargo
Eric Beckman, Chairman and Managing Partner, Breakwater Investment Management, LLC
David W. Bonnette, Managing Director, Vista Equity Partners
Alexis J. Cotton, Product Design Lead, Meta; University of Southern California Posse Alumna (New York)
Derek Cotton, Manager, Talent Acquisition, Capital Group
Kevin Fortson, Senior VP, Production and Administration, Warner Bros Unscripted Television
Lee Hutter, Chief Executive Officer, Curated Wealth Partners
Bindiya Khurana, Partner, KPMG US
Viviana Mauri Ibarra, Mount Holyoke College Posse Alum (Miami); Senior Executive Assistant to the Executive Vice President, Communications and Chief Inclusion Office, Warner Bros. Discovery
Todd Molz, General Counsel and Chief Administrative Officer, Oaktree Capital
Celia Ramos, Senior Client Executive and Managing Director, Accenture
Michelle Sanchez, Dickinson College Posse Alum (Los Angeles); Assistant Principal, Torres East LA Performing Arts Magnet School
Jill Schecter, Attorney, Gould & Gould LLP
Eric Schiffer, Managing Partner, Gratitude Ventures, LLC; Co-Managing Partner, Au Zone Investments; Former CEO, 99¢ Only Stores
Greg Skalaski, Executive Vice President, Shawmut Design and Construction
Adam Stewart, VP, Consumer, Government & Entertainment, Google
Farah Sutton, Director of Diversity & Inclusion, Riot Games; University of Wisconsin Posse Alumna (Chicago)
Sulman Usman, Co-Founder, Adaptive Green; Vanderbilt University Posse Alumnus (New York)
James Wilcox, Managing Director, Wealth Manager, First Republic Investment Management