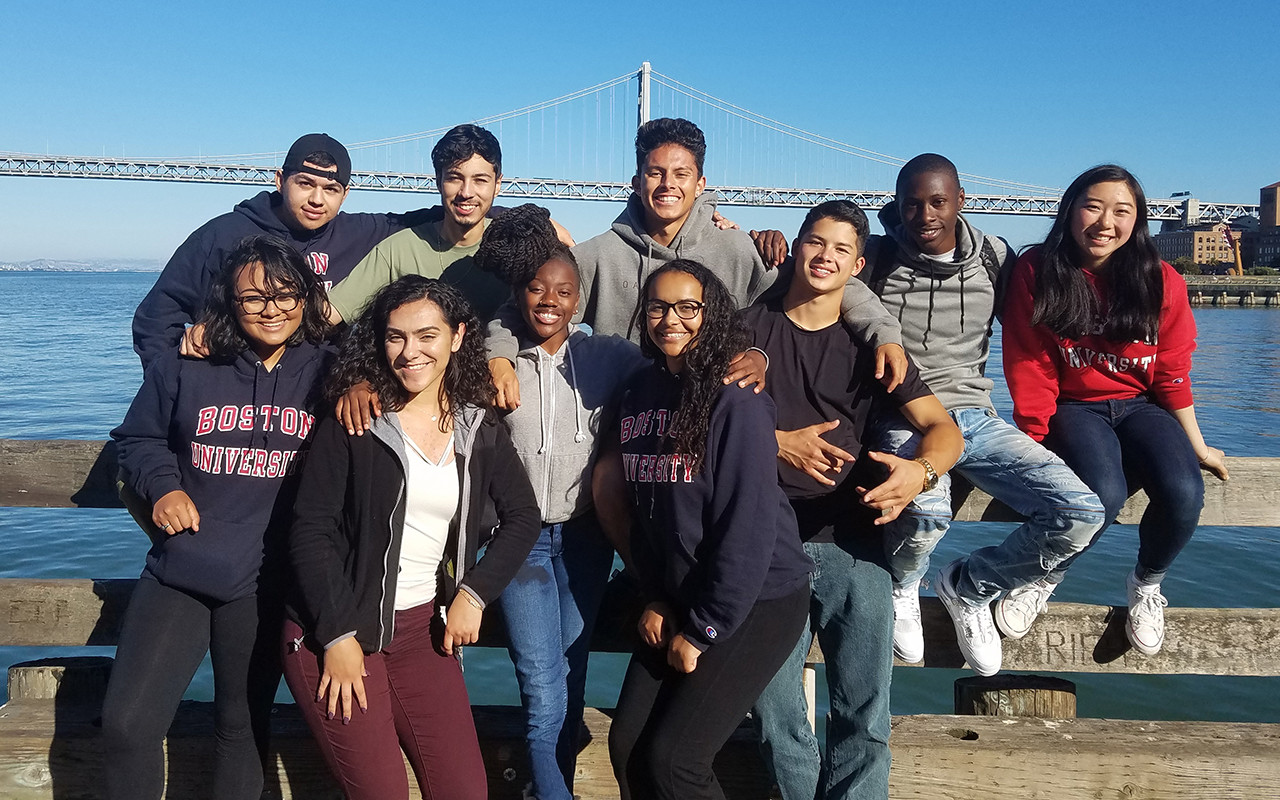 Donate to Posse Bay Area
Looking to donate directly to this site?
To date, Bay Area Scholars have won $41.9 million scholarship dollars from Bay Area partner colleges and universities.
History
Posse Bay Area was our 10th city, founded thanks to the generosity of the Walter and Elise Haas Fund, The Leon Lowenstein Foundation, The Silver Giving Foundation and members of the Posse Bay Area Advisory Board. Jeff Ubben, who served 10 years as a transformational chair on Posse's National Board of Directors, was particularly motivated to bring the Posse program to his home city.
Posse is grateful to the teachers, counselors and community leaders of the Bay Area, who help us identify incredible high school students. We especially thank our partner colleges and universities for their investments in the program and belief in the promise of Posse Scholars.
2023 Posse Bay Area Sponsors

Posse Bay Area Staff
Joshua Fenton, Director
Brigid Behrens, Development Officer
Edward Chao, Trainer
Derrius Jones, Career Program Specialist
Daniela Lopez Lopez, Program Coordinator
Mazvita Nyamuzuwe, Trainer
Kate Packer-Dawley, Trainer
Rafaello Sampang, Program Director
Giselle Curiel Velazquez, Trainer
Chanel Zaldana, Assistant to the Director
Bay Area Advisory Board
Jon Meyer, Managing Director, Stockbridge Investors, Advisory Board Chair
Michael Beckwith, Portfolio Manager, Capital Group
Seth Blackman, Partner, Audit, Alternative Investments, KPMG LLP
Christopher Dean, Connecticut College Posse Alum (Chicago); Civil Rights Attorney, Law Offices of John L. Burris, LLC
Patrick Fu, Managing Partner, Sequoia Capital Global Equities
Brian Harvey, Managing Director, Deloitte
Rick S. Horvath, Partner, Dechert, LLP
David Korol, Private Sector
Adonis G. Logan, Centre College Posse Alum (Boston); Analyst, Inclusive Capital Partners
Justin M. Maletsky, Investment Professional, Route One Investment Company
Raymond J. Mertens Jr., Vice President, Dodge & Cox
Laura Pantaleo, Wealth Manager and Shareholder, Wetherby Asset Management
Melonie Parker, Chief Diversity Officer & Global Director, Employee Engagement, Google
Kristin Resnansky, Portfolio Manager, Casco Capital Management
Featured Posse stories
Puget Sound Posse 1

Puget Sound Posse 1