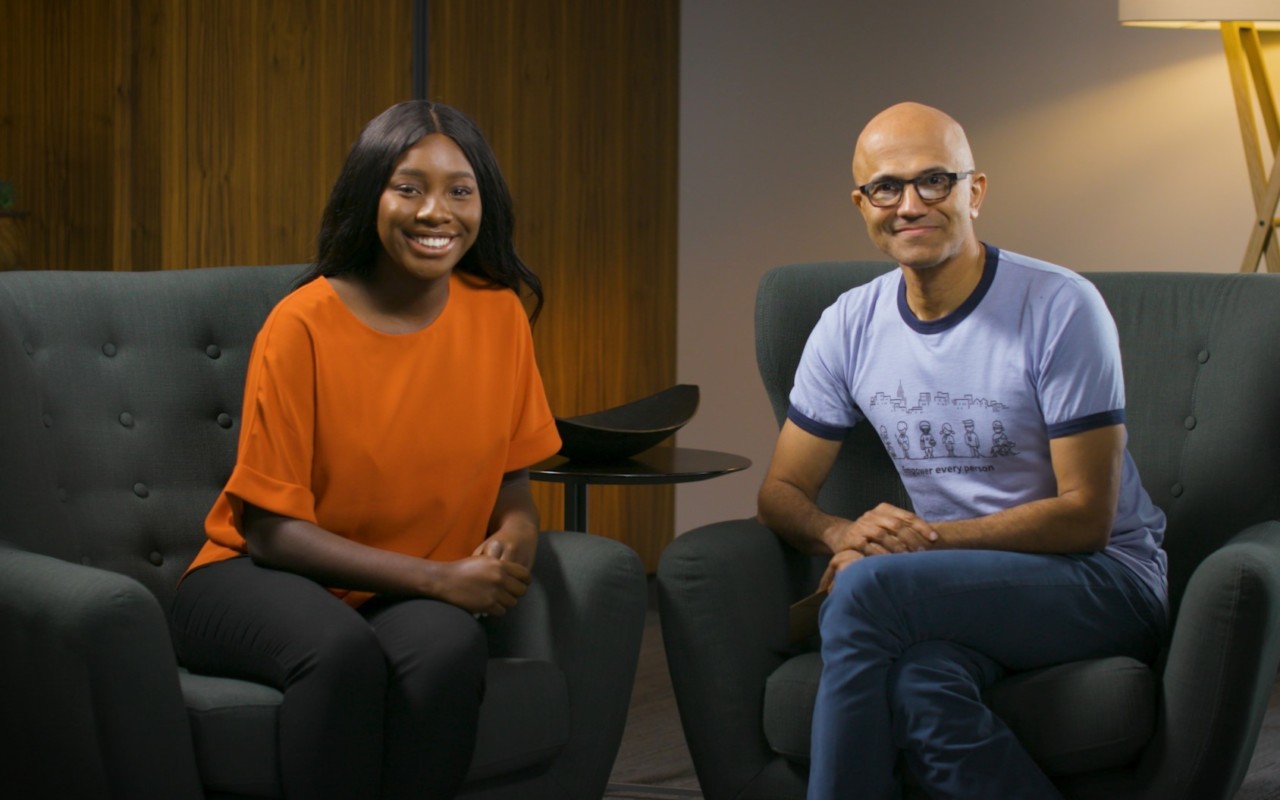 Ubben Posse Fellow Interviews: Satya Nadella
The Jeff Ubben Posse Fellows Program awards five exceptional Posse Scholars $10,000 each and the chance to spend 4-6 weeks during the summer shadowing and learning from a major industry leader. The interview below with Satya Nadella, CEO of Microsoft, was conducted by Posse Scholar Amara Anigbo, a rising junior at Dickinson College, who worked with Satya Nadella as a 2018 Jeff Ubben Posse Fellow. The conversation has been edited and condensed.
AMARA: In your book, Hit Refresh, you mention that your parents had stark differences in their philosophies. What aspects of those philosophies have you incorporated into your leadership?
SATYA NADELLA: As far as growing up, as I write in my book, my mother and my father were very different in their outlooks. My father was a Marxist economist and my mother was a Sanskrit scholar. Between the two of them, even though they didn't agree on much intellectually, they had high ambition for me in terms of my own pursuits. Not that they put pressure on me for academic excellence or anything else, but they did give me the confidence that I could pursue whatever it was that I was passionate about. They really pushed me to be more curious about the world around me.
"They pushed me to be more curious about the world around me."
When I look back, that, perhaps more than anything else, has been super helpful as I've been put into situations that I was not prepared for. The thing that most helps you is how curious you are, how you can learn quickly, how you can learn from others. That is definitely something that I attribute to the two of them.
What is the most emotional encounter that you've had with failure. What did you learn from it?
It's a very interesting way to frame it: is there one big failure that teaches you, or is it an everyday courage you need with failure. If anything, what I've come to realize is every day I make some mistakes. Do I rue the mistake, or can I somehow learn from it? That's where I think the vulnerability, or courage to show the vulnerability, is probably most required.
That vulnerability requires an emotional makeup. The natural inclination even I have, most of us have, is being defensive. When somebody points out that you could have done something better or you made a mistake, a natural reaction is to be defensive.
But the reality is, if you step aside from that and get perspective, say to yourself, "Oh wow, that's something that I can learn from and do better," that everyday vulnerability is what I'm now more aware of. I'm not saying that I've conquered it, but at least I'm more aware of it.
In a recent diversity and inclusion panel, the University of Washington President Dr. Cauce mentioned that everyone gets some type of advantage or help from someone. What are some advantages that you've encountered in your journey? What would you advise someone like me when people think I am in certain spaces because of diversity quotas? What advice would you give about how to look at certain advantages anyone may be given?
When I think about my story, I don't think it would be possible anywhere else but here in the United States. I'm a product of two amazingly unique American things. One was American technology reaching me where I was growing up, leading me to love programming. In fact, it was Microsoft's own technology that introduced me to the PC and programming. The second was the American immigration policy that allowed me to come here and live that dream. Quite frankly, those were the opportunities I was given. I'm thankful for them.
"It is what I did with those opportunities that counts, not just the opportunity given."
More importantly, I took full advantage of them. It is what I did with those opportunities that counts, not just the opportunity given. So, my only comment to you or to anyone else: make sure that you're doing everything with confidence. You deserve the opportunity you've been given. I wouldn't second-guess any of that. The question becomes, what difference are you going to make because of the opportunity you've been given?
The Jeff Ubben Posse Fellows Program has given me the chance to be at Microsoft, and I've been a sponge in my time here. Why is it important to expose young leaders to and connect them with industry leaders like yourself?
It's fantastic to see what Jeff Ubben has done with this scholarship program. I think this is great that someone like you can come here and quite frankly, teach us at Microsoft new perspectives and really help us improve. I always say to any intern class that comes to Microsoft, you make us better. And along the way you learn what it means to operate in an environment like Microsoft.
If you think about Microsoft's scale, we operate in 190-plus countries. The impact we have, where it spans small business productivity, large business competitiveness, public sector efficiency, health outcomes, education outcomes, we see it helping anyone connect their personal passions. And they use Microsoft as that platform.
Hopefully you're taking away what such a platform can mean, how it can operate at that scale. At some point, you're going to be running a large organization, you're going to be building perhaps a massive organization like this, and you will remember that perspective. None of us can individually achieve what we can collectively achieve. Microsoft is a microcosm of what collective achievement can look like.
Read More:
Ubben Posse Fellow Interviews: Dan Weiss
Ubben Posse Fellow Interviews: Ken Frazier
Ubben Posse Fellow Interviews: Hon. Patti Saris
Ubben Posse Fellow Interviews: Dr. Steven J. Corwin
Meet the 2018 Jeff Ubben Posse Fellows.