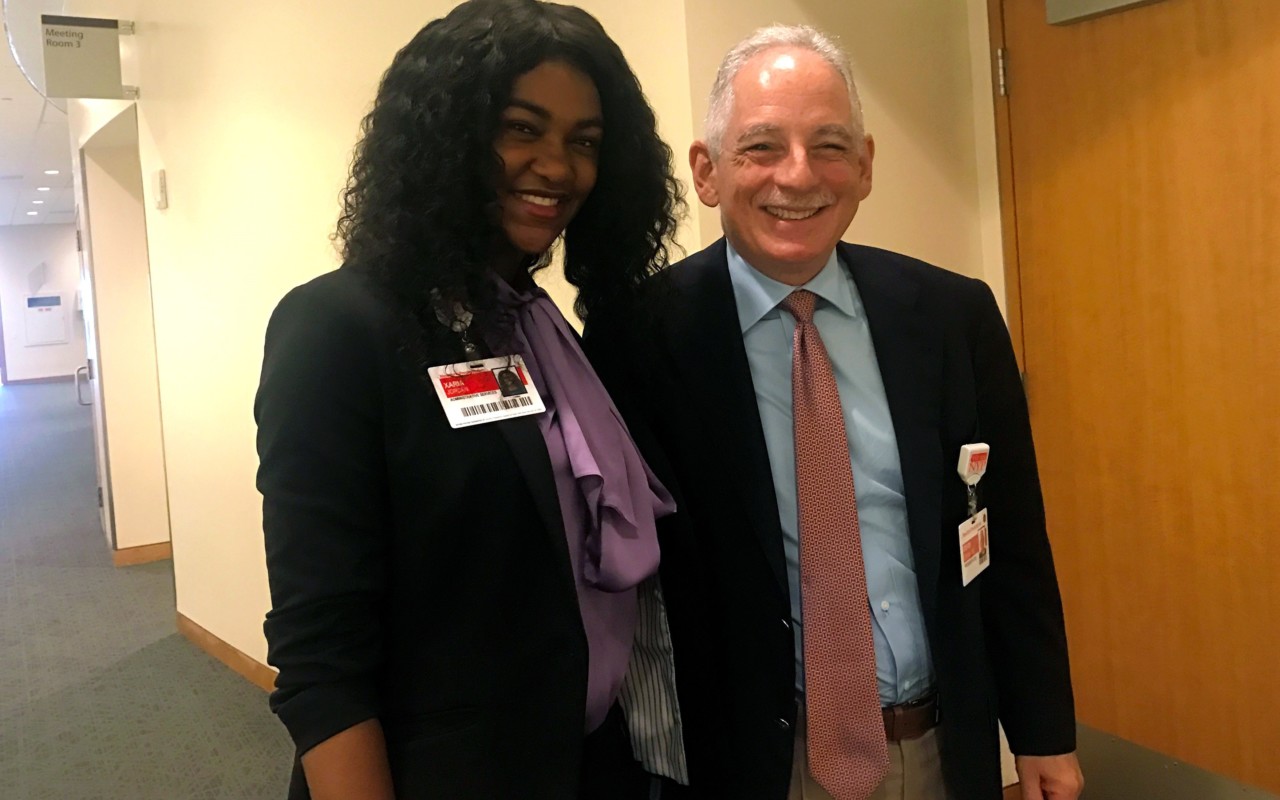 Ubben Posse Fellow Interviews: Dr. Steven J. Corwin
The Jeff Ubben Posse Fellows Program awards five exceptional Posse Scholars $10,000 each and the chance to spend 4-6 weeks during the summer shadowing and learning from a major industry leader. The interview below with Dr. Steven J. Corwin, President and CEO of NewYork-Presbyterian, was conducted by Posse Scholar Xaria Jordan, a rising junior at the George Washington University, who worked with Dr. Corwin as a 2018 Jeff Ubben Posse Fellow. The conversation has been edited and condensed.
XARIA: Let's start from the beginning. Can you tell me about your life as a child?
DR. CORWIN: I grew up in White Plains, New York. My father was a general practice lawyer and my mother taught English as a second language to Hispanic immigrant kids. I grew up in a nice, middle-class neighborhood and went to public schools in White Plains, which was one of the first school systems that integrated in 1964. In junior high school, people from my part of town got bused to underserved areas, and kids from underserved areas got bused to my part of town, so we had two fully integrated junior high schools.
I was always really interested in medicine. Both of my grandfathers died of heart disease, so I always had it in my mind that I wanted to be a cardiologist. I got lucky because in high school, I had a chemistry teacher who said I might be interested in a National Science Foundation fellowship in medicine. They had one at Roswell Park Comprehensive Cancer Center, and I was accepted into that program. As a result of that and the work I did there, I was accepted to the six-year medical program at Northwestern where I did two years of undergraduate college and four years of medical school. I really was on track to be a doctor. I played junior varsity baseball in White Plains, but when they realized I couldn't hit a curve ball, that ended my sports career.
I think it's really important for students to feel that somebody has an interest in them besides their parents, and I think that great teachers can have that influence. It makes a big difference in somebody's life.
What was your first leadership position?
"It's about interactions with people more than how much you know."
I was named Chief Resident in Medicine during my second year of residency. There were 90 internal medicine residents and two co-chief residents who had to make sure that, A: the interns and residents were doing their job, B: the patients were being well cared-for, and C: everyone was on an even keel in terms of their interpersonal relationships and their relationships with the attendings. As chief resident, you were the principal person that interfaced between attending physicians, residents and the hospital. The biggest thing I learned was that it's about your interactions with people more so than how much you know. It's like running a team—you have to keep everybody together. You have to watch for signs that an intern or resident is stressed out, getting depressed, or may have lost a loved one.
Sometimes you have to divide and conquer. How did you balance the stress of residency, medical school and fellowships with family and social life?
I probably could have done a better job of that. It's very difficult to do. I got married as a senior resident, so life was easier at that point. My wife was and is a nurse, and I met her in the hospital. I think she had a real understanding of what it takes and was much more mature emotionally than I was. She kept me grounded.
Where does your drive to focus on providing high quality healthcare to underserved communities come from?
I love medicine and caring for people, and I really wanted to do that. I was intellectually and scientifically stimulated by it. I loved doing cardiology. As a resident, you see your impact on lives across the spectrum. You see people from underrepresented minorities and underserved communities as well as people of means. As I've grown and learned as a leader, a couple of things have struck me. For example, for one of the richest countries in the world, everybody in the United States should be able to have health insurance. Without it, it's very difficult for people to get care. It's very important for a hospital like ours to be able to take care of everybody—be it Medicare or Medicaid patients or patients with a lot of money. We try to balance it so that we can fulfill our societal mission. The school-based clinics, Lang Youth Medical Program, and taking care of Medicaid patients are really important to us. It's important for us to express those values.
You have to learn, grow, and try to mature every day. You have to change your mind about things and be able to try to encompass what's going on and try to feel that you're moving the organization—in this case—or yourself in the right direction.
How do you feel about CEOs having backgrounds as physicians?
It's really important for physicians to have a voice in terms of the way the health system runs, so I am generally in favor of doctors taking on administrative responsibilities. I had to learn a lot on the fly, but I understand medicine really well and know what it's like to care for sick patients at 2am. I think that medical school alone is not sufficient to understand, you have to have some experience with practice. We've spent a lot of time trying to encourage our younger physicians to go into medical administration. I think it's important to have clinical voices helping to lead the field, and I don't think that having just a master's in health administration is necessarily sufficient for that. The great thing about medicine is that there are so many opportunities and directions where you can take your career.
It seems like everyone at the hospital is talking about telemedicine. How has the implementation of this technological advancement been going?
Telemedicine is going to be really important for us, especially to populations in rural areas who have limited access to healthcare. If you could get broadband access to rural areas, you could have primary and urgent care visits via telemedicine. I see it as being able to really expand our ability to see patients. Perfect example: one of the big problems in our school-based clinics is the big increase in teenage depression and suicidality. There are only 8,300 child and adolescent psychiatrists in the country, so for us to take one of them, wouldn't it be great if you could do psychiatry visits in all of our school-based clinics and the Washington Heights clinic and so on?
At first, I was concerned about how the patient would take it. Would it be off-putting? It turns out that patients really like it, in part because we are such a screen-based society now. Patients said they feel more comfortable with interactions on screen than in person because they feel less threatened in terms of their personal boundaries and space.
"There are so many directions where you can take your career."
We have telepsychiatry, we can now diagnose and treat strokes in the ambulance on the way to the hospital, we can cover ICUs. I think we'll end up doing about 125,000 telemedicine visits this year including our Walgreens kiosks. Somebody who was short of breath visited a kiosk and it turned out that he had hypertension and congestive heart failure, so we got him to our emergency room and saved his life. Giving people access to care in unique ways is important to us. Imagine if you had a child with asthma and you could do a telemedicine visit as opposed to waiting for hours in the emergency room. The child doesn't have to miss school, and you don't miss work.
I've noticed a specific culture of respect at the hospital. There are open conversations about strengths and "areas of opportunity" instead of weaknesses. What would you say are the strengths and areas of opportunity for NewYork-Presbyterian?
Well, I think you said it. The culture of respect is critical. We started that journey a few years ago, but I think that we are not there yet. It's a strength of our institution that we've established this as our value system. We have to make sure it is rock-solid and everybody believes in it and follows it. It's both a strength and an area of opportunity. If you don't grow in these situations, you don't end up moving ahead.
We need to make sure that our regional hospitals, whether it's Brooklyn Methodist, Hudson Valley, or Queens, have the same quality as our Columbia or Cornell campuses. Also, we can get more diverse, especially in upper management. Our management is gender diverse, but I don't think that we are racially or ethnically diverse. That's important for us, moving forward. I think that diverse organizations are better than those that aren't diverse. That being said, we do have a strong culture where people want to do the right thing by our patients and by each other.
What advice would you give to middle- or high-school students who are unsure about what they want to do? How could they fit into a hospital structure?
Health science has a range of opportunities, regardless of whether or not they know what they want to do. They can be on the clinical side—physical therapist, nurse, physician—or the finance side, or the information technology side. One of the good things about working for a healthcare organization is that we are mission-based. We exist for the public benefit. We are supposed to make people better. We are trying to do things that improve people's lives.
Part of my role is to get people to understand that no matter where you're working in this organization, you have an impact on healthcare.
What advice would you give a student beginning medical school?
Work hard. I think that it's not as hard as people say, but it is very demanding. If you have a passion for caring for patients, you'll do just fine. I wouldn't get overly stressed out about it.
You absolutely want to go to the best medical school you can get into. It makes a big difference. Period. That's where you get the best training, not just hands-on, but in how you think. The most important thing in medicine is how you think about patients and diagnoses. You want to be around the best minds, because they'll teach you how to think.
Read More:
Ubben Posse Fellow Interviews: Satya Nadella
Ubben Posse Fellow Interviews: Hon. Patti Saris
Ubben Posse Fellow Interviews: Dan Weiss
Ubben Posse Fellow Interviews: Ken Frazier
Meet the 2018 Jeff Ubben Posse Fellows.