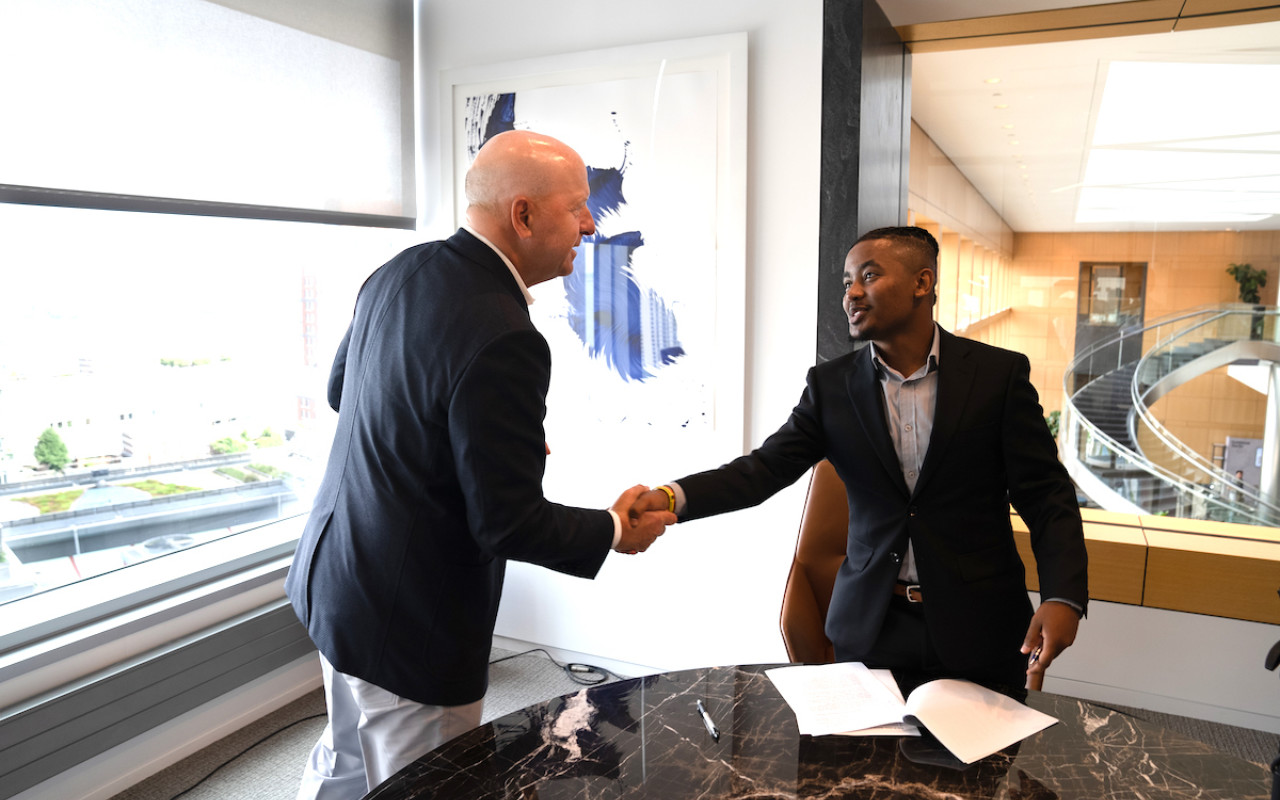 Ubben Posse Fellow Interviews: David Solomon
The Jeff Ubben Posse Fellows Program awards five exceptional Posse Scholars $10,000 each and the chance to spend 4-6 weeks during the summer shadowing and learning from a major industry leader. The interview below with David Solomon, Goldman Sachs Chairman and CEO, was conducted by Posse Scholar Matwos Tadesse, now in his junior year at Lafayette College, who worked with David Solomon as a 2022 Jeff Ubben Posse Fellow. The conversation has been edited and condensed.
MATWOS: To start off: How did your relationship with your family shape your trajectory in life? Were any values instilled in you at an early age that have been instrumental to your success?
DAVID SOLOMON: I had a very close-knit family. I grew up in a middle-class household in Westchester County, outside of New York City. I would say that there was nothing really unusual or distinct about it. Unfortunately, my parents are no longer with us. Both my parents passed in their 70s over the last 10-12 years. And I certainly miss them. But my parents certainly instilled in myself and my two brothers a sense of certain values that I've carried through. I mean, one for sure—my mother was a hard worker, and she certainly instilled a work ethic in me. A commitment to really work hard, to accomplish the things that you set out in front of you. You set goals for yourself, and they don't come easily. They come with commitment. They come with sacrifice. They come with hard work. I think I really took that away from my mother.
My father had a great love of life. He loved people. He loved to be with people. He loved to have a very big circle of friends. I think he really showed me how important it is in life to keep your family and your friends close and really cherish the time that you can spend with them.
They were two hard-working parents that cared deeply for their three sons and worked hard to try to provide a really nice life for us. And for them, there were bumps along the way, but we were very lucky. And I had a nice childhood in Westchester County.
How have you been able to share those values with your kids?
I have two daughters who are older than you. They're 30 and 28. And I think that my daughters have watched me work very hard to accomplish a lot, both personally and professionally, in my lifetime. I think some of that same value—the fact that you set goals in life, and then you go out and you work hard to try to attain them—is something that I see my kids taking away.
I hope that my kids have also taken away a sense of charity and support for those less fortunate. That was another value that I took from my parents, that both myself and Mary, my daughters' mom, have worked hard to install in our kids. That we're very fortunate, and so it's important for us to give back and support others.
My daughters are also just nice people. They're kind. They're caring. They care about people. And so I'm very, very proud of them.
Let's move ahead a bit to when you were a young adult. We're in your last year of high school at Edgemont Junior and Senior High School, or your first few years at Hamilton College. Who was David Solomon at 18 to 20 years old? Around my age.
I was a slightly directionless young kid. A lot less direction than you seem to have. I was a better-than-average student, but not a great student. I was a mediocre athlete. But I really enjoyed being involved in things.
My senior year in high school, I was student government president. I played some sports in high school. I played rugby in college. I liked to participate. I liked to be with people. I like to be a part of the process. And I think I had a nondescript but completely positive experience in both high school and college. I learned a lot. I had great friends. I had some fun.
I always had a job. When I was in high school, I worked in Baskin-Robbins scooping ice cream. I worked at McDonald's when I was a senior in high school. I used to do other things like shovel snow and cut grass, to make some extra money. I was a bartender when I was at Hamilton College. I always liked to find ways to work and have a little bit of money in my pocket.
But I didn't have great direction. I didn't really know what I wanted to do. I wasn't driven that I wanted to go into finance. I was just going through the motions and figured I'd figure it out when I got to the other side.
You have an interesting background. Your bachelor's degree is from Hamilton College, and you majored in political science and American history. Did you have a favorite course in college? Do you remember any particular class that was valuable to you throughout your college career?
There are a number of courses I took in my college career that were valuable. You know, when I've gone out and talked to students, when they've asked for advice, one of the pieces of advice I've given is: take accounting.
I remember taking accounting. I struggled with it at first, but it gives you a great sense of how businesses work. I think that's an important thing to understand, no matter what you're going to do in life. Really understanding the basic rules around how a business works I think is a very, very valuable skill, no matter what path you choose in life. And so that was a course. And there was a professor, Sidney Waterburg, at Hamilton College, who had a profound impact on me.
I also enjoyed certain other things. I remember a class when I was a senior with a dean of the college at the time, whose name was Duncan Rice. He was an expert of the history of slavery in America, and it was a senior seminar that was really a big discussion group around the transition coming out of the Civil War that I found fascinating. I really enjoyed that class and enjoyed what I learned in that class. I enjoyed his perspective, because he was a deep academic scholar in the Civil War and that period of time, which I thought was a fascinating piece of history.
You mentioned that you were a student government president your senior year of high school. What was the first real leadership role that you remember having? And what was it like?
One of them certainly would be being a student government president, which is one kind of a leadership role. But I think the first real leadership role that I had was I had a summer job at a summer camp where I was the program director. I ran a program of activities and sports and competitions for all of the campers that were at this camp. And I had to work with all of the counselors around scheduling and operation during the course of the summer.
It was a very, very good experience because I had no skills or history to think about how to manage something like that. Not that this was a hugely complex thing, but it was complicated enough that it required me to learn on the fly how to bring people along, how to lead people to where you needed them to be so that you could make the organizational structure work. So, it was a good early lesson on leadership and bringing people along.
Speaking of leadership, you are and have been the face of Goldman Sachs for years now, and that comes with many responsibilities. What was it like to become a CEO? What is the most challenging part of your job? And what makes it worth the challenges?
I'm very lucky to have the responsibility of stewarding this organization. It's a 153-year-old organization, and it's a fantastic platform. It's quite exciting when you're told that you're going to lead an organization like this, but also, at the same point in time, it's a little bit daunting that you now have this responsibility. And you want to make sure that you do everything in your power to leave the organization as strong, if not stronger, than you found it.
I think what's most exciting about the opportunity and the platform is all the people that I get to meet, talk to, listen to, learn from—whether it's people inside the organization but, more importantly, the access you have to talk to leaders all around the world and what you can learn from those interactions and how you can impact things in a very positive way.
It's a really interesting, complex business, but it's also a business that gives you a great platform to have a positive impact on what's going on in our communities broadly. And I'm working hard to try to have an impact.
I work closely with the board of trustees at Lafayette myself in my own role as president of the student body, and I know that you serve as a chairman of the board of trustees at Hamilton College. How do you think access to higher education will promote diversity in the global labor market? And what kind of role do you see institutions such as Hamilton and Lafayette College playing to give access to people from various backgrounds?
I think both Lafayette and Hamilton College are extraordinary institutions that have been around for a long time, and I also think they're institutions that do a lot to offer opportunity to so many. All these extraordinary colleges and universities at this point in time, through the generosity of those that have come before, have really put themselves in a position to try to open up the opportunity to attend a place like Lafayette or Hamilton to a much broader, much more diverse array of people. And I think that's been a very positive thing.
Hamilton College has been need-blind for the last decade, and so the result of that need-blind policy has really created a much more diverse student body at Hamilton than existed there 20-30 years ago. And the result of that I think is quite positive in terms of having different people with different backgrounds and different views and different beliefs coming together.
I hope—and one of the things I really wish for—is that communities like Hamilton College and universities broadly continue to be leaders in promoting diverse debate and allowing different points of view and really fostering an environment where people with different points of view can disagree but disagree civilly and learn from each other and be open to diverse opinions. It's great to have diversity, but diversity isn't really having the impact that you want it to have if we don't allow for diverse opinions. And I think one of the things that I'm very concerned about—and I see it at Hamilton but I see it in other universities, too—is a sense of trying to shut out debate and try to shut out different points of view. And I think that's very, very dangerous and not good for our society.
Hamilton and other universities have made real progress in terms of creating educational opportunity for a much broader set of people with very different backgrounds, but I think they've got to continue to work hard to allow for discourse and debate in a very civil way, to allow for different points of view, and to really encourage that. That's what these institutions should really stand for.
I think you summarized it perfectly. We have a saying in Posse, "Disagree with the idea, not the person."
Moving on. Who are the role models of leadership for you, that you look up to? What about their leadership style do you find interesting? And how have you been able to apply them, if at all, to your own leadership style?
There are lots of leaders I look to and I try to learn from. I'm operating in a place where I'm running a big organization, and I have a lot of visibility. But I can always look at other leaders running big organizations and say, "What can I learn from other leaders?" And I'll point to one who's been a CEO a little bit longer than myself, which is Satya Nadella, who really leads with enormous empathy. And I've learned a lot about the need to lead with empathy watching Satya at Microsoft and modeling some of the stuff Satya has done.
I think there are lots of different things we have to do as leaders. There are times when you have to be tough. There are times when you have to be committed to pushing an organization or pushing people.
And there are times when you have to be really empathetic and understanding. And Satya has been a very, very good role model in showing how you can really lead and drive an organization but also do it with empathy and compassion.
You just touched on this a bit. But ultimately, leadership is also about balancing acts, trade-offs. What do you see as the hardest balancing act of leadership these days?
You've always got to recognize that it's a journey, it's a marathon, it's not a sprint, and that you're making decisions to try to impact the organization over time. There's very little that's worthwhile that you can accomplish very quickly. I always try to think about how decisions are going to affect the long-term strength of the organization and try to make those long-term decisions, even though there's oftentimes lots of short-term pressure to react.
I sometimes wish that there was less visibility and less scrutiny of every decision, every move, every little thing that's said. But at the end of the day, we have a strategy, and we try to take a long-term view toward executing that over time.
If I was talking to younger people that were starting their careers, you know, I definitely preach patience. That it's a long road. It's a journey. A lot of it is enjoying the journey, not getting to a destination. And try to give people a sense of the fact that anything that's going to be worth of accomplishing is going to come from a long-term commitment, some sacrifice, and a lot of hard work.
Let's talk about the firm a bit. Goldman in recent years has been trying to reach individual consumers by launching products such as the Apple Card. Marcus has also been recognized number one in customer satisfaction, and it provides saving accounts, credit cards, and investment options online. Goldman has also been investing in transactional banking platforms such as the newly launched cross-market groups.
Why has it been critical for Goldman to start reaching the average individual and smaller-capital corporations? And where do you see the firm going in the next 5-10 years?
The firm has laid out a strategy to continue to invest in our core businesses of investment banking and global markets while, at the same point, focusing on a handful of growth areas, transaction banking being one, asset management being another, with a particular focus on alternative assets and our growing a client-based alternatives platform.
We're growing our wealth management business, and we're trying to provide financial products through digital platforms to individuals who are wealthy and require therefore certain financial services but also people that aspire to take control of their financial life and over time have greater resources at their disposal. So, we're trying to do that in a more modern digital format, and I think we're having some success. But I think the firm's going to continue to focus on those four growth areas while continuing to run extraordinarily successful long-term business platforms around investment banking and global markets for our customers.
Talking about control and digital access, we're living in a very fast-paced and ever-changing world. Especially with crypto, blockchain, Web3 and the metaverse. I recently attended the GS Talks session that discussed the firm's strategy in approaching these new sectors.
I am curious—how do you as an individual look at this innovation from both the financial point of view, but also (you studied politics) from the political point of view as well?
I think technology is always changing, and as it changes it allows us to do things in different ways, to connect with people in different ways. I think digitization and digital technology is certainly going to continue to have an impact in disrupting the way financial services are delivered. We're spending a lot of time on that. With Bitcoin and cryptocurrencies, I watch those but it's a little less interesting to me.
When I look at or I think about the metaverse and the ability to do things virtually, I think there's some super interesting technology there that will change the way we do certain things, although at the same point in time I don't think it's as dramatic as everybody thinks it is. If you listen when people talk about disruption, technology exists but that doesn't mean behavior changes as quickly as everybody thinks. So certainly, there were many people seven, eight, 10 years ago, that said that all driving would be autonomous by now. And the technology exists, but we're still a long way from all driving being autonomous. Because the behaviors are hard to change.
And so, I think it's great that these new technologies continue to develop. I think there'll be some very cool things that you can do. Will you be able to watch a basketball game virtually and feel like you're there live? Absolutely. And is that cool? Yeah, I guess that's cool. But you know what? It might be cool to sit on your couch and watch it on a great TV, too. So, we'll see how the technology evolves.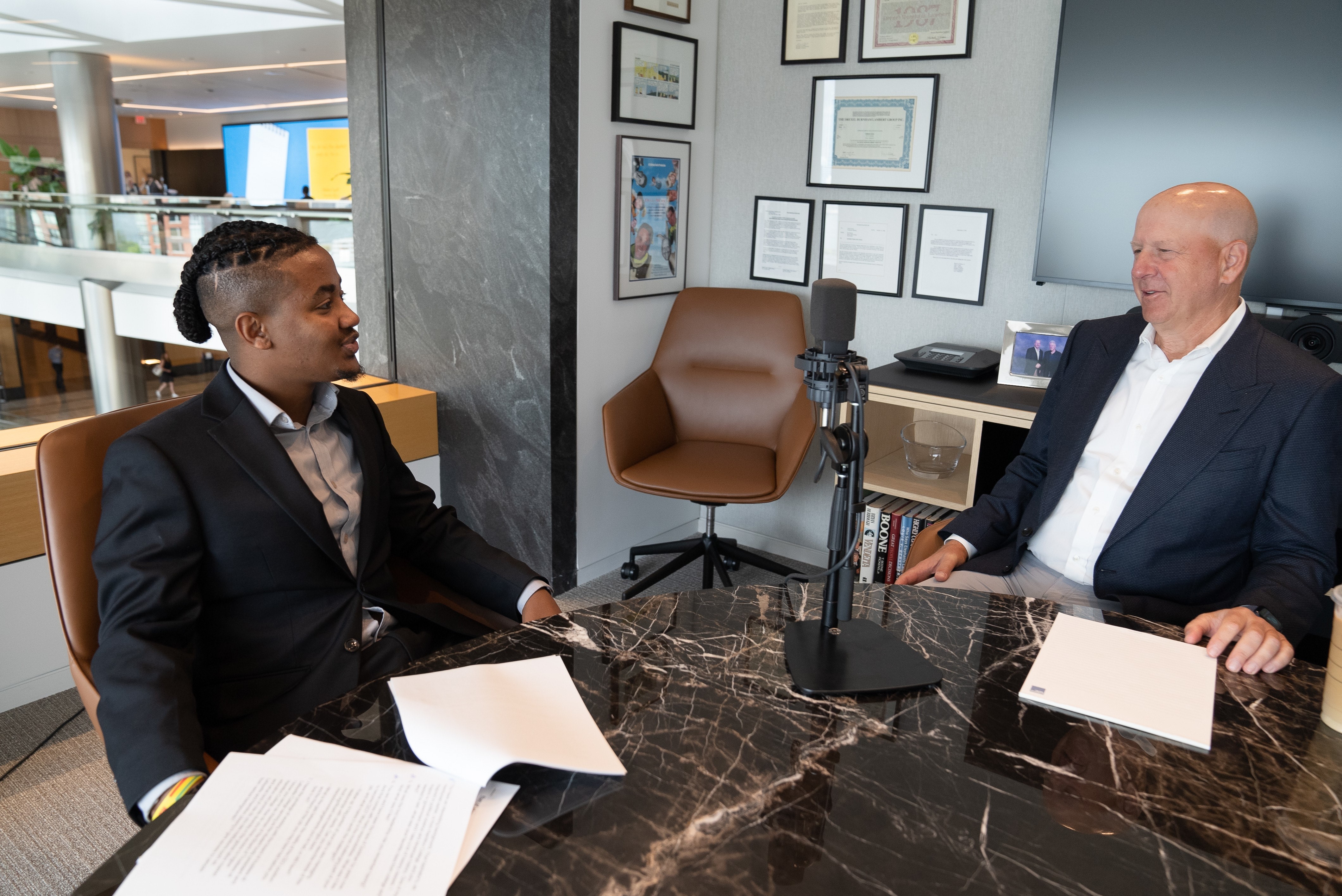 Read More:
Ubben Posse Fellow Interviews: Sen. John Hickenlooper
Ubben Posse Fellow Interviews: Christine Squires
Ubben Posse Fellow Interviews: Stéphane Bancel
Meet the 2022 Jeff Ubben Posse Fellows.