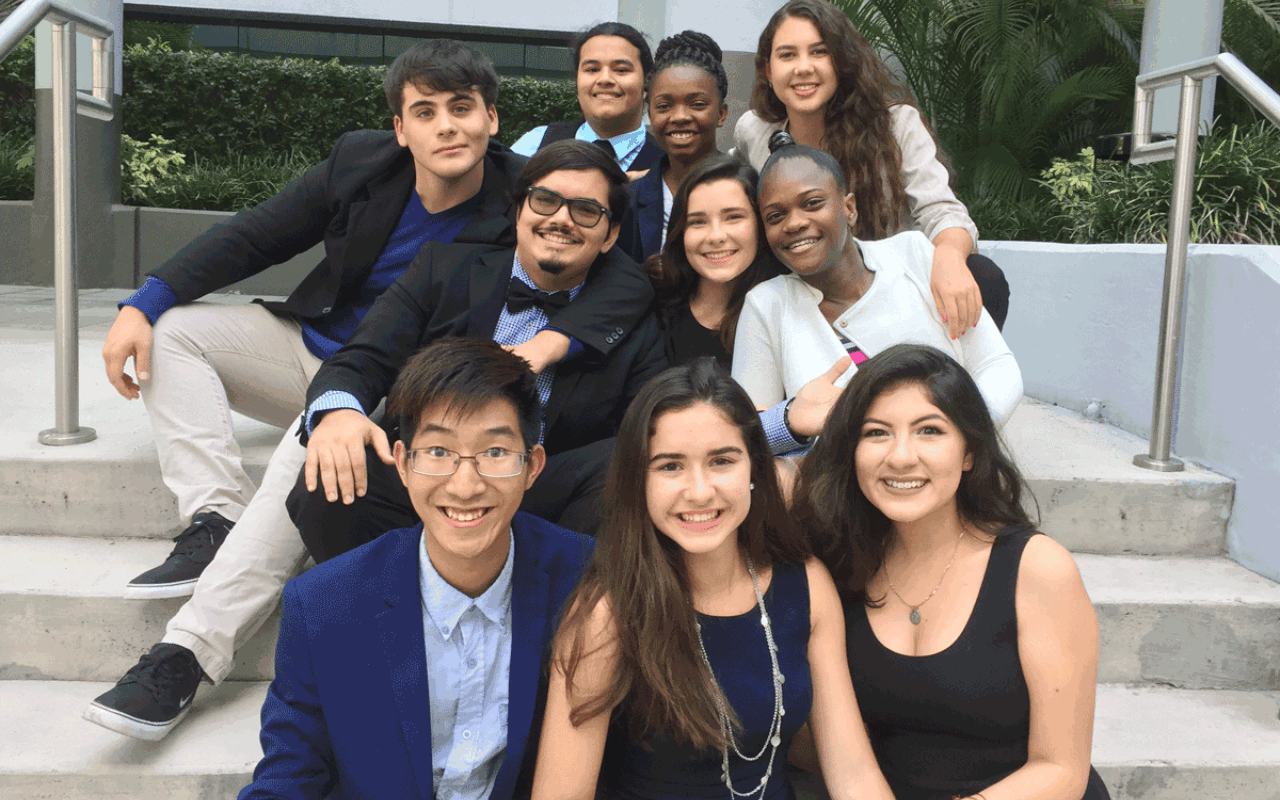 Donate to Posse
Looking to donate in support of this program?
To date, Scholars have won $23 million scholarship dollars from Posse Virtual Program partner colleges and universities.
The Posse Virtual Program launched in 2020 to select and train Posse Scholars using innovative digital platforms.
While selection and training is conducted online, Scholars are admitted with full-tuition scholarships and matriculate on campus alongside the general student body of our partner schools.
The new virtual platform recruits geographically diverse Posses from Charlotte, Cleveland, Dallas, Denver, Memphis, Newark, Philadelphia, Phoenix and select cities in Indiana, Minnesota and Virginia.
Note: The University of North Carolina School of the Arts recruits only students interested in majoring in the arts. As candidates advance through the selection process, an audition or portfolio will be required.
Posse Virtual Program Staff
Aaron Henderson, Director
Kirsten Bourne, Career Program Specialist
Garrett Brown, Program Director
Toni-lee Brown, Program Coordinator
Jasmine Bruinooge, Trainer
Jonatan Calvillo, Trainer
Arriana Covington, Trainer
Nora Frias, Program Director
Whitney Herbert, Program Coordinator
Maurice Lemons, Trainer
Derlis Leyva, Trainer
Javier Marca, Program Operations Associate
Jared Nunes, Senior Trainer
Saúl Sandoval Navarrete, Career Program Specialist
Imoh Udoh-Warren, Trainer
National Board of Directors
Chair
Henry Ellenbogen, Partner and CIO, Durable Capital Partners
President + Founder
Deborah Bial, The Posse Foundation
Secretary
Philip M. Pead, Managing Partner, Beacon Point Partners; Founding Chairman, Posse Atlanta
Treasurer
Juan Rajlin, VP & Treasurer, Google/Alphabet
Board Members
Daniel Acheampong, Co-Founder and Partner, Visible Hands; Brandeis University Posse Alumnus (New York)
Koby Altman, President of Basketball Operations, Cleveland Cavaliers; Middlebury College Posse Alumnus (New York)
Alan Berro, Partner, Capital World Investors
Peter E. Blacker, EVP, Agency Partnerships & Head of Diversity, Equity and Inclusion Advertising and Partnerships, NBCUniversal; Chair, Posse Miami Advisory Board
Alastair Borthwick, Chief Financial Officer, Bank of America Merrill Lynch
Donella P. Brockington, Retired Vice President, Conduent; Chair, Posse D.C. Advisory Board
Alberto M. Carvalho, Superintendent, Los Angeles Unified School District
Annie Seibold Drapeau, Chief People Officer, Toast; Chair, Posse Boston Advisory Board
Marvin B. Figueroa, Senior Biden Administration Official; Vanderbilt University Posse Alumnus (New York)
Steve Gallucci, Managing Partner, Deloitte; Chair, Posse New York Advisory Board
Susan Goldsmith, Principal, Monitor Deloitte; Chair, Posse Los Angeles Advisory Board
Glenn H. Greenberg, Founder and Chief Investment Officer, Brave Warrior Advisors
David B. Harrison, Senior Partner, Deloitte
Barbara Janulis, Private Sector
Michael Kluger, President, Salutation Capital
Jennifer Kopylov, Managing Director, Goldman Sachs & Co.
Steven M. Lefkowitz, Managing Partner, Sagewind Capital LLC
William M. Lewis Jr., Senior Partner, Apollo Global Management
Jon Meyer, Managing Director, Stockbridge Investors, Chair, Posse Bay Area Advisory Board
Andrew Mulderry, Co-CIO, Willett Advisors LLC
A.J. Murphy, COO Corporate Private Equity, Blackstone
Elizabeth P. Myers, Head of Global Equity Capital Markets, JPMorgan
Julie Parsons, Chief Operating Officer, Personal Property-Liability, Allstate Insurance Company; Chair, Posse Chicago Advisory Board
Michael Passilla, Chief Executive Officer, Posillipo Ventures, Inc.; Chair, Posse Atlanta Advisory Board
Joshua Paulson, Founding Partner, P2 Capital Partners
Phillip Perelmuter, Partner, Wellington Management Company
Charles Phillips, Chairman of the Board, Infor
William A. Plapinger, Senior Counsel, Sullivan & Cromwell LLP; Former Chair, Board of Trustees, Vassar Colleges
Kim-Thu Posnett, Managing Director, Goldman Sachs & Co.
Jeffrey Raich, Co-President, Moelis & Company
Jenny Rickard, President and CEO, The Common Application, Inc.
Rick Rizzo, Private Equity Advisor; Chair, Posse New Orleans Advisory Board
Nana O. Sarpong, Orthopedic Surgery Chief Resident, Columbia University Medical Center; Brandeis University Posse Alumnus (New York)
Susie Scher, Managing Director, Goldman, Sachs & Co.
Kurt Simon, Managing Director and Vice Chairman, Goldman Sachs & Co.
Brad Singer, Retired Partner, ValueAct Capital; Posse Chair Emeritus
Leah Stearns, Former Chief Financial Officer, CBRE
Adam Townsend, Chief Financial Officer, VIZIO, Inc.
Mitch Truwit, Co-CEO, Apax Partners
Daniel Weiss, President and Chief Executive Officer, The Metropolitan Museum of Art
Barton J. Winokur, Partner, Dechert LLP
Forrest E. Wylie, Chairman & President, Wylie Ventures; Executive Vice Chairman, Wyatt Energy LLC; Chair, Posse Houston Advisory Board
Briana Zelaya, Partner, ValueAct
Emeritus
Michael Ainslie, Trustee Emeritus, Vanderbilt University; Posse Chair Emeritus
Jeffrey Ubben, Founder, Managing Partner, Member of Managing Committee, Inclusive Capital Partners; Posse Chair Emeritus
Timothy H. Ubben, Founding Chairman, Posse Chicago; Retired Founder and Chairman, Lincoln Capital Management; Trustee, DePauw University