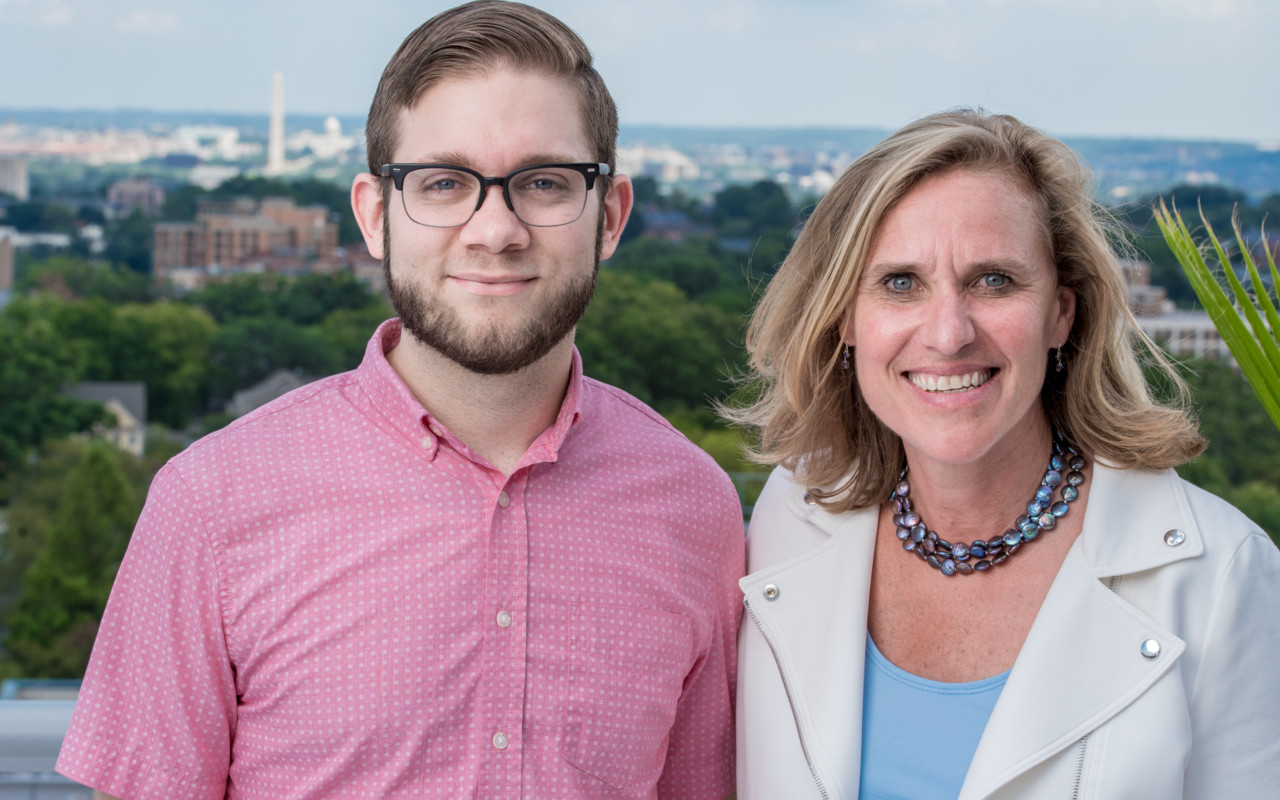 Ubben Posse Fellow Interviews: Jenny Rickard
The Jeff Ubben Posse Fellows Program awards five exceptional Posse Scholars $10,000 each and the chance to spend 4-6 weeks during the summer shadowing and learning from a major industry leader. The interview below with Jenny Rickard, president and CEO of The Common Application, was conducted by Posse Veteran Scholar Nicholas West, now in his junior year at Vassar College, who worked with Jenny Rickard as a 2019 Jeff Ubben Posse Fellow. The conversation has been edited and condensed.
NICHOLAS: To start, tell me about your childhood.
JENNY RICKARD: I was born in Cleveland, Ohio, but my family moved to Palo Alto, California, when I was three so my dad could pursue his master's degree at Stanford. He ultimately received a doctorate in education with a focus on physical education. I grew up in Palo Alto before the words "Silicon Valley" were used, and it was really this idyllic college town where I could ride my bike everywhere, there was the community library, the community pool, and I was able to get involved in all sorts of activities. My parents got divorced when I was in high school, and I found myself during that time getting very immersed in my academics and other activities while my family situation was evolving. I was in the generation of young women whom Title IX helped to provide the equal opportunity to play sports, and I loved playing basketball, which continued into college, as well as soccer and softball. My mom was a teacher before my brother and I were born, and that along with my dad being involved in education infused in me the importance of education. I was very much aware that I had the privilege of going to Palo Alto High School where, in that environment, it was assumed that I would go to college and most likely also go to graduate school.
I love hearing that you played a lot of sports, we'll definitely be coming back to that. But first I want to ask you about some of the dreams and goals you had when you were younger. What did you think you would wind up doing?
"I knew that I valued education and wanted to use my education in a way that would have an impact."
That's a fun question. I will now turn my face to the camera: I wanted to be a newscaster. I grew up in the era when Jane Pauley was on the Today show and I thought I wanted to be an anchorwoman. That was my dream, and I didn't have any other thoughts, to be honest. I hadn't thought about working in college admissions or anything like that, but I knew that I valued education and wanted to use my education in a way that would have an impact.
That's a really cool dream to have. When you went to Swarthmore College as an undergraduate, was the goal of becoming a newscaster something that guided your course selection and activities?
I think so. I started taking courses in political science which, you know, I had no idea what that was. You get to college and you ask, "What is political science? What is sociology? What is anthropology?" All these different areas that you've had no exposure to, but I had heard that political science is something you should pursue if you are interested in the news. So I became a political science major and gravitated towards those classes, but I also explored others as part of my liberal arts education. My first semester, I signed up to co-host a radio show with one of my hallmates, and to make sure we got the show, we signed up for the 4 to 7 am shift on Friday mornings. Apparently there wasn't any competition for that slot. I also wrote for the newspaper, and though I didn't play a sport my first semester, my roommate eventually convinced me to try out for the basketball team. I made the junior varsity team and just loved it, and I ended up playing softball and soccer again as well.
Let's talk about your experience with playing sports both in high school and at the collegiate level. I played football at Will C. Wood High School in Vacaville, California, and what I loved about it was the sense of camaraderie and being part of a team. But playing sports also benefited me academically by giving me a reason to go to class, teaching me valuable life lessons, and allowing me to release energy and focus my mind. I'm curious to hear what your experience was like and what you think the benefit of athletics is in the academic world.
When I was in high school, one of my motivations for playing sports was to immerse myself in something else while my family situation was changing. My dad became the basketball coach at my high school when I was in the 10th grade. I made varsity that year, but he didn't play me because we had a great team with very talented players. I just kept working hard and trying to get better, and every year my teammates would vote for me as the most improved player. When I joined the basketball team at Swarthmore, that desire to continue to improve motivated me, but my primary motivation was being part of a team with a shared goal and identified roles and responsibilities. There I was, playing with women from different parts of the country and the world and different academic departments, all of us contributing to a common goal and investing all the time that takes in college. It actually helped me organize my time better and was a release from some of the pressures of the academic demands.
"I saw it as an opportunity to really promote college access on a large scale."
Definitely. I think you can look at the Common App through the lens of athletics where, like you said, everyone is from different places and backgrounds, but everyone is here working towards a common goal with their own roles to play. Speaking of the Common App, can you talk about the journey that has brought you here?
Well, I had wanted to be a newscaster, but by the time my junior year of college rolled around and I was so grateful for my education, I really wanted to be a dean of admissions at a college. I stumbled upon The Chronicle of Higher Education at the library where I would study, and I just loved the articles so much that I subscribed to it my senior year. I applied to jobs in college admissions that The Chronicle advertised in its back pages, but I wasn't hearing back from any admissions offices. I wound up attending NYU's Stern School of Business through a J.P. Morgan program that trained liberal arts majors in accounting, but I still wanted to be a dean of admissions. I went to school full-time for my MBA while also working full-time at J.P. Morgan, and I learned a lot because it made me think differently. By the time I got my first undergraduate admissions job at Swarthmore , I had a much better understanding of the data and some of the more quantitative aspects of the job that I wouldn't have been able to have without that experience, and that helped me bring more to the table.
My passion for expanding equity, access, and integrity in the college admissions process was solidified through my experiences at Swarthmore, and after that I went to PeopleSoft where I had the opportunity to lead the development of the admissions product with a group of deans of admissions from seven different schools. Later I was invited to be the dean of admissions at Bryn Mawr College, where I arrived with the first cohort of Posse Foundation Scholars from Boston. I learned so much at Bryn Mawr, especially from the Posse Scholars and mentors, and at my next job at the University of Puget Sound, we brought in the first Posse cohort there. I was on the board of the Common App from 2004 to 2009, and while at Puget Sound, I applied to lead the Common App because I saw it as an opportunity to really promote college access on a large scale, help colleges diversify their communities, and support the counseling community and the great work they do supporting students. Lastly, I find it so interesting how the reason I love Posse is because it turns the traditional college admissions process on its head, and here I am at the Common App, which some might say is the symbol of the traditional college admissions process. But that's what is so exciting about it! We at the Common App have the opportunity to move that traditional process forward and support access for students even more than we do today.
You are in a really interesting position where you've seen first-hand how technological developments have made improvements to education and the admissions process. How do you view the relationship between education and technology, specifically for the goal of expanding access?
"Seize the moments where you can go to something not knowing what you'll get out of it."
I see technology as this incredible tool to support the goal of expanding access and making students successful through the process. I will say, however, that technology, in my view, won't replace people. So our job is to reduce the barriers for people who use our system and allow them to actually focus on the relationships they have with one another, ensuring the process is moving as effectively as possible for everyone involved. That's what I think the role of technology is. We're a nonprofit, mission-driven membership association enabled by technology, not a nonprofit technology company.
Last question. What is the best advice you have for college students and recent graduates, especially those who want to make a difference as you have been able to do?
First, know your "Why." Why do you want to pursue a particular career or goal? What really motivates you? What's the thing that you can just get really passionate about in terms of making a difference, whether that's in your community, your own life, or the world? Understand your own "Why am I doing this?" and then be supportive of your colleagues, take advantage of opportunities to meet new people, and seize the moments where you can go to something not knowing what you'll get out of it. See everything as a learning opportunity and find out how it applies to your "Why."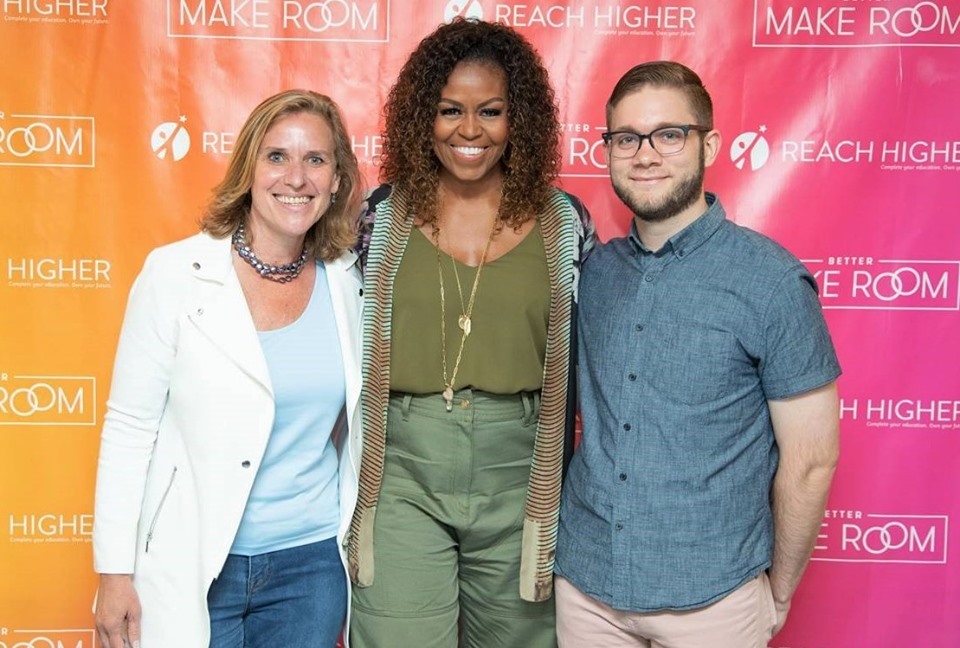 Read More:
Ubben Posse Fellow Interviews: David Ricks
Ubben Posse Fellow Interviews: Tim Shriver
Ubben Posse Fellow Interviews: Oskar Eustis
Meet the 2019 Jeff Ubben Posse Fellows.