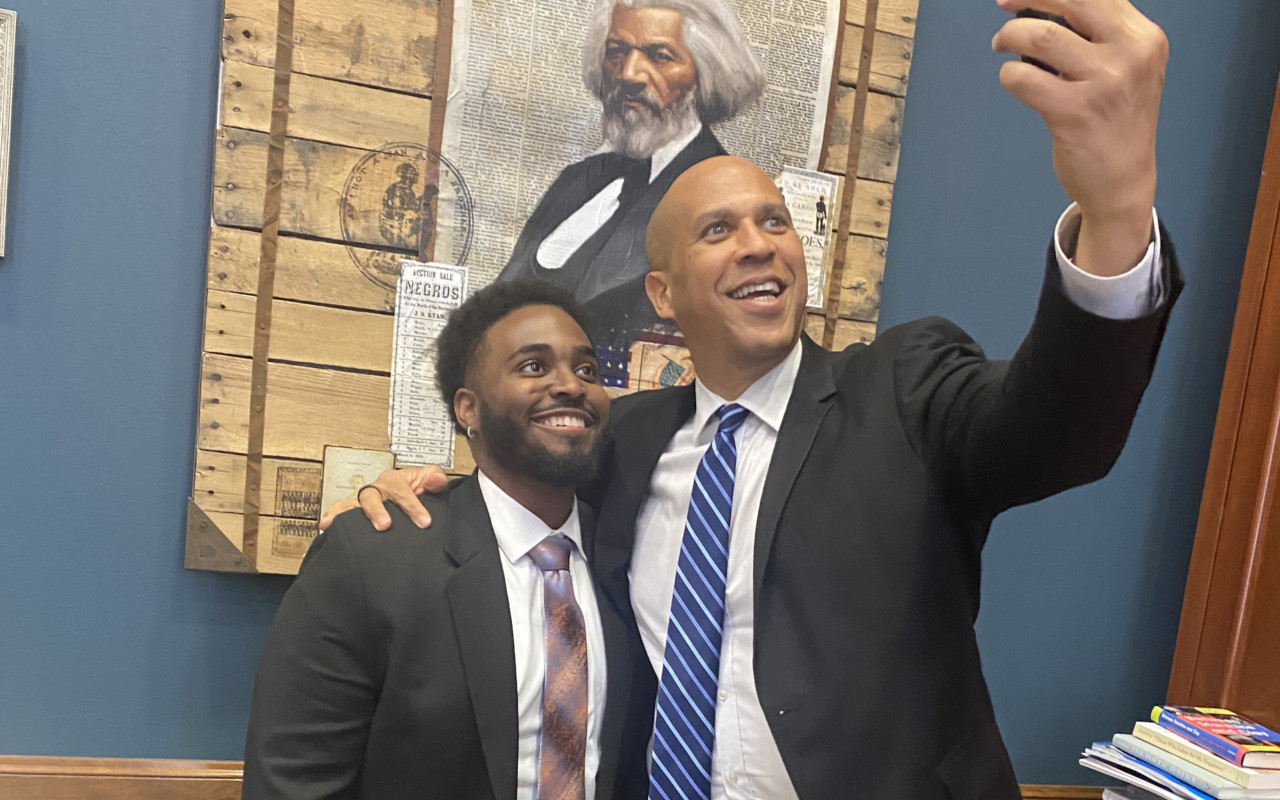 Sewanee Scholar Interns with Senator Cory Booker
This past summer, Sewanee: The University of the South Posse Scholar Moses Vincent III interned in the office of New Jersey Senator Cory Booker. During his internship, Moses worked on projects with teams across the Senator's office. A rising junior studying finance and business, Moses was surprised to learn he received the highly sought after internship.
"Having an internship on the Hill is super competitive—thousands of people apply from various places, from all different backgrounds," says Moses. "I applied, thinking 'A leadership role in government means doing work for your constituents, and as a young leader I would love for this special opportunity to connect and collaborate with decision makers.'"
One of his favorite tasks was researching the different acts and bills Booker sponsors and co-sponsors. Booker's focus on mental health resonated for Moses and inspired him to grow more familiar with the content. Moses' investigated the different factors that affect the mental health of Black youth—from issues of infrastructure to community to schools.
"Posse reinforces my leadership capabilities, and constantly reminds me that I can have a lasting impact."
"I quickly learned that it's not just Black children but all children that are vulnerable to these barriers," says Moses. "If we can intervene and get them the resources they need at a younger age, we can help them as they grow and develop into young adults."
During his internship, Moses was able to build a relationship with the Senator.
"The love Cory Booker has for New Jersey inspired my love for Maryland in a way I had not appreciated before. Every time I saw [Booker] I would ask him how he was doing. He always checked in on everyone, and so I wanted to check in on him."
Dr. Sid Brown, Moses' Posse mentor, identified Moses as a skilled socializer and supporter of his Posse mates and peers.
"Moses came to campus and made it his mission to get to know everyone, no matter where," says Sid. "From the library to the dorms, Moses was known as fearless, friendly, and dependable. People knew that he cared and that he wanted to connect with them."
Moses credits Posse with helping him develop professionally.
"Being a Posse Scholar has opened my world up to so many opportunities to grow outside of just college. Posse reinforces my leadership capabilities, and constantly reminds me that I can have a lasting impact."