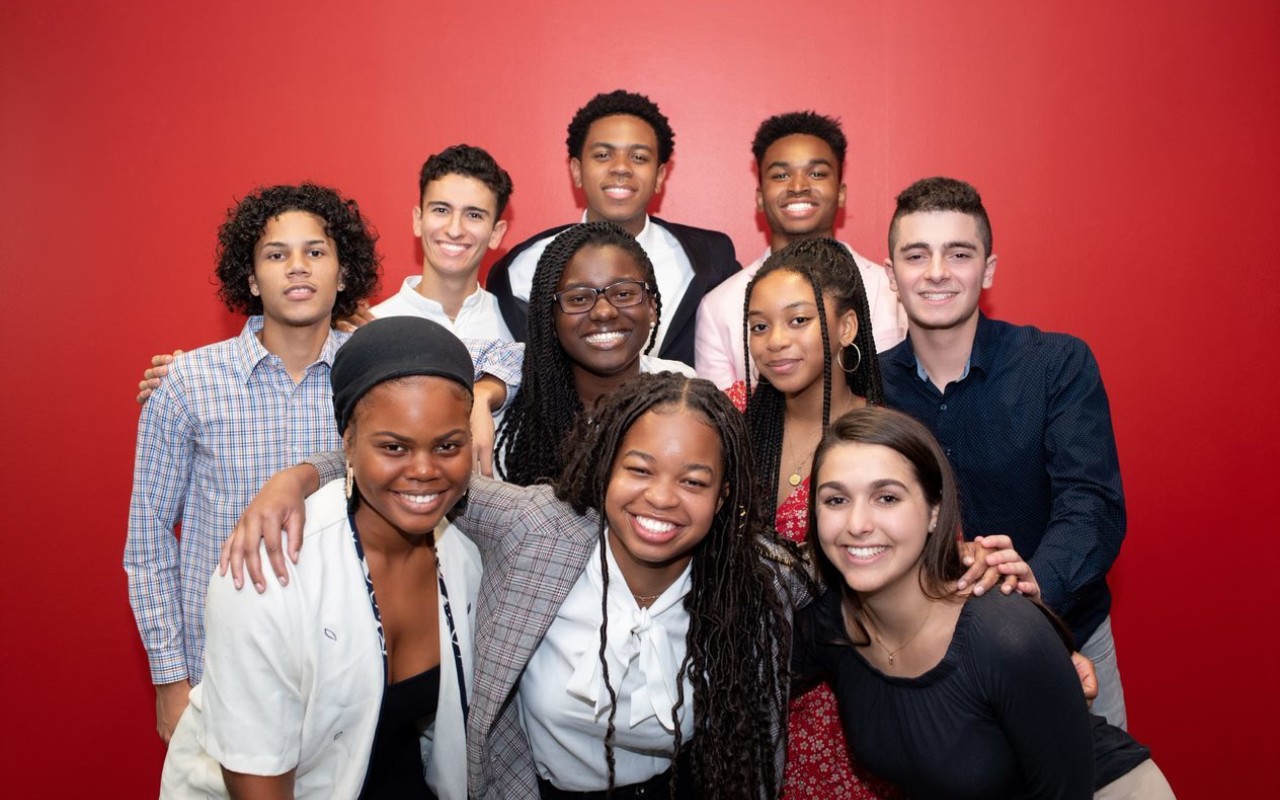 Major Gifts From MacKenzie Scott, Netflix, Fidelity and More Strengthen Program, Spark Growth
Last year brought a phenomenal outpouring of major gifts to The Posse Foundation, providing critical funding in a time of upheaval and uncertainty. The grants mark an outstanding philanthropic commitment to Posse's mission to support the next generation of leaders.
Generous donations from MacKenzie Scott, Netflix, Fidelity, Citizens Bank, Deloitte, Bank of America and more have strengthened Posse's standing as a leader in the college success and youth leadership development spaces.
In July of last year, MacKenzie Scott announced a round of funding to total $1.7 billion, the first in her commitment to gift a majority of her wealth to philanthropic causes in her lifetime. In December she announced a second round of $4.2 billion. Her grant to Posse of $10 million will be instrumental in helping the organization expand its reach and serve more diverse leaders across the country.
"I recommend these organizations to anyone similarly excited by the idea of empowering leaders well-positioned to accelerate progress," Scott said of the full list of grantees, upon the announcement of her first-round donations. "Every one of them is tackling complex challenges that will require sustained effort over many years, while simultaneously addressing consequences of the COVID-19 pandemic."
"The past year's outpouring of support for Posse has been extraordinary and will have a significant impact on our program."

Posse President + Founder Deborah Bial
Netflix emerged as a new Posse donor in June, with a $350,000 donation.
"The past year's outpouring of support for Posse has been extraordinary and will have a significant impact on our program," says Posse President and Founder Deborah Bial. "These major gifts from both first-time and returning donors demonstrate a powerful belief in the positive, transformative change that Posse is making. It is critically important that we invest in the diversity of the next generation of leaders—and our supporters and partners make that possible."
Fidelity, a longtime supporter of Posse Boston, increased its support with an employee giving campaign to benefit Posse. The 2:1 employee match program ran for four months beginning June 1 and gathered 133 individual donations that were matched to raise a total of over $400,000 for Posse Boston.
"At Fidelity Investments diversity and inclusion is a foundation for success," says Fidelity Investments Chief Investment Officer Paul Quistberg, a member of the Posse Boston Advisory Board. "For more than a decade we have worked with the amazing students and alumni of The Posse Foundation providing intern and career sponsorship, mentoring and financial support. By partnering with The Posse Foundation—an organization grounded in excellence, leadership and diversity—we are making progress toward building a connected and collaborative workforce that reflects the broader society and we look forward to continuing this strong partnership in the coming years."
A new Posse supporter, Citizens Bank committed to gift $100,000 over two years. In late June they launched "Our Journey for Social Equity," a seven-part plan of commitments that includes grants to minority-owned businesses and a commitment to diversity in their workforce. The grant to Posse was alongside similar support announced for 100 Black Men of America, The United Negro College Fund, the NAACP Legal Defense and Educational Fund, and the National Urban League. An additional employee giving campaign with a 2:1 match raised $45,000 for Posse.
"We believe in the power of Posse's mission to develop diverse leadership for a better future."

Deloitte Managing Partner Steve Gallucci
The year inspired increased commitments from returning supporters as well. The consulting giant Deloitte has been an in-kind and financial supporter of Posse above $300,000 annually in past years. As part of community investment led by its Black Action Council, Deloitte provided nearly $1 million in additional funding to Posse in 2020, which includes significant giving directly from Deloitte professionals.
"We believe in the power of Posse's mission to develop diverse leadership for a better future," says Deloitte Managing Partner Steve Gallucci, a member of the Posse National Board of Directors and chair of the Posse New York Advisory Board. "Posse was a natural choice for our increased community investments to help build a culture of anti-racism, and Deloitte and our professionals are proud to continue to support them through donations, pro bono, board leadership, and volunteering."
"The current environment reminds us that significant work remains to be done to end racism in our society and all of us have a role to play to achieve fair and equitable treatment for all," Deloitte Black Action Council Co-Chairs David Harrison and Kavitha Prabhakar shared in a joint statement. David serves a member of the Posse D.C. Advisory Board.
Bank of America, also a longtime partner, awarded Posse grants totaling over $1 million in 2020. In addition to financial support, the bank provided 100 employees as volunteers for last year's Dynamic Assessment Process, helping to select the newest class of Posse Scholars.
"We are so thankful for this generosity from corporations and individuals alike."

Posse Vice President of Development Hedy Roma
In fact, many companies rose to support Posse's mission with a new or deepened commitment to corporate volunteering. Willis Towers Watson employees joined the Posse volunteer ranks in 2020, following a $110,000 grant to Posse made by the firm earlier last year. Deloitte similarly offered more than 150 employees as volunteers. Representatives from these and many more partners joined thousands of valued volunteers who worked with Posse Scholars and in support of Posse programming across the country last year.
"We are so thankful for this generosity from corporations and individuals alike," says Posse Vice President of Development Hedy Roma. "Each gift helps us sustain and grow our program, and each volunteer means Posse can reach even more young leaders—a particular need as we took our work into virtual spaces during the pandemic."
The Posse Foundation has seen significant growth in the past year, notably launching a new Virtual Program and 10 new college and university partnerships. Over the past three decades, Posse's partners have awarded a total of $1.6 billion in scholarships to more than 10,000 Posse Scholars.
Watch: Selecting the Next Generation of Leaders