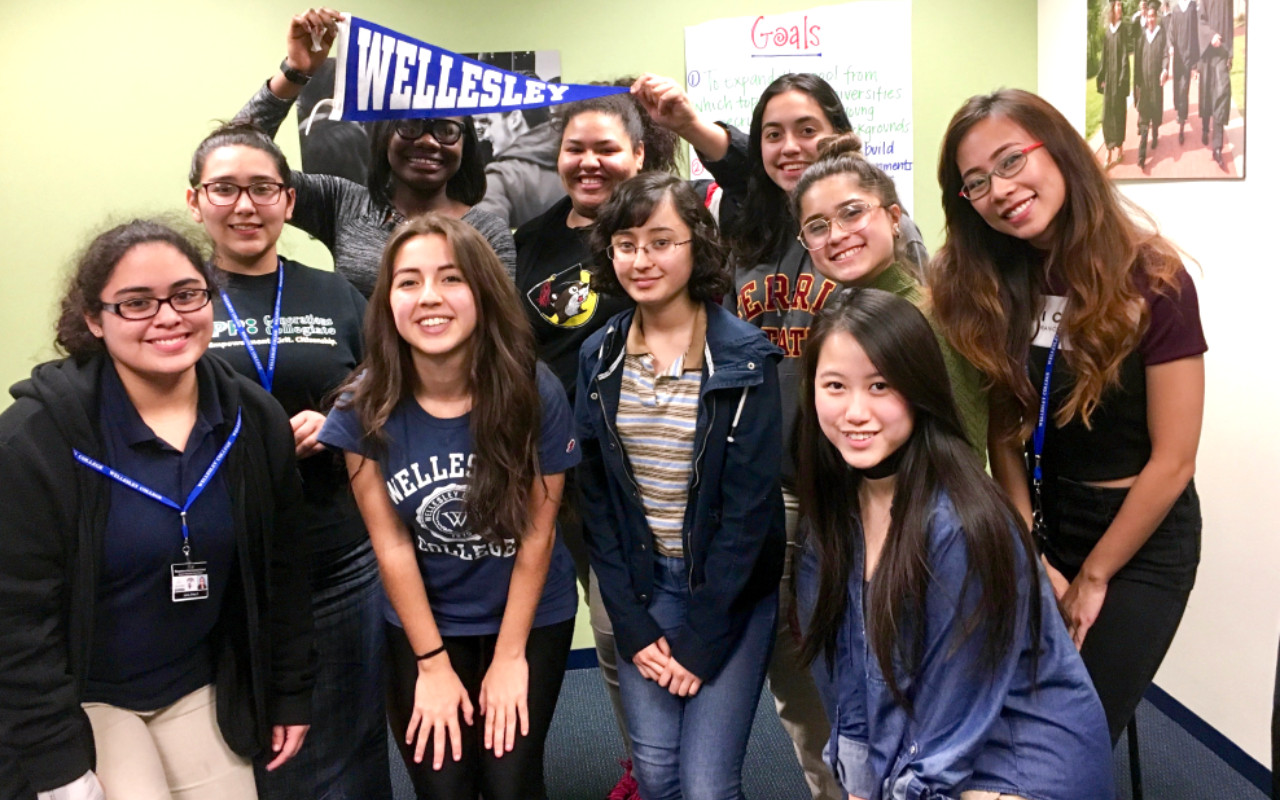 Wellesley's First Posse Begins Senior Year, Receives Student Leadership Award
Wellesley College's first Posse was honored as one of the group recipients of the 2020 Camellia Student Leadership Awards. The Camellia Awards recognize students who have grown as leaders during their time at Wellesley, named after the camellias that Wellesley's founders, Henry and Pauline Durant, gifted to the college.
The Wellesley Posse was honored with the Camellia Award for Inclusive Leadership. As the pioneering members of the Wellesley College Posse program, Danielle Aldrett, Shania Baldwin, Paula DeAnda, Dayna De La Cruz, Nallely Esparza, Izabelle Fernandez, Kimberly Hernandez, Emely Larios, May Liew and Abigail Parakoyi have collectively fostered a community at Wellesley to welcome diverse perspectives, promoting growth and dialogue. They aim to create pathways towards inclusion and excellence for all students.
All 10 Scholars in Wellesley's first Posse are set to graduate this spring with the Class of 2021. As part of the Posse STEM Program, the Scholars in Wellesley's STEM Posses are committed to pursuing studies in the fields of science, technology, engineering and math.
All 10 Scholars in Wellesley's first Posse are set to graduate this spring with the Class of 2021.
"The Wellesley experience is defined by a culture of participation, social responsibility, and citizenship. And while leadership can take many forms, ultimately it starts with embodying our values," Wellesley President Paula Johnson said in her address for a virtual ceremony celebrating all the 2020 Camellia Student Leadership Award winners.
The Scholars have been known to tutor and support one another throughout their undergraduate years, and insist that their greatest strength has been having everyone in their diverse cohort not just survive but thrive.
"They knew it was not enough to simply invite people from different backgrounds," wrote one award nominator, reflecting on the Scholars' work to build the school's annual PossePlus Retreats. "They recognized that it was necessary to make everyone feel welcome. As leaders during this yearly retreat, they exemplify one of Posse's main tenets of challenging ideas, not the people who bring them to the conversation."
Another award nominator noted the Scholars' engagement in departmental and disciplinary conversations, as persistent voices pushing to further inclusive excellence in STEM fields and professions.
Camellia-winning student groups' names are engraved on a permanent plaque in the campus center and receive a $100 grant to promote the work of their group.
The first Posse Scholars have made a meaningful difference at Wellesley in demonstrating what the work of true inclusion looks like in practice.