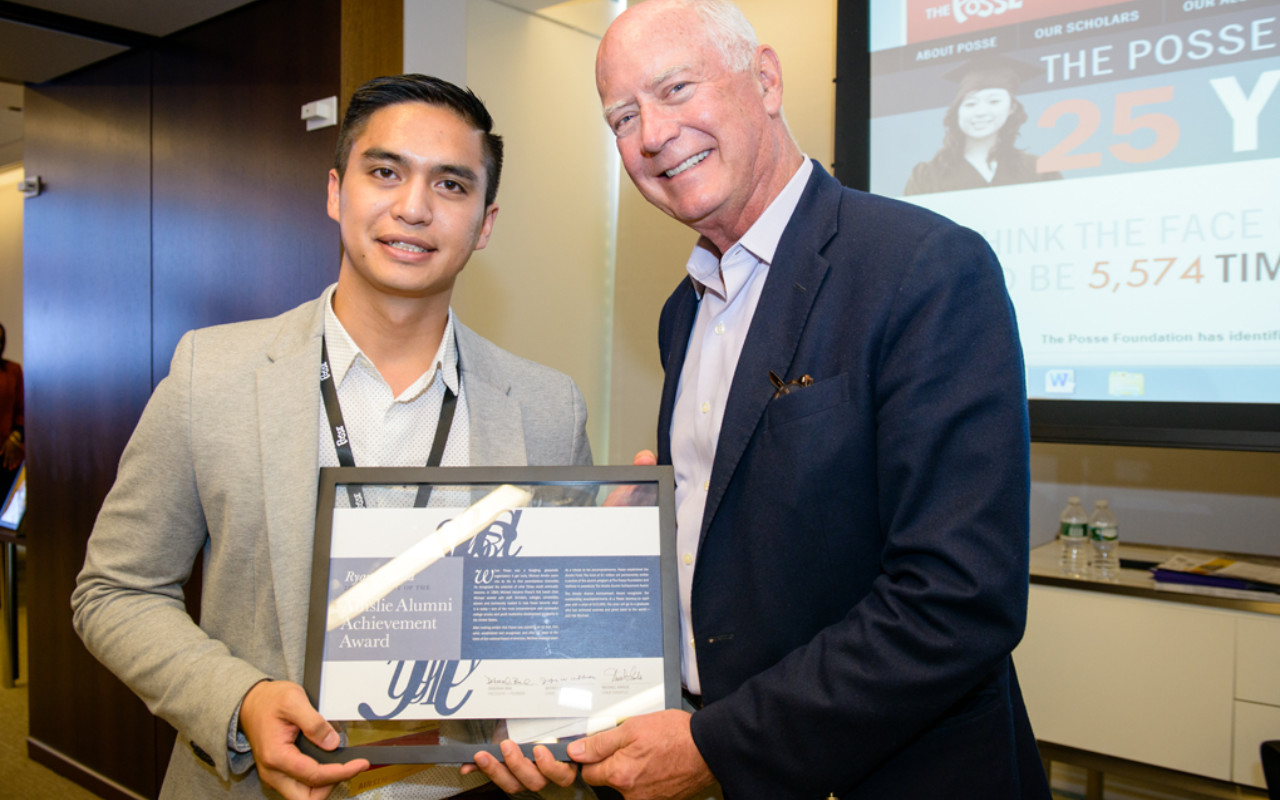 Social Innovator, Wheaton Alum Wins Ainslie Award
Ryan Letada, an alumnus of Wheaton College, was selected as the 2014 winner of the Ainslie Alumni Achievement Award in recognition of his contributions to the global community through social innovation. He is the CEO and co-founder of NextDayBetter, an organization that connects diaspora communities to create positive social change.
The Ainslie Alumni Achievement Award and its $10,000 prize are given each year to one outstanding Posse alumna/alumnus who has demonstrated incredible leadership and success while giving back to the world. The award honors Posse alumni who continue a legacy of leadership in their communities and who exemplify the values of The Posse Foundation.
"The Posse Foundation continues to change my life," says Ryan. "I see this award as a gift and responsibility to create impact and give forward. We all have a strong call to action to use the gift that has been given to us—this scholarship, this community, this moment—to make our mark in the world."
Under Ryan's leadership, NextDayBetter's speaker series events and communities have expanded to six cities—New York City, Los Angeles, Toronto, London, San Francisco and Manila—across four countries. In response to Super-Typhoon (Yolanda) Haiyan, NextDayBetter brought together Filipino and non-Filipino technologists, disaster relief experts, designers and strategists to create smart technologies focused on building resilient communities.
For his work, Ryan was recently selected to join the FylPRO a leadership program administered by the Philippines embassy, which selects 10 leaders nationally to connect and collaborate with the Philippines' leading public, private and civic leaders.
Born in Kuwait, nurtured in the Philippines, and raised in New York City to immigrant parents, Ryan considers himself as global citizen with roots in diverse cultures. After graduating magna cum laude from Wheaton in 2008 with a degree in economics, he was awarded a Fulbright Fellowship in the Philippines where he explored mass eviction and resettlement of urban poor "squatter" communities and sustainable city design. During his fellowship, he co-founded eKindling, an education venture that brought digital learning via One Laptop Per Child to rural classrooms in the Philippines.
Ryan has supported the growth of multiple social enterprises and tech startups including Catchafire, Womensphere and Feast On Good. He also serves on multiple advisory boards, including #VivaManila and UNIPROnow.
The following is an excerpt from Ryan Letada's Ainslie acceptance speech:
I am just a kid from the Philippines. As I reflect, I ask myself "how did I get here?" Because I did not get here alone.
I am here because of my family, especially my parents. Many of us in this room can relate to this immigrant story but it is my parent's courage to migrate away from their families, and build a life in the United States from scratch that allowed me to have the life I have today. … It is [their] sacrifice and commitment to our family here and abroad that inspires my own work. …
The Posse community has always been a source of chosen family members for me. Time and time again, The Posse Foundation continues to change my life. Without the Posse Scholarship, my life path would have been drastically different. … Without Posse's mentorship, I would not have received the Fulbright Fellowship. I would have not traveled the world or had the epiphanies that led to my work today. …
Back in the day, we would talk about "Posse Juice." What is that exactly? It's grit, empathy, creativity, imagination, hard work and more. … I'm confident that as a Posse community we will continue to push the world and humanity forward.