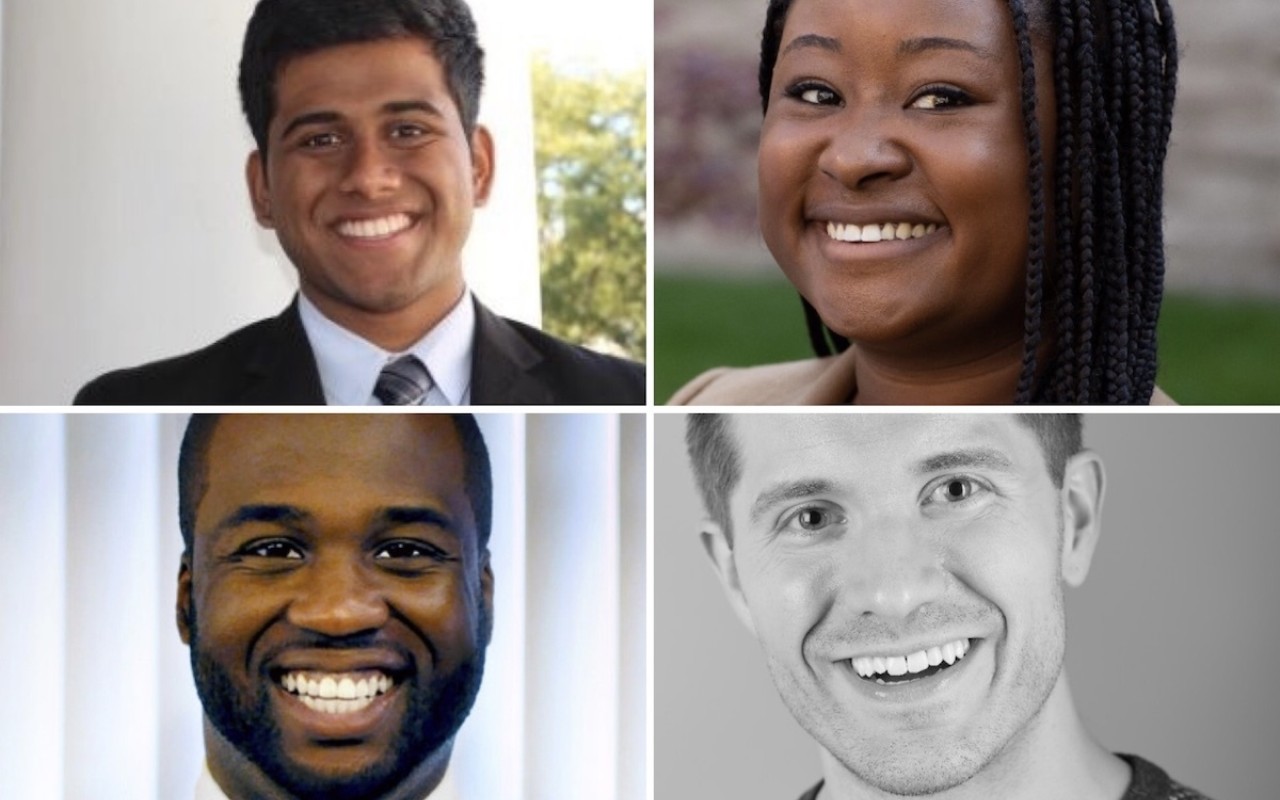 Scholars Explore Career Paths in Winter Programming
Posse Boston's annual Winter Career Day included an alumni panel and a networking reception with Posse Boston Career Program partners. Hosted virtually due to the COVID-19 pandemic, the event presented current Scholars with an opportunity to hear from Posse alumni about their career journeys and network with Career partners.
The alumni panel discussion, entitled "Navigating the Career Process," featured an alumnus from each of Posse's five industry verticals (business/finance, law/government, media/arts, education/nonprofit, STEM).
As a panel speaker, Posse alumnus Ronnie Kuriakose shared that while navigating his career in investment and finance, he leaned on his Posse network for support.
"Posse opened doors, which allowed me to showcase the skills I was developing on campus," Ronnie said in his remarks. "Posse broke down barriers by connecting us to Career Program partners, who helped us navigate our journeys. Although it didn't make the job-seeking process any easier overall, the support allowed us to focus on what we do best: prove our potential."
Posse Boston is grateful for Winter Career Day's five dynamic alumni panelists who shared their awe-inspiring stories and words of encouragement.
Our thanks to:
Courtney Brunson - Mount Holyoke College alumna, J.D. candidate at Harvard Law School
Dana Quigley - Hamilton College alumnus, studio and corporate event photographer
Ronnie Kuriakose - University of Virginia alumnus, strategy and research officer at State Street
Sarah Martinez Roth - Colby College alumna, Ph.D., senior research scientist at Vertex
Taylor Barnes - Centre College alumnus, talent acquisition program manager at Toast
Following the panel discussion, Scholars joined a networking reception which welcomed 15 Posse Boston Career Program partners. At the reception, Scholars learned about career opportunities at each partner's company, with opportunities to network directly with representatives in breakout rooms. The networking reception is an annual Posse Scholar favorite, as it prepares them for career-enhancing internships and full-time positions with top-tier companies in Boston.
Posse Boston is grateful for our Career Program partners' commitment to supporting the leaders of tomorrow.