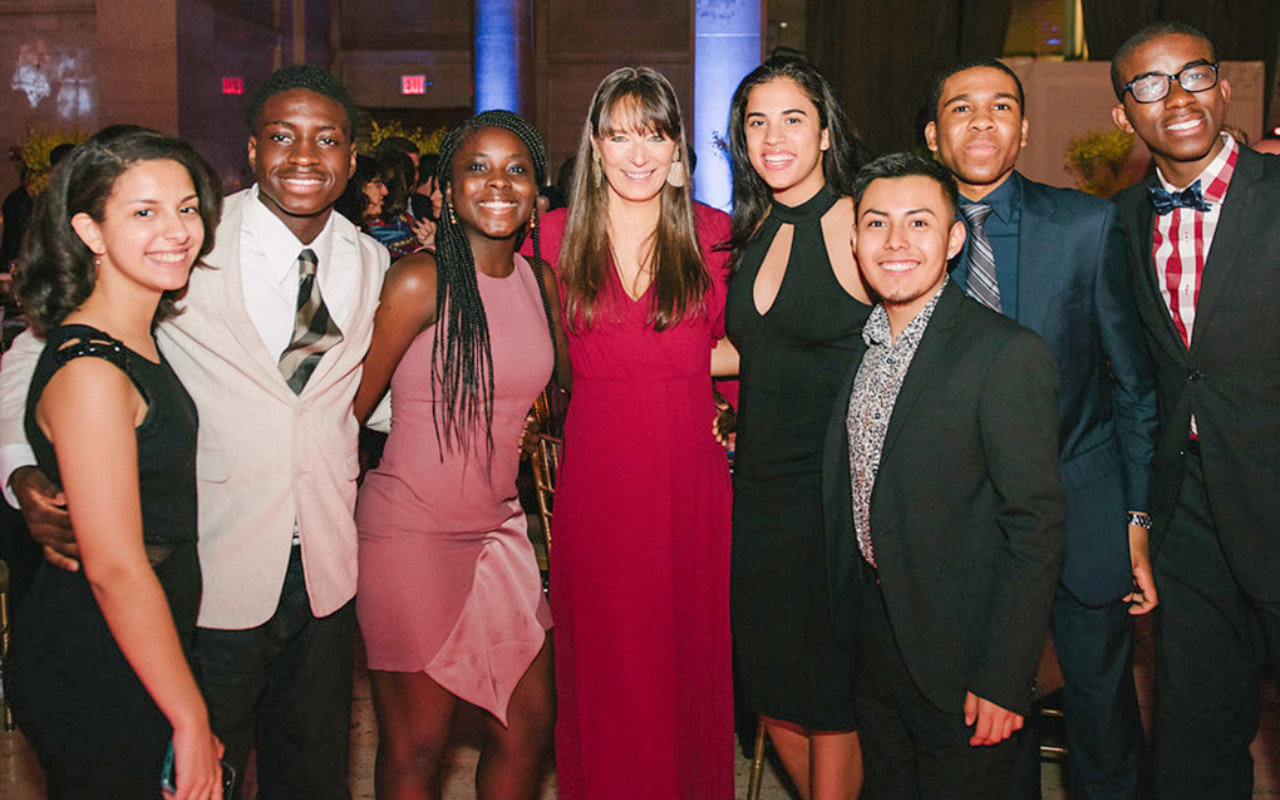 Posse Gala Raises $2 Million, Honors Stars
On May 24 The Posse Foundation's annual gala welcomed close to 600 guests and raised over $2 million to support the program and its Scholars. Emceed by 60 Minutes correspondent Lesley Stahl, the evening honored 2017 Posse Stars for their leadership and commitment to the Foundation.
For the past 15 years, Posse Star recipients Leslie and Mark Sillcox have been trustees of their own Foundation focused on public education in New York City. Their 10-year relationship with Posse focuses on expanding the number of university partners and has directly supported the addition of 23 Posses. Leslie and Mark graduated from Posse partner schools Trinity College and Cornell University, respectively.
Star honoree Bank of America represents one of Posse's most invested corporate partners. Employees regularly serve as volunteers and board members. The company has hosted over 50 Scholar interns over the past 10 years, and 25 Posse alumni are now employees. CEO Brian Moynihan, who also leads Bank of America's Global Diversity and Inclusion Council, accepted the award on the company's behalf.
Posse Star Joanne Berger-Sweeney has been the president of Posse partner institution Trinity College since 2014, with a tenure marked by specific attention to inclusiveness. Under her leadership, Trinity has continued its commitment to the success of the program on campus. Since Trinity's first cohort matriculated in 2002, the school has graduated over 140 Posse Scholars.
Brandeis University Posse Alumnus Nana Sarpong was honored with a Posse Star as he strives to make positive change in the world through a career in medicine. Nana graduated at the top of his class from Tufts University School of Medicine and holds an M.B.A. from the Heller School for Health Policy and Management at Brandeis. He is currently an orthopedic surgery resident at Columbia University Medical Center.
At the end of the night's program, guests enjoyed a performance by jazz-inspired music group and internet phenomenon Postmodern Jukebox. The crowd of supporters included major corporate and philanthropic leaders, Posse Scholars and alumni, partner school representatives, friends and extended community members.
Posse thanks Comedy Central, who produced special videos for each of the Star honorees, and all of the generous sponsors who helped make this year's gala a success.