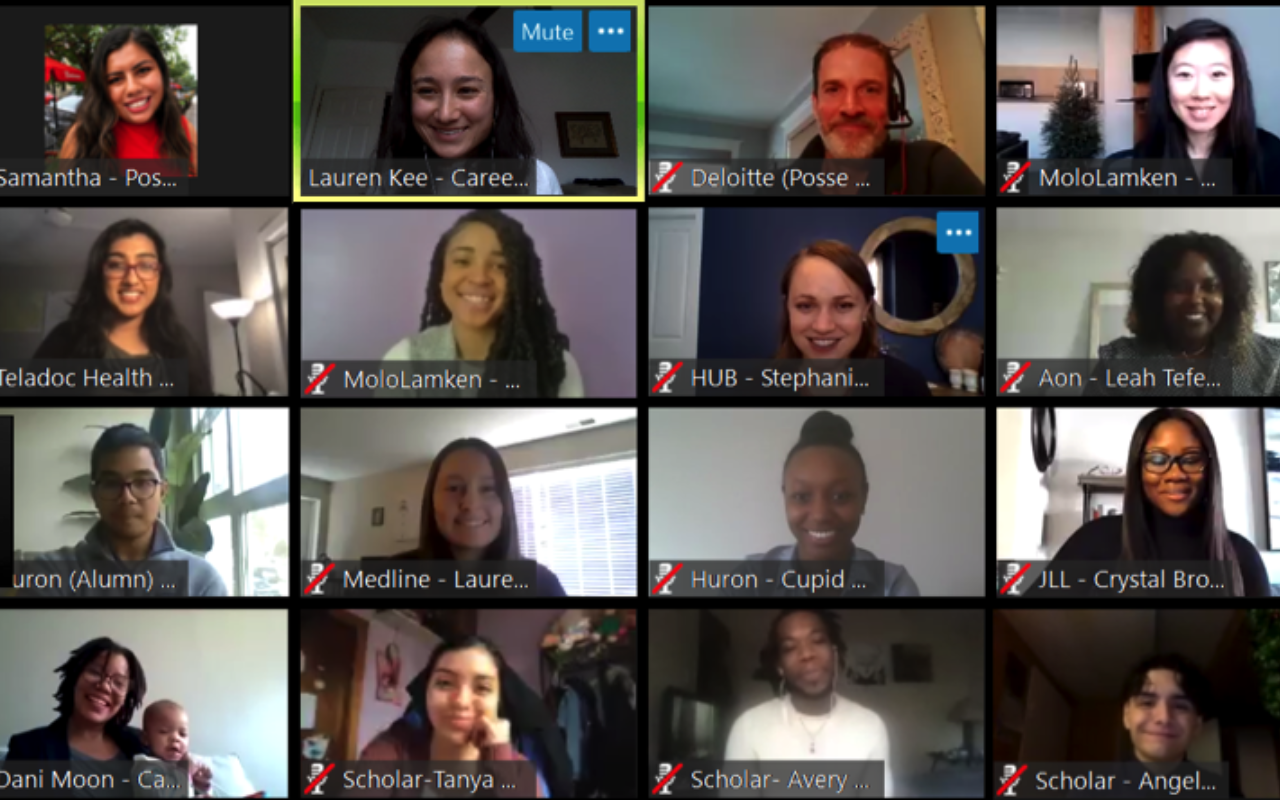 Posse Chicago Collaborates with Career Partners to Deliver Virtual Programming
Despite many challenges, 2020 was a banner year for Posse Chicago's Career Program. The program developed a new series of virtual events that enabled Posse Scholars and alumni to learn more about potential career paths and make meaningful connections with Posse partners.
Posse Chicago organized three virtual career fairs, each with more than 30 Career Program partners in attendance. During these events, partners shared insights and opportunities across several industries, including business and finance, law and government, STEM, nonprofit and education, and arts and media. In response to particular Scholars interest in social impact, an additional career exposure event focused on nonprofits was added.
The Posse Foundation's more than 200 national Career Program partners play a critical role in the Scholar experience by offering paid summer internships and full-time opportunities and by participating in special events. Scholars and alumni benefit from the career advice and insights shared in direct conversation with partners.
"Seeing such a large turnout from Scholars and their engagement throughout the panel was a nice reminder of the strength and power of Posse."
Many alumni who have found full-time positions with Career Program partners later return to give back to the Posse community. This past January, Posse Chicago events drew alumni employees from Huron Consulting, Education Analytics and Chicago Botanic Gardens, to name a few. They shared workplace insights and details on how their work ties to the Posse Scholar experience.
"The event was truly an enlightening and inspiring experience," Trinity College Posse Scholar Rakan AlZagha shared following a recent panel on nonprofit careers. "Hearing so many perspectives of professionals coming from technology, consulting, education and more opened my eyes to how many possible careers there are in the nonprofit world. Seeing such a large turnout from rising and current Scholars and their engagement throughout the panel was a nice reminder of the strength and power of Posse."
Career Program events offer Scholars a chance to expand their professional horizons. For partners, these programs are unique forums for face time with quality talent who might not otherwise be familiar with their company.
"We know the diverse backgrounds and perspectives of Posse Scholars are critically needed to solve societal challenges – whether in the nonprofit sector, business, or government," says Posse Chicago Director Jennifer Tani. "We're looking forward to holding more events like these in the future."