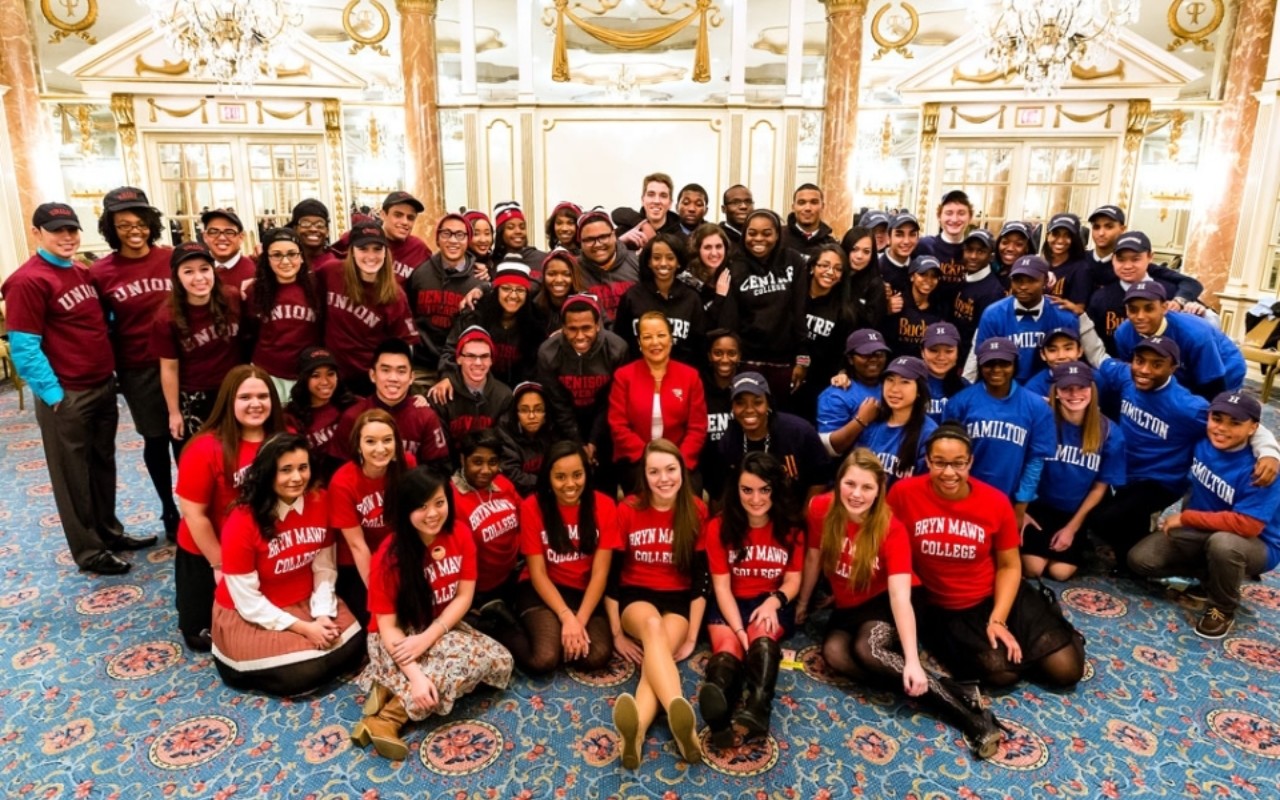 Posse Boston Welcomes Class of 2013
On January 3, 2013, Posse Boston and its six college and university partners celebrated the newest class of Posse Scholars at the annual Awards Ceremony. Sixty young leaders from the Greater Boston area were welcomed into a community of over 600 Boston Scholars and alumni. These talented high school seniors earned full-tuition scholarships worth over $8 million from Bryn Mawr College, Bucknell University, Centre College, Denison University, Hamilton College and Union College.

Selected from a competitive pool of more than 1,350 nominated students, the new Scholars demonstrated exceptional leadership and academic potential in the Dynamic Assessment Process, Posse's unique recruitment and evaluation method.
"Tonight, 60 driven, talented and inspiring scholars start their lifelong relationship with The Posse Foundation," said Posse Boston Director Lamont Gordon.
Representatives from Posse Boston's college and university partners welcomed the new Scholars on behalf of their institutions, and the audience of over 400 guests greeted them with cheers, pride and excitement. This year's occasion was particularly special because Posse Boston introduced the first STEM (Science, Technology, Engineering and Math) Posse selected by Bryn Mawr College—the first women's STEM Posse in the nation.
The evening was an opportunity to honor and thank those who provide invaluable support to both the Scholars and Posse, including families, friends, nominating institutions, partner colleges and universities, donors and the Posse Boston Advisory Board. Board Chair Paul Selian also thanked the sponsors of the 2013 Awards Ceremony: Affiliated Managers Group, MFS Investment Management, Blue Cross Blue Shield of Massachusetts and Eastern Bank. Putnam Investments was the event's lead sponsor for the sixth consecutive year.
Karen Walsh, the director of mutual fund shareholder services at Putnam Investments, and Diane Patrick, the First Lady of Massachusetts and member of The Posse Foundation National Board of Directors, delivered remarks.
"Each Scholar has demonstrated exceptional academic ability as well as leadership ability," said Diane. "In this impressive group you're going to find valedictorians, student body presidents, youth coaches, musicians, scientists—all kinds of wonderful young people."
During the open mic portion of the program, new Scholars and their families had the floor to offer their joy and gratitude to the many people who believe in and support the program.
"I want to thank Posse for recognizing the value of leadership in education and to qualify that as a measure of success," said one parent.
"This is one of the best things that has happened to me," said Lindsay Degnan (Union Posse 8). "I can't wait to spend the next four years with my nine new brothers and sisters."
Posse Boston is grateful for the support of the Awards Ceremony sponsors.
Lead Sponsor

Mentor Sponsors
Affiliated Managers Group
MFS Investment Management
Ambassador Sponsors
Blue Cross Blue Shield of Massachusetts
Eastern Bank