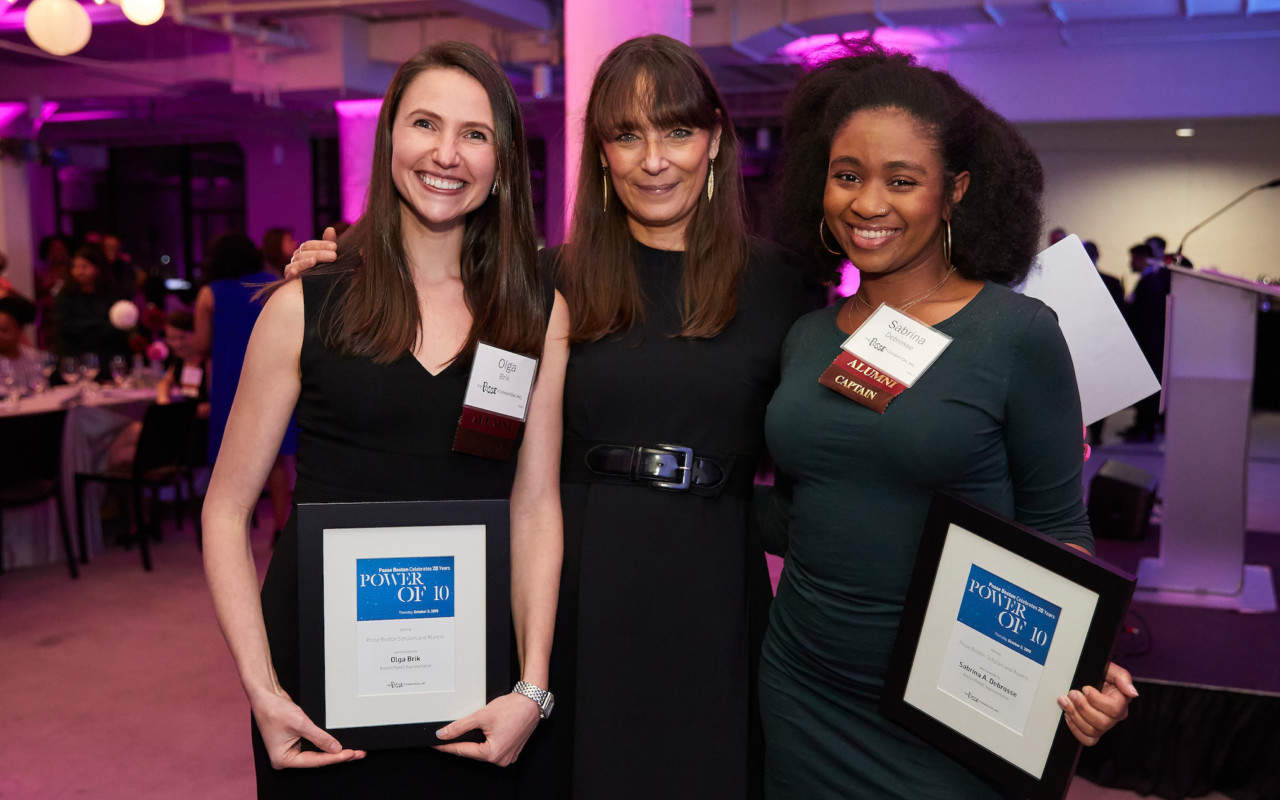 Posse Boston Power of 10 Event Raises $425K, Marks 20th Anniversary
This past October, the annual Power of 10 event celebrated 20 years of Posse Boston. Honoring the city's Scholars, alumni, partners and extended community, the night raised more than $425,000 to support the Posse program.
Guests were welcomed for a special seated dinner with courses from five of the city's top chefs: Ben Elliot of Saltbox Catering, Joanne Chang of Flour Bakery, Colleen Suhansky of Rifrullo Café, Michael Serpa of Select Oyster and John DaSilva of Chickadee.
Posse President and Founder Deborah Bial greeted the room and acknowledged Posse alumni attendees, including featured speakers Zoe Russell, of Bucknell University, and Bowdoin College graduate Adnan Prsic.
At Bucknell, Zoe was a peer writing tutor and vice president of the Africa's Students' Association. She is currently a student at Harvard Law School and aims to eventually practice family law.
Adnan is an assistant professor of plastic and reconstructive surgery at the Yale School of Medicine. In his speech, Adnan expressed how the Posse community gave him the courage to take on leadership opportunities during and after college.
"The common thread between the stages of my life is support—or as we like to say, my Posse," Adnan said in his remarks. "I arrived at Bowdoin with a network of 10 of my closest friends and supporters, who each made 10 more friends on campus, whose 10 friends extended to 10 more, multiplying the ripples of support, friendship and opportunity."
Putnam Investments President and CEO Bob Reynolds and MFS Investment Management CEO, CIO and President Mike Roberge took the stage to present the Power of 10 Award to Sabrina Debrosse and Olga Brik for their work as alumni representatives on the Posse Boston Advisory Board.
Posse Boston gives special thanks to event leaders State Street and MFS Investment and to all the other sponsors and partners who made the 2019 Power of 10 a success.
Posse Boston Power of 10 Sponsors
Leaders: BrightSphere Investment Group, MFS Investment Management, Putnam Investments, and State Street
Benefactors: Barclays, Eaton Vance, and Vertex
Sponsor: Deloitte
Partner: Brooks Automation, Columbia Threadneedle Investments, Fidelity Investment, and National Grid
Ambassadors: Eastern Bank, Shawmut, and Toast, Inc.