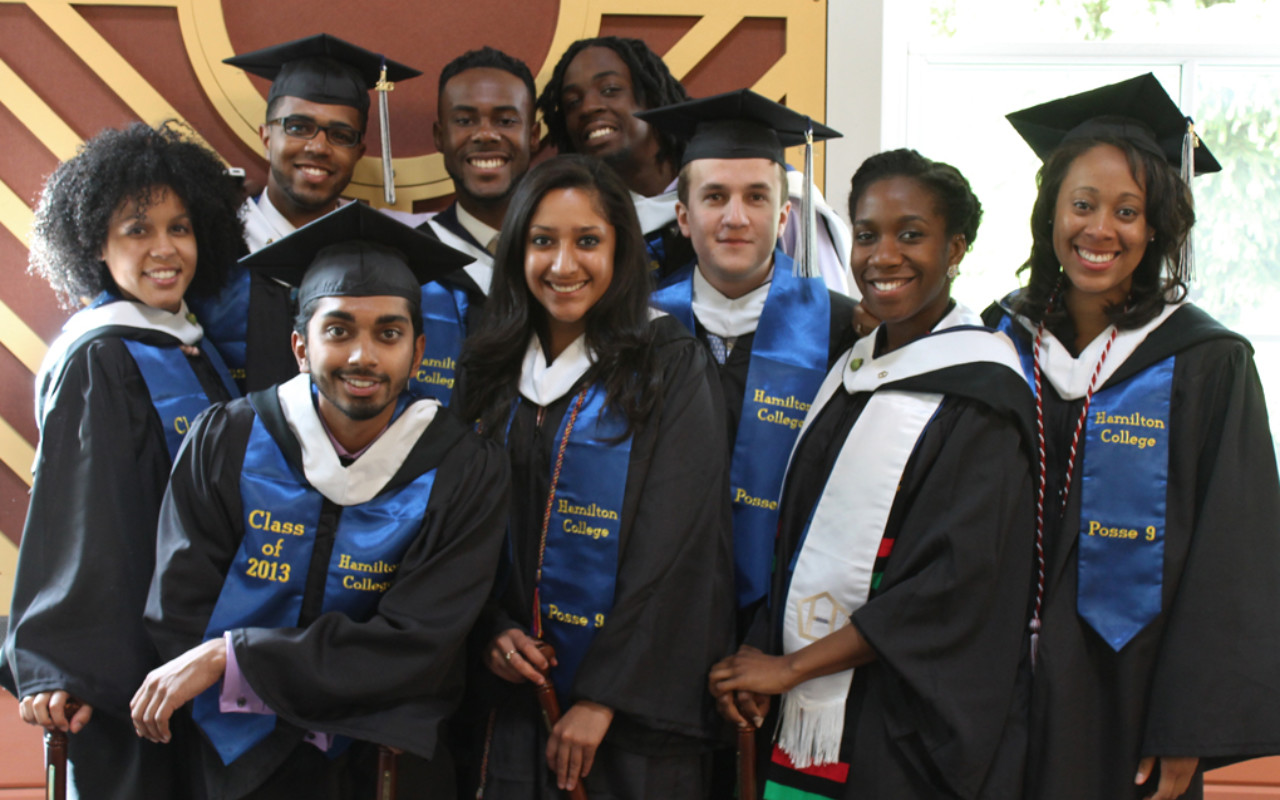 Posse Boston Celebrates Graduating Scholars
Every spring, Posse Boston and its six partner institutions celebrate the achievements of the graduating Posses at special graduation ceremonies on each campus. Joined by their families, current Scholars and college and university faculty and staff, graduation is a time for Scholars to reflect on their experiences as they look forward to the new and exciting ways they will impact their communities as alumni.

"We are very proud of this class of Scholars," says Posse Boston Director Lamont Gordon. "They worked hard, supported each other, took full advantage of opportunities and achieved tremendous success."
Below are highlights of just some of the incredible Scholars from this year's graduating class.
Ronald Germán (Hamilton Posse 9) is excited to return to Boston to join State Street Corporation as a senior analyst. Ronald brings a wealth of experience to the position, having interned at State Street for the past two summers. Ronald's business and management acumen extends to his activities on campus, where he managed the Hamilton College Tech Crew, supervising a team of 15 students to provide sound and lighting for student-led events. At Hamilton, the Hispanic studies major and economics minor was also known for his skills on the squash court as well. Ronald played varsity squash all four years of his undergraduate career–an experience that he says taught him about sportsmanship and community. He recorded a total of 26 victories during his career.
Josue Dessin (Bucknell Posse 3), a mathematics and French double-major, will spend this summer at Reuters in New York City as a media analyst. In the fall, he will head to Montpellier, France, to work as an English teaching assistant. At Bucknell, he was a member of the Mathematical Association of America and the French Club, the treasurer of international education honor society Kappa Delta Pi, and a teaching assistant for the French and Francophone Studies program. In recognition of his academic excellence, Josue received the Leanne Freas Trout Scholarship in French & Francophone Studies, and he was on the Dean's List every semester at Bucknell.
Cassasndre Joseph (Centre Posse 4), an anthropology and sociology double-major, will return to Boston after graduation to work in the community with City Year. On campus, Cassandre served as the treasurer of the Centre College Diversity Student Union; the co-founder and secretary of the Centre College Fashion Club; and the head of the Student Government Association finance committee. In addition, she was involved in the Centre College Student Activities Council. As a resident assistant, she worked to develop residential programming and to build community at Centre.
Wiselene Dorceus (Denison Posse 5), who double-majored in communication and international relations with a minor in French, will join The Nielsen Company in New York in their Emerging Leaders Program. This program will engage both her experiences as a leader as well as her knowledge of the marketing industry. Wiselene has previously undertaken marketing internships at Viacom/MTV Networks and John Hancock Financial. She was also the marketing/advertising editor of the campus newspaper, The Denisonian. A leader in her campus community, Wiselene was the co-founder of Students of Caribbean Ancestry, a disc jockey for the college radio station, an international studies tutor, and a senior interviewer in the admissions office.
Jomaira Salas (Bryn Mawr Posse 9) earned a Mellon Mays Undergraduate Fellowship. She focused her research on the challenges faced by the children of immigrants as they navigate the college process, exploring the similarities and differences between the experiences of children of North African immigrants in France and the children of Latino immigrants in the United States. Jomaira was also selected to accompany Bryn Mawr's president to Bangladesh to attend a conference on global access to education. After graduation, she will continue working to promote educational access as the program coordinator at Posse D.C.
Bessena Cabe (Union Posse 4) will work at General Dynamics in Pittsfield, Massachusetts, where he has been selected to participate in their manufacturing leadership program after graduation. As an undergraduate, he was the president of U-Program, which partners with the Office of Student Activities to organize events for the Union College community; served on the executive board of the Union College Student Forum, booking guest speakers for campus events; founded the Union Volleyball Club; and served as a resident advisor. Bessena, who majored in mechanical engineering, traveled to California in 2013 for an international engineering competition where his team constructed a model aircraft and placed eighth out of 75 teams from around the world.