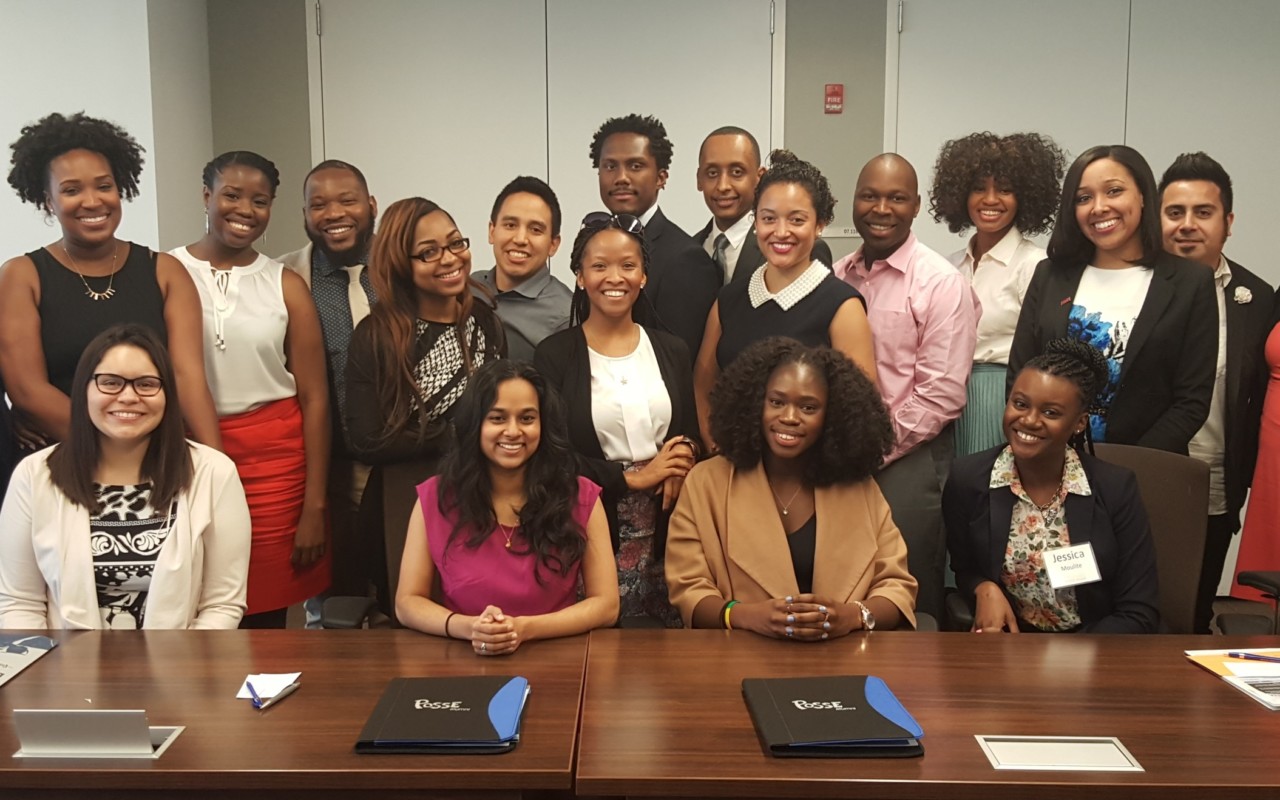 PNAAC Reps Stand Up For Posse Alum Peers
The dynamic role of the Posse National Alumni Advisory Council (PNAAC), which alums are appointed to after an application process, sees members lending a critical voice to national Posse discourse and serving to support peers in our 10 cities across the country.
When speaking to PNAAC representatives, it becomes clear how much admiration, excitement and optimism they feel for the Posse community.
In the past year, PNAAC reps have greeted thousands of recent graduates at Alumni Inductions, and advocated for and increased alumni donations to Posse. They have connected in person and online by kick-starting the "Pass the Koosh, Build Your Network" campaign, which is successfully maximizing engagement on the Posse Alumni Directory.
"They reminded me that as Posse alums, we are family."
"At my first Posse Holiday Celebration as a new alum, I heard the reps speak," says Babson College alumna Kadia Tubman, reflecting on what sparked her interest in PNAAC. "I barely knew anyone in the room personally, but they reminded me that as Posse alums, we are family. I wanted to make new alums feel that way, so I applied to join PNAAC."
By 2020, Posse will have over 6,000 alumni, aiming to represent in every industry globally. Each new alum brings with them unique values, ambition and leadership potential.
"What excites me most is continuing to lift each other upward," says Richie Marrero, a UW-Madison alumnus and PNAAC rep in Chicago. "We challenge younger alums to leverage the access of the network."
"We are what the world needs—now more than ever," says Kadia. "Compassionate, inclusive, innovative leaders who will make this world a better place."
"We are what the world needs—now more than ever."
Kadia will reach the end of her PNAAC term this spring, along with Jiselle Peralta (Lafayette College Posse 8, New York), Sakeenah Chapman (Denison University Posse 4, Boston) and Emily Cardinas (Tulane University Posse 3, New Orleans). On behalf of the alumni community and Posse nation, we thank them for their boundless dedication to our network and for driving the movement forward.
To connect with Kadia, Richie and other amazing PNAAC reps and alumni, log on to the Posse Portal.