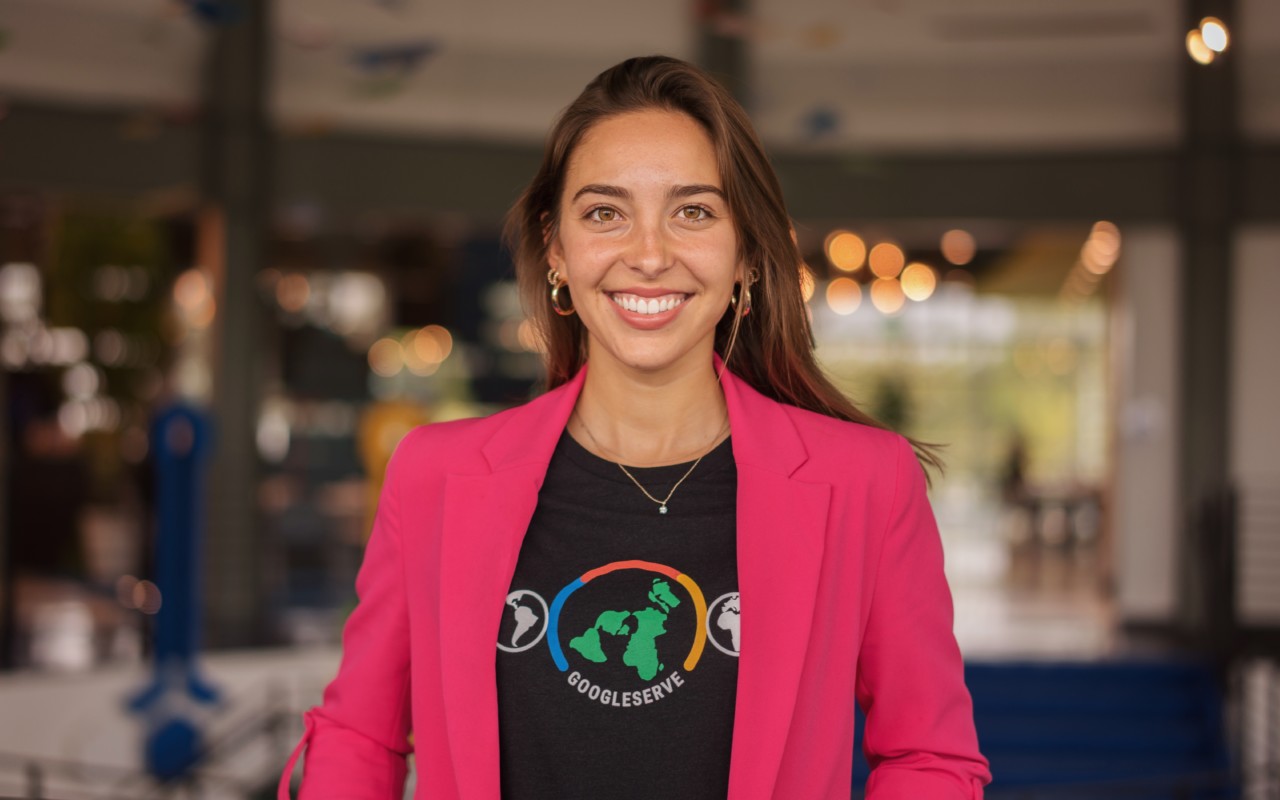 Mount Holyoke Scholar Interns at Google
Katerina Alvarez, a senior Scholar at Mount Holyoke, spent this past summer as a global business analyst intern working for Google as part of their Build Opportunities for Leadership & Development (BOLD) program.
Working on the gTech team, which is dedicated to developing and managing the company's largest and most strategic partnerships with Google Ads, Katerina worked closely with advertisers and the global sales teams on technical troubleshooting and optimization across all products.
One of Katerina's proudest moments was her time spent collaborating remotely with the Google Ad Grant's team, which is based out of Dublin, Ireland. Google Ad Grants offers approximately 50,000 qualified nonprofits $10,000 of in-kind advertising every month through Google Ads. Katerina worked on a project as an ads social impact measurement specialist, a role normally reserved for full-time employees, completing a three-month assignment in just two weeks. She engaged with 165 top nonprofits from around the world and optimized their Google Ads accounts to track online donations.
"My passions include advancing social justice, education and community development with tech."
"I hoped to inspire more nonprofits to use digital products as a cheaper and more targeted approach to fundraising," says Katerina.
On campus at Mount Holyoke, Katerina is currently studying statistics and sociology. She serves her campus community as a Community-Based Learning STEM Fellow and has been recognized by Google's Hispanic Heritage Month Pay It Forward Challenge and as a Newman Civic Fellow.
For the past three years, Katerina has worked with The Care Center, an arts education program for youth and their families in nearby Holyoke, Massachusetts. She's been able to lead a transformative education program supporting and empowering young Latinx mothers by helping them to complete the high school equivalency exam and pursue higher education in tech.
"As a Latina civic leader and STEM advocate, my passions include advancing social justice, education and community development with tech," Katerina says.
She has also worked with the United Nations Children's Fund (UNICEF) as a data analyst intern in Geneva, Switzerland, and as a children's policy and awareness intern in Seville, Spain.
"Posse has taught me how to be a productive and passionate civic leader in my own community, and beyond my community space," says Katerina. "In the future, I want to work with teams dedicated to corporate social responsibility, developing data-driven and human-focused philanthropy."