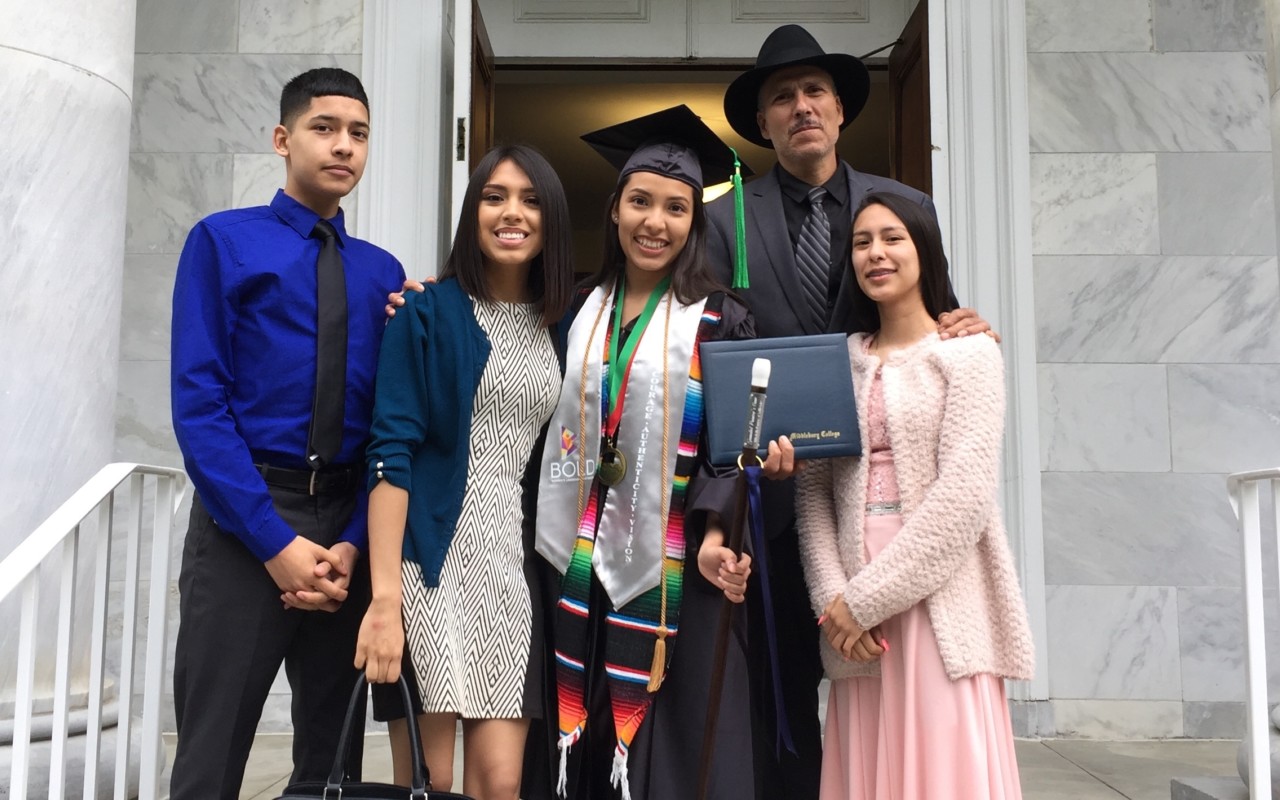 Middlebury Grad Awarded Fellowship to Advance Public Health Equity
Yuliana (Yuli) López, a 2018 graduate of Middlebury College, has received the Helen Gurley Brown BOLD Fellowship. The award will fund her work this year as a policy research analyst at Health and Medicine Policy Research Group in Chicago, where she will work closely with the director of health equity, external partners and government agencies to advance health reform, public health equity and health workforce reform.
"This position will let me participate in important conversations around medical disparities," says Yuli. "The fellowship will allow me to keep supporting my family while I do the work I love."
During her time on campus in Vermont, Yuli combined scholarship and service while developing a passion for public health. An affinity for biology led her to pursue a pre-med academic track. She eventually majored in molecular biology and biochemistry with a minor in global health.
"The fellowship will allow me to keep supporting my family while I do the work I love."
A member of Chicago's third posse at Middlebury, Yuli was a leader on campus and in the local community. She founded UR-STEM, a student organization on campus whose mission is to improve the retention of underrepresented students in STEM fields by providing support systems and essential resources for success, to normalize participation in STEM classes and careers, and to bridge the academic gap for students from different backgrounds.
Throughout her four years at Middlebury, Yuli served as a volunteer medical interpreter at the Open Door Clinic in Vermont's Addison County, supporting Spanish-speaking migrant farmworkers accessing health care. Her experience at the clinic reinforced a budding interest in public health and led Yuli to research more about health disparities.
Yuli's leadership was additionally recognized when she was selected as part of Middlebury's first cohort of BOLD Scholars. The BOLD Women's Leadership Network, founded by Dr. Shirley Collado — a Vanderbilt University Posse alumna and now president of Ithaca College — is an intergenerational initiative focused on developing courageous leadership among college women who possess the skills necessary to move discourse forward on some of our nation's most challenging social issues. It was through the program that Yuli received the Helen Gurley Brown BOLD Fellowship.
Yuli is also a recipient of the Gates Millennium Scholarship, which will provide funding for graduate school. She plans to pursue a master's degree in public health.
"This is an exciting step for me," Yuli says of her return to Chicago and the work that lies ahead. "Posse built me to do exactly this."