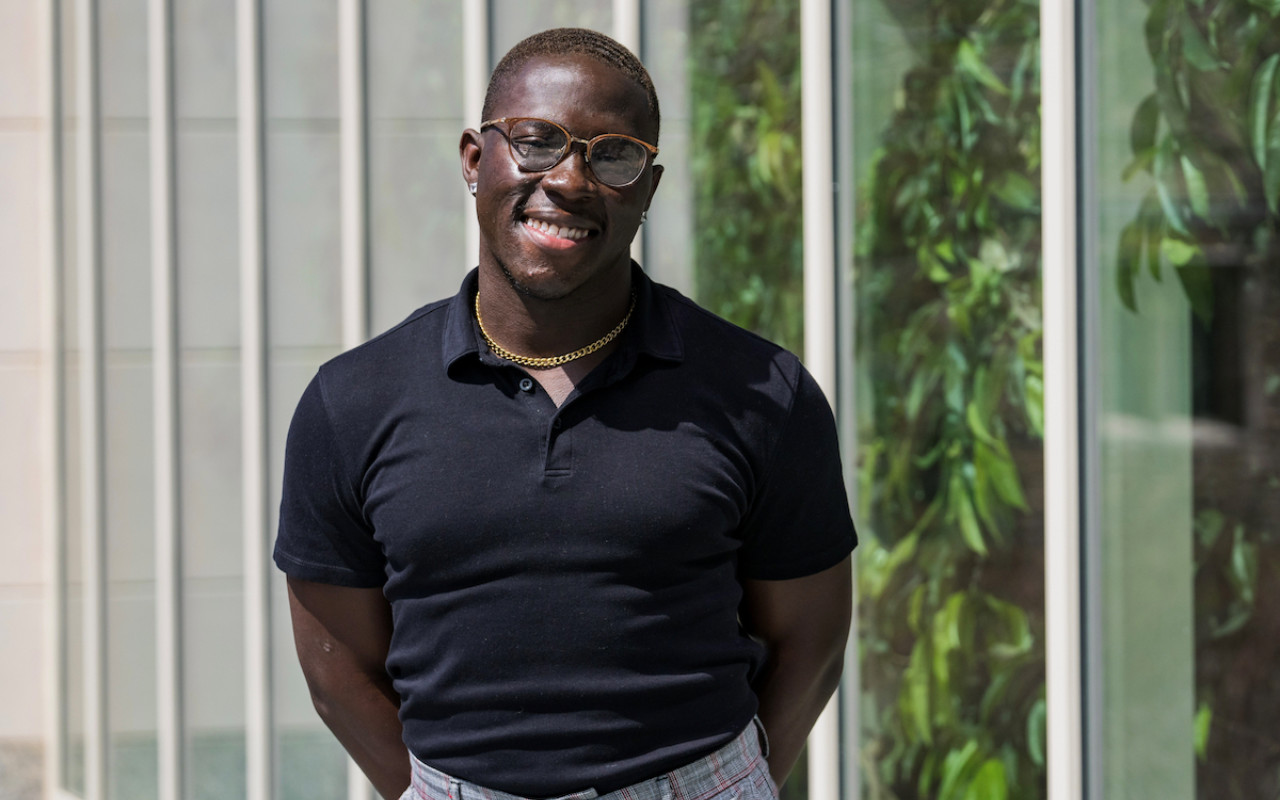 Hamilton Grad Receives College's Top Awards, Conducts Research at Broad Institute
This past spring, Hamilton College Posse alumnus Joel Adade was awarded the College's prestigious James Soper Merrill Prize, "an award given to the member of the graduating class who, in character and campus influence, has embodied the highest ideals of the college." Joel received the award during Hamilton's 2022 graduation ceremony in May, where he addressed fellow classmates as the student commencement speaker.
"I think it would be remiss not to honor the community that brought me here," he said at the ceremony. "To my Posse, our Posse mentor Peter Cannavo, and trainers, Howard, Allison, and Stephanie, thank you for giving me the space to be myself, without question or limit."
Joel received the James Soper Merrill Prize at Hamilton College's 2022 Commencement, where he was the student speaker.
In his junior year, Joel received the presitigious Milton F. Fillius, Jr./Joseph Drown Prize prize, another of the College's highest distinctions. The Fillius, Jr./Drown Prize, established by the Joseph Drown Foundation, is given to "a student who has been remarkably successful academically, has demonstrated outstanding leadership qualities at Hamilton, and who is likely to make a significant contribution to society in the future."
The Merrill and Fillius, Jr./Drown awards reflect a long list of accomplishments for Joel. A biochemistry major who consistently made the Dean's List, Adade complemented an ethos of academic excellence with a commitment to service during his time at Hamilton. He co-founded ROOTS, a student-run organization supporting students of color majoring in STEM, served in the Black and Latinx Student Union and was selected for the Was Los honor society.
In addition to excelling in the classroom, Joel furthered his academic interests by taking advantage of summer internship research opportunities in his field. He began his professional journey at the UMass Memorial Health Care (UMMS) as a radiology intern. While at UMass, he worked closely in a biochemistry and pediatric radiology lab, honing his interest in chemical processes related to living organisms.
This summer, Joel conducted cancer biology and biochemistry research at the prestigious Broad Institute's Klarman Cell Observatory, located at the University of Pennsylvania's Perelman School of Medicine. He has worked in Dr. Rahul Kholi's laboratory, focusing on the relationship between pathogens and the immune system, an important area of research in the field of epigenetics.
"I am grateful for the University of Pennsylvania's Summer Undergraduate Internship Program, which connected me to Dr. Rahul Kholi's Lab and helped prepare me for my work at the Broad," Joel says. "This has been an invaluable experience."
Joel plans to pursue an M.D.-Ph.D. program and a career in medical research.