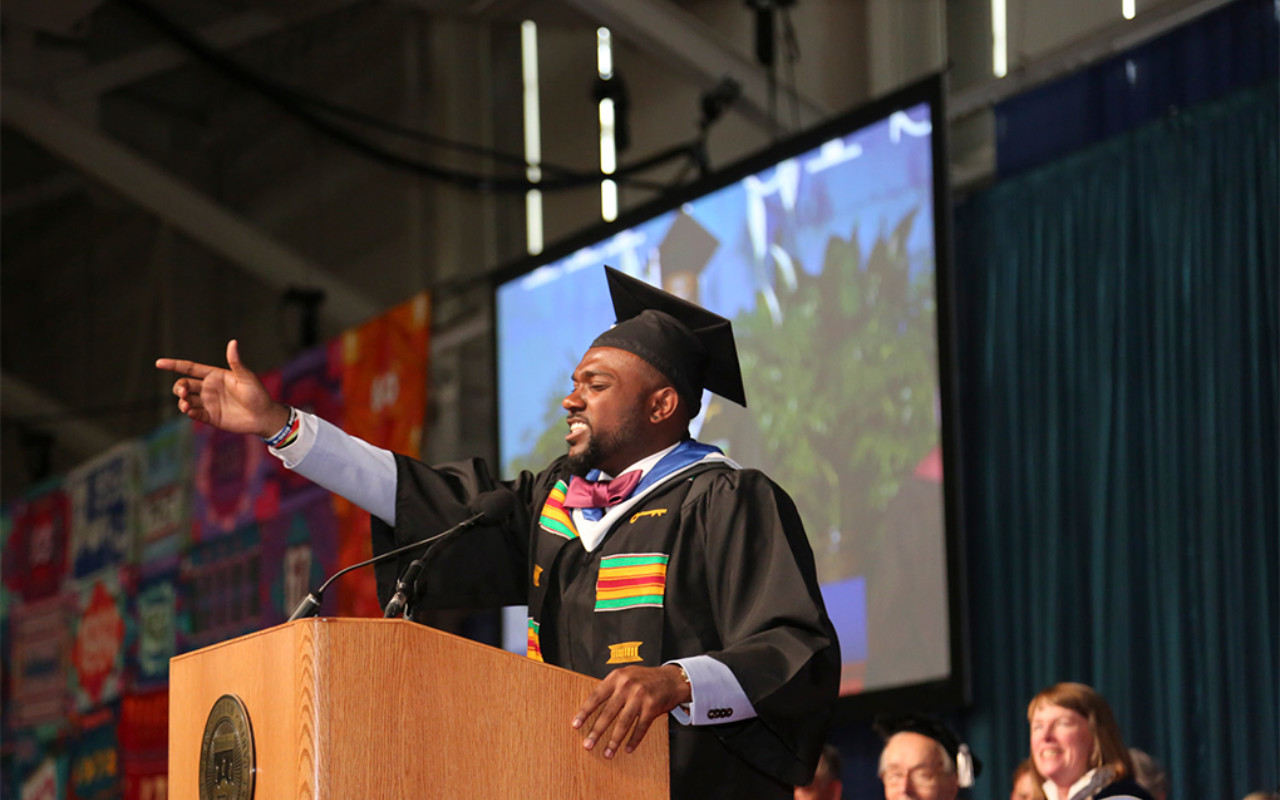 Four 2016 Grads Speak At Commencement
In a testament to their academic excellence and leadership on campus, four Posse Scholars were selected to address their fellow graduates during 2016 commencement ceremonies at their respective colleges and universities. Below are excerpts from each of their speeches.
Joel Burt-Miller, Brandeis University
"At Brandeis I saw an avenue where I would be able to gain skills that I could bring change, not only to my local community, but to many communities throughout the world. Brandeis has provided me the chance to push pass boundaries within myself as I push pass geographic borders."
Joel received his B.S. in biology and health: science, society and policy. He mentored teens through the Waltham Group's afternoon enrichment program, assisted in the running of a medical clinic in Honduras through Brandeis Global Medical Brigades, and studied abroad in South Africa. Joel's dream is to become a physician working in underserved communities throughout the world. Shortly after graduation, he travelled to India to begin his Fulbright Fellowship.
Nataja Flood, Wheaton College
"Wheaton was the place where I could grow and learn how to challenge ideologies and social constructs. We have made some our best friends here. People we know have the power to transform the ways in which we view the world: arts, politics, race, gender, religion, and an assortment of other boxes we are continually deconstructing. This is only the beginning of a memorable journey."
Nataja majored in education, English and African American, diaspora studies and received a Fullbright fellowship to teach in Greece next year. She was class representative on the Student Government Association, president of Class Council, founder and president of iSpeak Poetry Club, and co-president of Renaissance House. She also received the MLK Jr. Legacy Award, honoring her significant contributions to promoting diversity and inclusion on campus.
Shatiek Jamal Gatlin, Babson College
\"We are not just graduates of this great school, we are the people who got us here: we are our parents, we are our families and we are our friends. We are our professors, our mentors, and our deans. We are who we are, plus the Babson Class of 2016. And because of this, Babson is a part of our identity. How we respect, cherish and honor this part of ourselves from this day forward will make a difference in our futures.\"
In 2016, Shatiek was honored with the Martin Luther King Jr. Leadership Award, the Lewis Institute Changemaker Award and the Best of Babson Legacy Award. He was president of the Black Student Union, mentor for Babson's flagship entrepreneurship course, consultant at the Writing Center, and a tour guide. In July, Shatiek started his career as a finance associate with Nielsen's Emerging Leaders Program, a two-year management training program for high-potential young professionals.
Kevin Marin, Lawrence University
"We need to keep learning, keep yearning, and keep trying to be better. We cannot walk around believing we are the best. Humility is important. If Lawrence taught me anything it was how to provide a listening ear to my classmates and empathize with their struggles and hardships."
Kevin received his degree in economics with a minor in innovation and entrepreneurship from Lawrence University. He played varsity baseball, created a salsa dance club, served on the interfraternity council as part of Sigma Phi Epsilon, was a mentor at a local elementary school, and hosted a radio show.