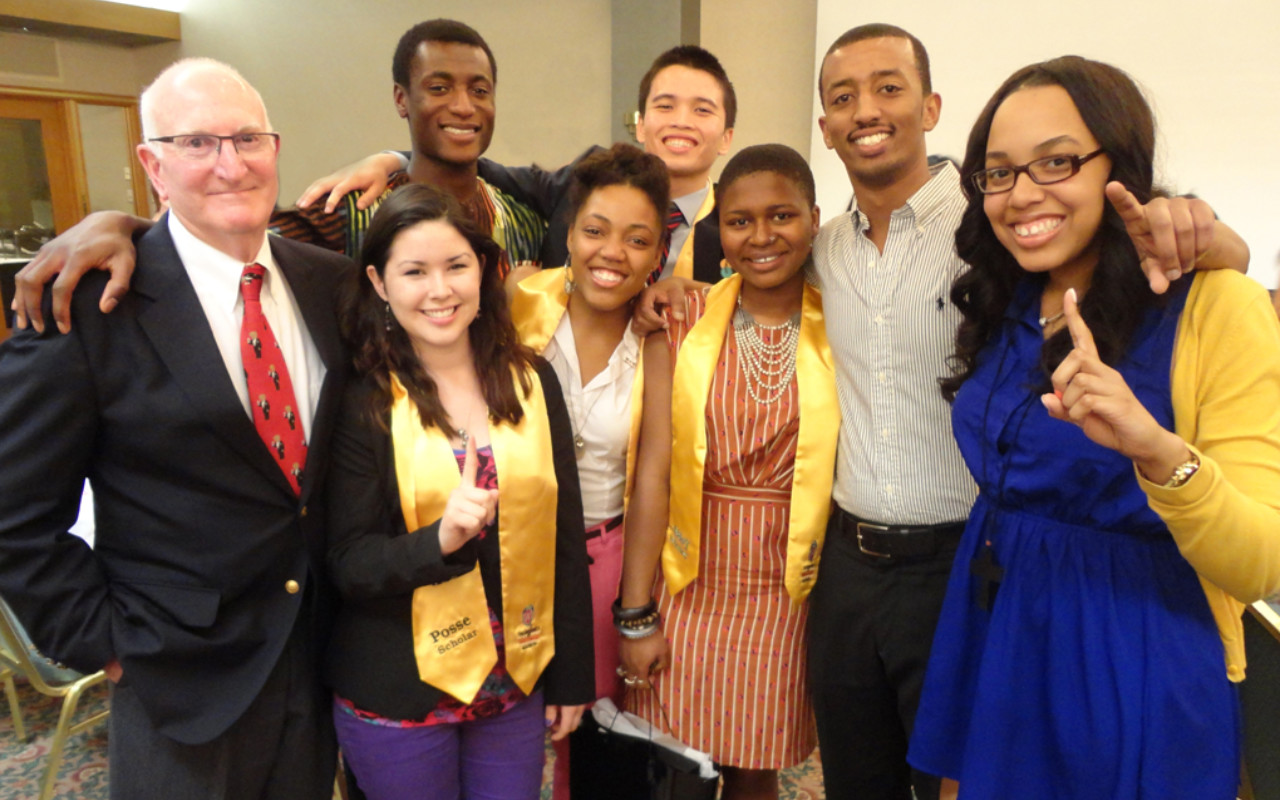 First D.C. Posse Graduates from University of Wisconsin-Madison
In May, Posse D.C. honored the first cohort of Scholars to graduate from the University of Wisconsin-Madison, The Posse Foundation's only quad-city partner. Posse D.C. Scholars were recognized alongside graduates from Chicago and Los Angeles at the annual Posse Graduation Ceremony. In 2015, UW-Madison will graduate Scholars from all four of its Posse partner cities—Chicago, D.C., Los Angeles and New York.
The entire UW-Madison Posse Scholar community was in attendance, including current Scholars, Posse staff, mentors, and UW-Madison faculty and staff.
"Your families are proud of you, we are proud of you and you should be elated. However, in true Posse fashion, our expectation is that you will keep learning and striving to make an impact, whether in graduate school or the workforce," said Posse D.C. Director Tamara Wilds Lawson.
Graduating Scholars had the opportunity to acknowledge individuals who greatly influenced their journey on campus, recognizing family members, fellow Scholars, mentors and Posse staff. Graduate Chut Vu acknowledged Harvey Borkin, a proud UW-Madison alumnus and longstanding Posse volunteer, advocate and friend.
\"Harvey played a vital role in most, if not all, University of Wisconsin-Madison D.C. Posse Scholars' lives. He is one of the core reasons why college was such a smooth ride," said Chut.
The UW-Madison Posse accomplished a great deal on campus. They held leadership positions in the African Student Association, Associated Students of Madison, Gay Straight Alliance, Multi-Cultural Student Coalition, Promoting Racial Equity and Awareness and various Greek organizations. They worked and interned at prestigious organizations and companies, including Ain and Bank, Asian American Lead, the Center for Educational Opportunity at UW-Madison, D.C. Public Library, Fannie Mae, Noblis, the U.S. Department of State, the UW-Madison Department of Educational Leadership & Policy Analysis, The White House and the World Bank. They also took their skills abroad to study in China, Egypt, England, Italy and South Africa.
These new college graduates will pursue careers in education, finance, law, nonprofit management and social work.
"All the opportunities I have experienced, both on and off campus, have truly shaped who I am today and who I hope to be," said graduate Ashley Thorpe, who will attend the University of Washington-Seattle School of Social Work in the fall.