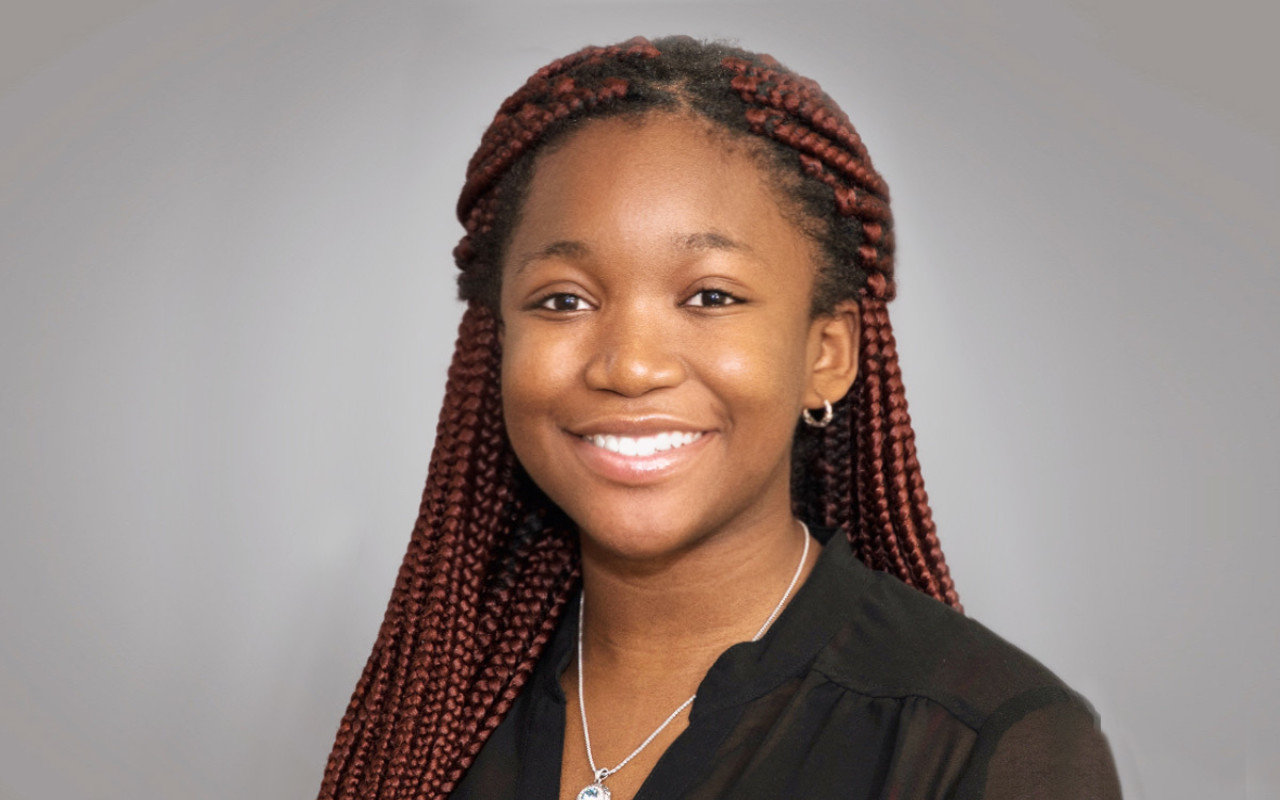 Dickinson First-Year Authors Language Guide, Aims for Career in Global Health
Dickinson College Posse Scholar Chinemerem "Chi" Nwanze is a first-year who has emerged as a leader devoted to academics and community. At age 18, she has also spun a passion for her Nigerian heritage into a book for people interested in learning one of Nigeria's major languages, Igbo.
Chi grew up in Cerritos, California, with her parents, three younger siblings, uncle and three grandparents. Her mother led frequent family trips to the Cerritos Public Library, where Chi discovered her favorite writers Chimamanda Ngozi Adichie and Chinua Achebe. In sixth grade she started writing poems and short stories.
"I grew up immersed in my Nigerian culture—hearing stories about my family's experiences, eating traditional foods, and speaking our native language, Igbo," she recalls.
"Dickinson prepares students to be proactive in the real world."
As a high school student, Chi came across a UNESCO report that predicted Igbo's extinction by 2025. A few months later, as an intern at a book publisher, she had the opportunity to start her own project. Chi decided to write an all-ages guide to learning how to speak, read and write Igbo: "Kwezuonu! A Beginner's Guide to the Igbo Language" was published last March.
Chi first learned about Posse when she was a freshman at Cerritos High School and saw an older peer, Amara Anigbo, accepted as a Dickinson Posse Scholar.
"I knew I wanted to go to college because I was taught to value education from an early age," she says. "Seeing how it opened doors for people I admired convinced me to keep striving to achieve my goals."
Years later she was nominated and selected to become a Dickinson Posse Scholar.
"When I got 'the call' my hands were shaking so much that I almost dropped my phone," she remembers. "I still can't find the words to describe how happy I was."
Now as a first-year, Chi plans to major in psychology with a certificate in health studies, but says Dickinson's liberal arts structure has also allowed her to explore international relations and creative writing.
"Dickinson prepares students to be proactive in the real world by incorporating values like sustainability and global citizenship into our education," she says. "Students are encouraged to "make Dickinson theirs" the moment they arrive on campus, and mentors go above and beyond to support their scholars and foster meaningful relationships with them."
While Chi is still early on in her college path, she already has plans for graduate school in public health or law. She hopes to eventually become an advocate for expanded healthcare and mental health resources in underserved communities.