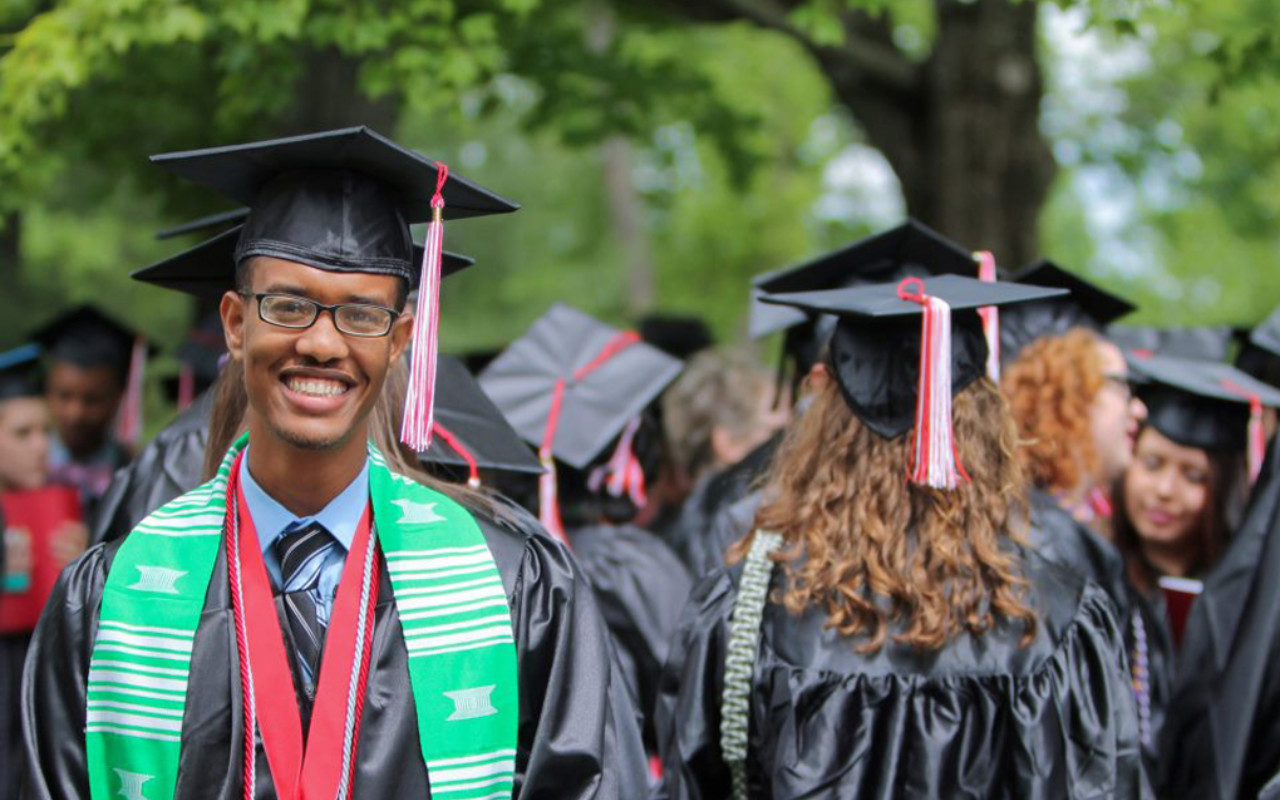 Denison Scholars Thrive on Campus
Posse Boston and Denison University in Granville, Ohio, are entering their ninth year of partnership. As demonstrated by the accomplishments of the students below, Denison Scholars are thriving on campus, making an impact on the university community, and preparing to take their leadership skills into the workforce and beyond.
"The Posse students I've come to know show me daily how important it is to find your passion and live it," says Dr. Toni King, associate provost of Denison University and liaison to The Posse Foundation.
Seniors Abdi Ali and Faith Simunyu were recently awarded Denison University Distinguished Leadership Awards. The honor is awarded annually to graduating seniors in recognition of their extraordinary commitment to excellence and leadership and their dedication to Denison and surrounding communities.
Abdi, a history major, is passionate about community and social justice. He was awarded a prestigious Davis Projects for Peace grant of $10,000 to start a community health clinic in rural Ethiopia this summer. He was president of Denison's Muslim Students Association, head resident advisor, and the student ambassador for the university's presidential and board of trustees events. He also served as chair for the Somali Famine Relief Concert. Abdi was awarded Denison's prestigious President's Medal, the highest honor bestowed on a student by the college. The award is given to those who not only succeed academically, but who also make Denison a better place by leaving behind a legacy for the rest of the Denison community to follow.
Fellow Distinguished Leadership award winner Faith majored in chemistry and minored in figure drawing. Combining her passion for both science and art, after graduation Faith will study medical illustration in University of Illinois Chicago's biomedical visualization program. In 2012 she was awarded the prestigious UNCF Merck Initiative scholarship. Faith was the first Denison student to win the $25,000 prize and an opportunity to intern at the Merck facility. Faith's chemistry research on solar cells under Denison professor Joe Reczek also earned her a trip to California, where she presented her research to the American Chemical Society. Faith also found time to perform with an a capella group, serve as the public relations officer for the African Student Association, have her own campus radio show, and tutor fellow chemistry students. This past spring, she presented an exhibition of her art in a show entitled "Emotional(less) Combinations of Molecules"
Junior Ana Victoria Morales is also making her mark on campus. This spring, she was elected president of the student body, winning with nearly two-thirds of the vote. Throughout her campaign, she emphasized the need for fostering relationships between Denison students through dialogue and community events. Her leadership experiences include serving as president of Sustained Dialogue, an organization that facilitates conversations around community issues; an advisor in Safe Zone, a peer-counseling network that supports LGBT students; and resident assistant. Ana has interned for former Senator John Kerry, been a team leader and community translator for Elizabeth Warren's senatorial campaign, and served as a recruiter for the Greater Lawrence Young Professionals Network.
Sophomore Jennifer Reyes, a political science and international relations major, was awarded a 2013 Humanity in Action Fellowship, which engages students in the exploration of social and political causes of discrimination. She will travel to Washington, D.C.; Warsaw, Poland; and Berlin, Germany, this summer to connect with other fellows to discuss potential solutions to some of the world's most challenging issues. She will have the opportunity to learn from renowned academics, journalists, politicians and activists, and to visit government agencies, non-profit and community organizations, museums and memorials. Through the program, Jennifer will examine case studies and hear the experiences of people in the human rights and anti-discrimination field, gaining exposure to different approaches to action, resistance and social justice.