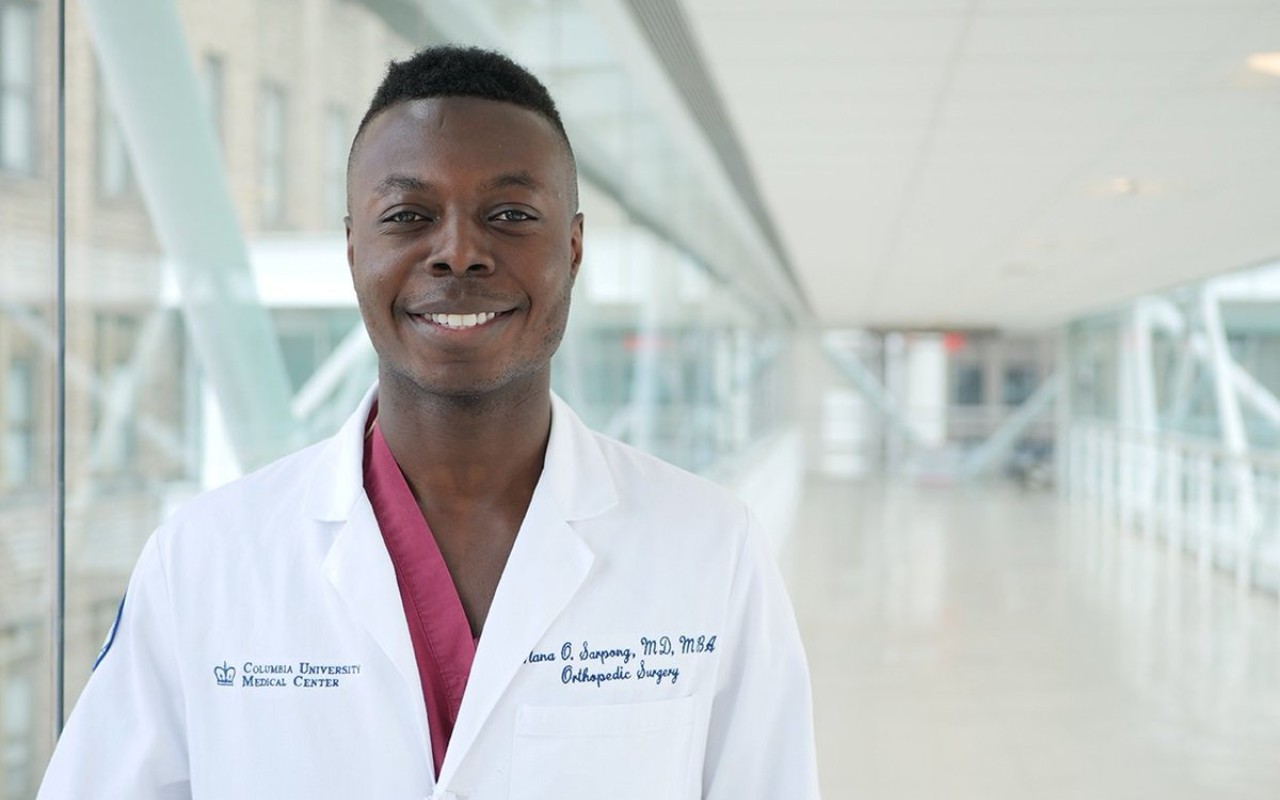 Brandeis Alumnus Excels in Orthopedic Surgery, Joins Posse Board
Dr. Nana Sarpong, a Posse alumnus of Brandeis University, is now the executive chief resident for the Department of Orthopedic Surgery at Columbia University Irving Medical Center through NewYork-Presbyterian Hospital. In 2020, he became the second-ever Posse graduate to join the Posse National Board of Directors.
Nana was selected for the very first STEM Posse at Brandeis University—a specialized model for students studying science, technology, engineering and mathematics. He completed undergraduate coursework in biology followed by a 4-year MD/MBA Health Management and Policy combined degree from Tufts University School of Medicine and Brandeis University Heller School of Social Policy and Management.
"I am proud to be a physician and surgeon in the U.S. during the COVID-19 pandemic."
"The support system and family that was my Posse—both on campus at Brandeis and back [in New York]—was a significant catalyst in my academic success," Nana says, reflecting on his undergraduate experience. "Many of my colleagues and friends [now] consider me as the quintessential team player, and that is a quality I attribute to Posse's robust pre-collegiate and on-campus workshops/trainings."
Nana says his desire to pursue medicine was inspired by his mother, who worked in a hospital's sonography department when he was growing up. While his own specialty and practice has come to focus on surgical needs, like so many, he has had to pivot in the past year.
"I am proud to be a physician and surgeon in the U.S. during the COVID-19 pandemic," Nana says. "Like many of my subspecialty surgical colleagues, I was redeployed to the ER and intensive care units—skills I learned and leveraged earlier in my training—at the peak of the pandemic in late winter and early spring 2020. As the COVID-19 vaccinations become more widespread, hopefully we start to see some light at the end of this long tunnel."
Nana was awarded a Posse Star for alumni excellence at the 2017 Posse Gala. He is slated to begin a Fellowship in Adult Reconstruction and Joint Replacement at the Hospital for Special Surgery/Weill Cornell Medical Center in August 2021.
"I look forward to a busy clinical practice while combining my passion for clinical research with educating and mentoring the next generation of orthopedic surgeons," Nana says of the future. "I hope many of these future physicians and surgeons are Posse Scholars!"