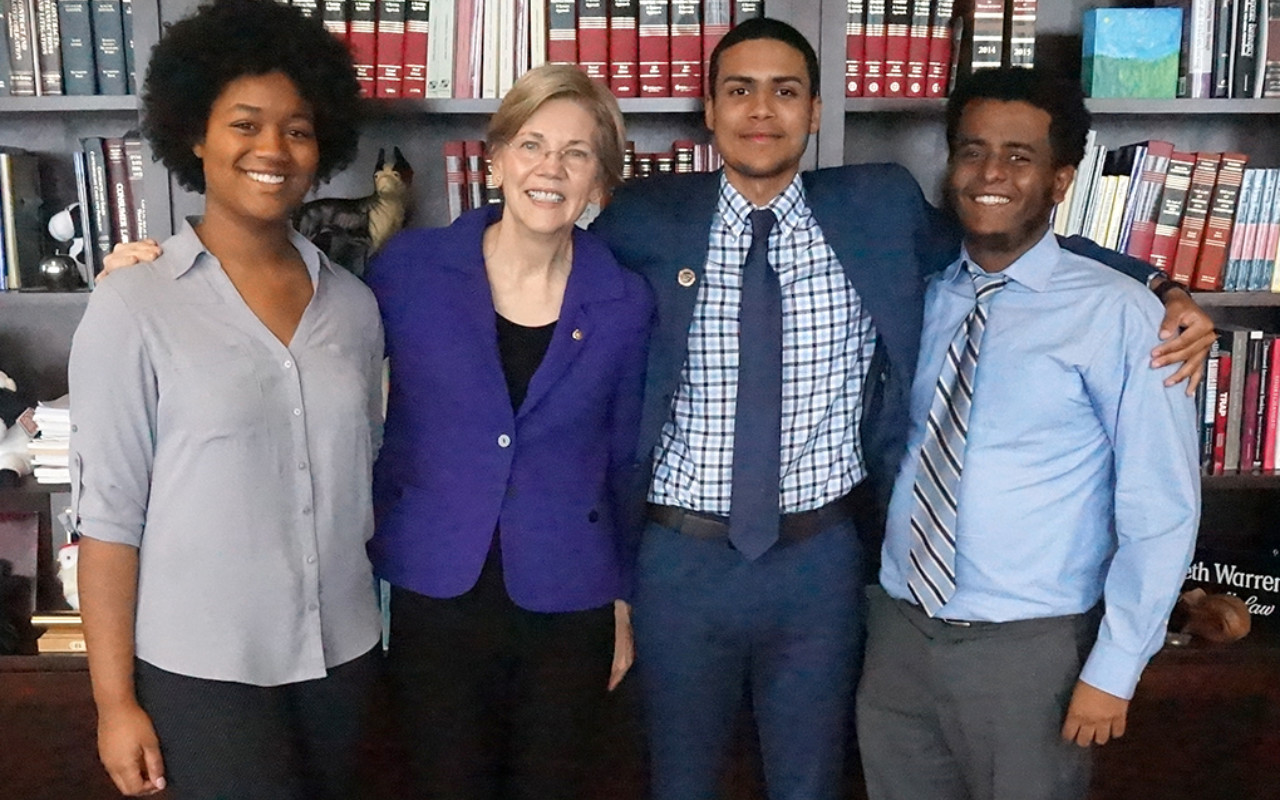 5 Scholars Intern for Mass. Senators Elizabeth Warren & Ed Markey
This summer, five Posse Scholars worked for Massachusetts Senators Elizabeth Warren and Ed Markey. Lizzie Tran and Diego Bazan, both now seniors at Hamilton and Union Colleges, respectively, joined Senator Markey's team. Tanisha DeLeon, beginning her junior year at Centre College, Uriel Girma, a Denison junior, and Luis Morales, a Hamilton sophomore, joined Senator Warren's staff.
Senator Warren's office has been an avid supporter of Posse Boston, hiring 11 Scholars as interns and full-time staff members since becoming a Career Partner in 2013.
"The Posse Foundation does a terrific job helping students succeed in college and launch their careers," says Senator Warren. "I'm happy to have had a number of talented Posse Scholars work on my staff and as interns in my Senate office, and I was glad to welcome several more Posse Scholars this summer."
With past experiences and interest in public service, the Scholar interns were eager to support their communities and learn how Senators lead.
"I was inspired by the constituent services that [Senator Markey's] Boston office provides and the daily collaborative work with the D.C. office that helps the Senator meet his optimal level of advocacy for his constituents," Scholar Lizzie Tran says. "I was deeply grateful to be a part of a passionate and well-driven team that works toward greater political change."
Back on campus at Hamilton as the vice president of the Student Assembly, Lizzie has managed the distribution of a $250,000 budget for student organizations and collaborated with administrative staff on campus issues.
Scholar Luis Morales has also assisted in government offices in the past. In the summer of 2016, Luis was a legislative intern at the Massachusetts State House where he aided State Representative Gloria Fox and attended briefings and voting sessions in the senate chambers on her behalf. On campus, Luis is a delegate in the Hamilton Model United Nations and leader of the Black and Latino Student Union.
"I admire all the work Senator Warren has done to help middle-class families through the Consumer Financial Protection Bureau, as well as her efforts to tackle the changes being made to national education by the Trump administration" Luis says. "As an intern, I was eager to learn what it takes to be in her position enacting legislation. I want to help members of my community have their voices heard in government."