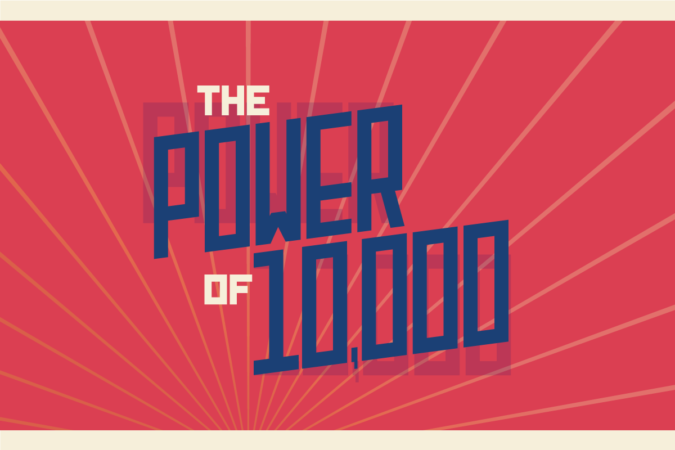 New Orleans Power of 10,000
Location
Right here
Bookmark this page
Event Schedule
6:00pm: The Power of 10,000
6:45pm: After-Party (RSVP required)
Make a Gift
Donate now to sponsor the event and support Posse New Orleans
The Power of 10,000 at 6
PM
CT
This year marks an incredible milestone for Posse as it selects its 10,000th Scholar! Celebrate the Power of 10,000 with Posse New Orleans and join us at this virtual event, where we recognize the strength of a Posse and celebrate diversity in higher education and the workforce.
The event will take place right here, on Tuesday, October 13. No registration or ticket purchase is needed. Simply bookmark this page and we hope to "see" you then!
Click here to add this event to your calendar.
---
Interactive After-Party at 6:45
PM
CT
In addition to the Power of 10,000, we are inviting you to join the Posse New Orleans community via video-conference for a virtual after-party with tributes and conversations with Posse alumni.
RSVP by 10/11 to attend this free interactive event
After you sign up, you will get a registration confirmation email with further information. Details on how to access this interactive event will be emailed to registered participants two hours before the reception.
---
Sponsorship Opportunities
Sponsorship levels for Posse New Orleans' Power of 10,000 start at $2,500 but we welcome gifts of any amount in support of our program and Scholars.
Host Committee
Carol Bixler
Patricia Brinson
Jason Brown
Anyeka Bruno
Catherine Freeman
Dr. Stephen & Nancy Hales
Paul & Joan Hinnenkamp
Ben & Barbara Johnson
Dr. Shamalon Johnson
Yvette Jones
Ed & Laura Moise
Barbara Pailet
Mike Rodrigue
Dr. Bristol Williams
Inquiries
For more information

Elizabeth Comer